Transferring Outlook Contacts Into Goldmine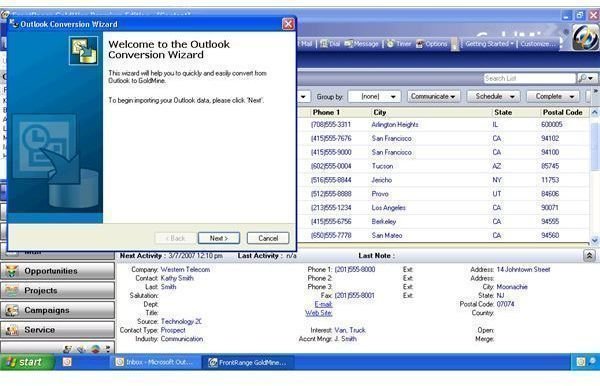 As businesses grow the solutions for what computer programs to use changes. Moving from Outlook to Goldmine can be one of those important changes as Goldmine allows more integration of different forms of communication. Still, it can still take considerable time and effort to move the information stored in Outlook into Goldmine. Time that could be better spent learning the program. The good news is that in most modern email clients it isn't all that difficult to transfer your contacts. This means people are no longer tied to using Outlook simply because it was the first email client on their computer, but they can export Outlook contacts into Goldmine easily and painlessly.
Directly Converting to Goldmine
The easiest way to export Outlook contacts into Goldmine is to use goldmine's built in option. This doesn't seem to always work and won't work at all if you're changing computers. Still, when it works it is by far the easiest meathod and so should be the first thing anyone tries. First, simply open Goldmine. Find the file menu and listed in that menu is the choice import and export. One of the options listed is convert from Outlook. Choose this and the conversion wizard will be launched.
From here it is simply a matter of selecting the correct folder for your Outlook contacts. In most cases this will be in the default location which Goldmine will check first. If this is the case simply choosing OK a couple of times will move them. Be aware though that if you have already put contacts into Goldmine there is a small chance that those could be overwritten by the Outlook contacts so if you've been using both you'll want to backup Goldmine's contacts first.
Exporting Contacts from Outlook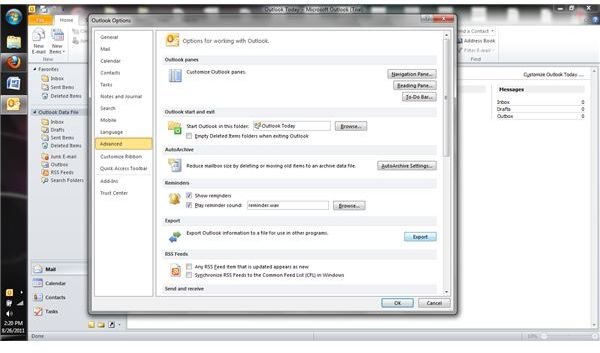 If the Goldmine conversion wizard doesn't work, or you're changing computers as well, the process for moving contacts becomes a bit more complicated. If there are more than one or two contacts it is still easier than entering those contacts back in manually. The first step in the more complicated process is to open Outlook and export the contacts from it.
Exporting from Outlook will change a bit depending on the version, but in most cases this once Outlook is open you will need to find the file menu. Under this menu look for options. This will create a pop up page with even more options. Here you will need to find the advanced section. In this menu you'll want to find the choice that reads "Export Outlook information to a file for use in other programs." There will be a button next to this that reads Export. Click on that.
You will now be brought to a list of options for exporting and importing with Outlook. Choose export to a file from this list and click next. This will take you to another list this is a the types of files that the program will create. In most cases the best choice is comma separated values (windows). Of course if the operating system is listed and not windows you would choose that. Next choose the folder that the contacts are saved in. If this is in the default location the program should take you to the correct location without having to look. Click next again and choose where you want the file to be saved.
You will need to find this file so make certain to save it someplace easy to remember. To do this choose browse and go through the folders like any program. If you're not sure where to save the desktop is easy to find and you can erase the file once it is successfully saved into Goldmine. If you are changing computers simply save to a thumb-drive or CD.
Importing Contacts into Goldmine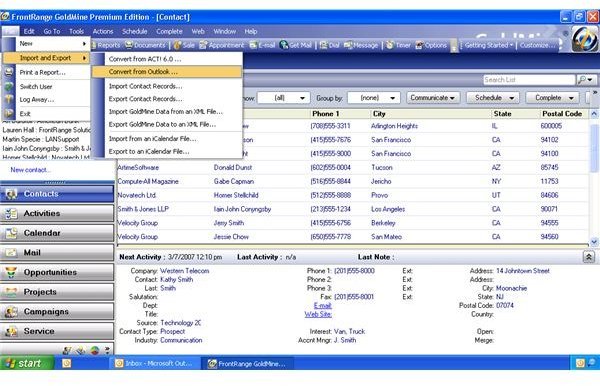 The basic interface of Goldmine isn't all that different from most other windows based programs. The files menu is in approximatly the same place so simply choose import and export from that menu. From this menu you will want to choose "Import Contact Records". This will bring you to goldmines import wizard.
From here you will be warned to backup the contacts you already have in Goldmine. If this is your first time using Goldmine you won't have anything to backup so you can safely ignore this warning. Otherwise, it is good advice to back up the contacts before you move on. Once you have done this choose OK to be taken to the list.
If you saved the file as a comma separated value file then this menu should already have the correct options highlighted. If not choose import a new file and the type of file that you need to import. (If you need to important any other other information as calendars you'll also do that here.) Choose next and then browse. Go to where you saved the file from Outlook and choose it. Once you have done this Goldmine should easily import all of those files.
The Last Resort
One of the two processes should work every time. Still, if for some strange reason it doesn't there is one final backup choice that may save a bit of time over actually typing in all of your contacts again. A CSV file once exported from Outlook is a basic text file and can be opened with Notepad, Wordpad, Word or virtually any other word processor.
Choose your favorite and open it. This will bring up a lot of junk text, but if you look down the page you will also find all of your contacts information. Simply ignore the first half of the page or so and look for the name of the first contact. Once you have found that erase everything above it so that you can find the information more quickly.
You can now cut and paste this information into any email client. This will be a lot more work than simply importing the information and is far from ideal. Still, if for some reason you are having significant problems moving between the two clients it is better than simply typing everything back in one line at a time.
Creating a good contacts list takes time and organizing it takes even more. There is no reason why anyone should have to go through this process again for a new program. So, if you've decided that Goldmine is a better option for yourself or your business these processes should make moving a lot less painful as it will allow you to move all of the information in seconds rather than the hours or days that manual entry would take.
References
Source, author's own experience
images, screen captures author's computer