How to Use Your HP Thin Client as a Music Jukebox.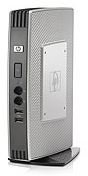 Hardware Requirements
Ok, let's get down to business. Our hardware is the basis of the machine so we will start there.
If you already have a client you are going to dedicate to this project, check to make sure your machine and sound card are in good working order.
Having paid a visit to HP's website at HP.com, since their units are the feature of this article, there are two models that stand out for our purpose.
The HP st5742 streaming
The HP st5747 streaming
For all the specs. you will want to check out their website, but for our jukebox these units have some nice features. They come with 2GB DDR3 SDRAM, 8 USB 2.0 ports and full 16 bit stereo, 44kHz sample rate and RealTek ALC 272 audio. I would also recommend getting yourself a USB 2.0 external hard drive, for music storage, and an external CD/DVD drive for playing from your favorite CD's. Last in our hardware needs will be a nice set of Stereo PC speakers to plug into the headphone jack, since you don't want to "blow out" the internal speaker. Once again, if you have your client already, you need to make sure your sound card is working to play the music and plug-in speakers if you have them.
HP's Multi Media Enhanced Units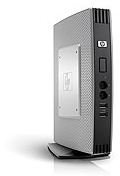 Software Setup
Now we need to take a look at our software setup, our Windows and it's components. Since it is the basic shipped OS (Operating System), Embedded Windows Standard is the version I will be referring to as your Windows. Check to make sure your Windows Media Player is available and functional. Next, do the same for Internet Explorer. Your client should also have come with HP's RDP (Remote Desktop Protocol), enhancement software for multimedia redirection and USB device support, now make sure you have the server side package as well. If not, you can download it at HP's website. This RDP software allows us to run, or re-direct, playing our music to the client without bogging down the server. It also allows us to view Flash, such as from video sites, and use our USB devices like our external HD and CD player. The rest of the optional software you may want to use will require an Internet connection. I am not going to use any site names here, but you can find plenty of websites to buy and download music and videos for your jukebox playlist selections.
Putting it All Together
Here is how we are going to do it. Now we will assume you have assembled the hardware, and that you at least have your client and sound card ready. This also means that you have fully functioning software, with the most basic being Windows, the RDP software on your client and server and Windows Media Player.
Have your client powered up and at your desktop.
If you have them, plug in your USB 2.0 devices one at a time. Make sure they are recognized.
Plug your speakers into the headphone jack and into a power outlet.
Play your music in Windows Media Player by either downloading and saving music purchased online or using a CD.
Now, if you have the optional external HD I mentioned you can save your music there so as not to store it on your server. Another great tip is to creat playlists in your WMP so you don't have to change CD's. Remember, if you have an Internet connection you can purchase your music online and not have to have an external CD/DVD player.
A Couple of Ideas to Sweeten Your Setup
Since the inception of MTV in the 1980's, videos have gone with the songs like syrup goes with pancakes, basically it's essential. That being said, we should apply that to our jukebox. Youtube.com has flash videos made by subscribers to go with the songs, and you can find programs such as a youtube downloader, to download these. It will be much cooler to have a video of some sort playing on the monitor to go with the music. A lot of the official videos that go with the songs have been taken off of youtube if they violated copyright, but you can still find either karaoke style, or picture slide show videos made by other users. You may not want to start singing to a karaoke video at the office, unless you're drunk at the Christmas party, but at home it's great family or party fun.
I hope this article helps you, and remember "If the music is too loud, you're too old."
References