The Top Five Twitter Clients for Windows 7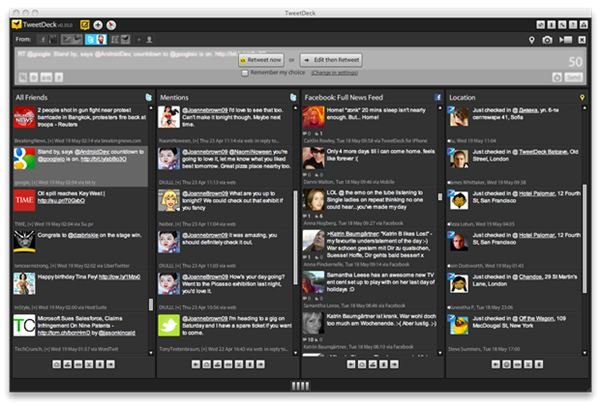 TweetDeck
TweetDeck is your one-stop client for managing social networking sites like Twitter, Facebook, MySpace and Google Buzz. The newest tweak also provides location-based Foursquare updates, giving you plenty of ways to stay in touch with your social buddies.
The app interface can be divided into multiple columns, making it easier for you to manage your favorite social sites. You can split twitterers you follow into groups and have separate columns for mentions, multiple twitter accounts and additional services like Stocktwits, which lets you keep track of stock charts and news in real time. You can also get updates from TweetScoop, a trend-mapper that detects popular hash tags, keywords and trends in the Twitter stream on a separate tab.
TweetDeck is an Adobe Air application, which may be its biggest drawback because it becomes slower than Twitter clients that use .NET. The app is notorious for being a RAM hog, but its easy-to-use interface and cool design compensates this negative aspect. Overall, the app is a must-download if you want an application that streamlines social networking and provides a clutter-free interface to manage all your social networking accounts at one place.
Seesmic Desktop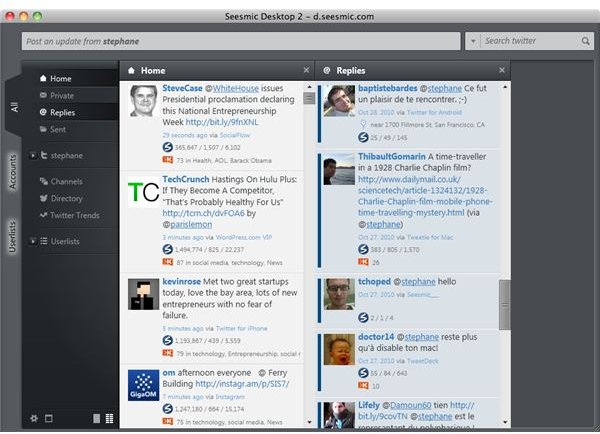 TweetDeck's competitor, Seesmic Desktop is as good as the granddaddy of Twitter clients for Windows and Mac. It utilizes Microsoft Silverlight, is completely cross-platform (which means it can be installed and used on both Mac and Windows OS) and supports all popular social networks and can handle multiple Twitter accounts. The beautiful translucent design and well-spaced tabs makes the app attractive and less cluttered.
Since its development, Seesmic has integrated several social networks to provide a streamlined social networking experience to users. Besides LinkedIn, Facebook and Twitter, the app supports MySpace, Ning and other social networks.
Seesmic Desktop has a simple interface and is suitable for non-geeks who are using a Twitter client for the first time. However, this Silverlight app consumes more RAM and hence will perform slow in low-end PCs. Even with the best graphics card and CPU, the app has shown to be quite sluggish. If you are not comfortable with the slow performance of the desktop app, switch to Seesmic Web, which easily launches on your browser without downloading any third-party application framework.
Using Seesmic Desktop, Twitter users can run multiple accounts effortlessly. They can also view direct messages, mentions and replies for each account separately. The interface can be customized by choosing different view modes and adding various color shades to the background. While the customizable options are few, the interface is sleek and user-friendly.
Improving with every new update, Seesmic has also released a native client. You need to have .NET framework 3.5 installed on your PC before you can install this application. While Seesmic Windows is faster than Seesmic Desktop, there may be some glitches as the app is in beta testing phase.
Tweetz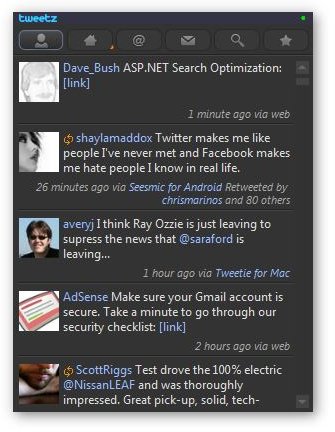 Tweetz is a nice lightweight Windows 7 sidebar gadget that's as efficient and convenient as its rival desktop clients. The application is clean, compact and has a less desktop-like footprint. It consumes fewer resources than other clients and has separate tabs for mentions and messages. The app's Tweet Editor rests at the bottom of the small program, making it easier for users to type in their 140 character rants right from the desktop.
The latest update offers plenty of features, including the integration of the new twitter 2.0 API to ensure more security and hot keys to send tweets and shorten links. The new improvement also includes multiple languages and some great themes. The themes are subtle and the fonts provide better detection of screen names, hashtags and links. The application notifies any new retweets, messages and status updates with a cute chirpy sound.
Tweetz is a Twitter-only Windows sidebar gadget, is convenient and useful for those who want to tweet, message and mention right from their desktop.
Sobees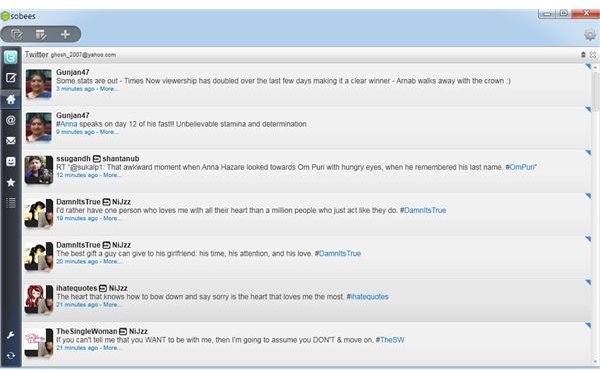 Sobees Desktop is one of the few best native Twitter clients for Windows. Like other applications, this app supports multiple social networking sites. You will have to install the latest .NET version to run Sobees on your Windows PC. The client is known for its simple, stylish interface and has plenty of layouts to choose from.
The Windows application offers an uncomplicated user interface. There are quite a few customization options, including layout selections for each social network and transparency styles. Being a Windows-only app, Sobees has a smaller memory footprint compared to other clients. It performs faster than TweetDeck, Seesmic and other cross-platform Twitter apps for Windows.
One of Sobees Desktop's notable features is its multi-column and multi-row layouts. There are up to 16 layouts to choose from. You can select your favorite layout by simply clicking the app's Change Layout button. After choosing one, just drag-and-drop your social networks to each portion. Other key features include a spell check button to check spelling errors as you type and an option to update status on multiple services.
Sobees may not be as popular as other Twitter clients, but it sure offers plenty of layouts and key tweaks to provide a simple, smart way to tweet and share FB posts via a slick desktop client.
Destroy Twitter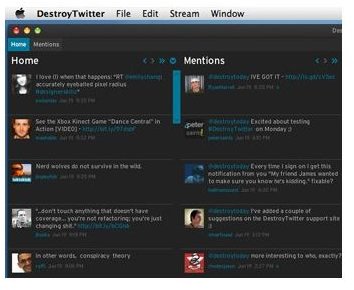 Destroy Twitter is the most lightweight cross-platform app amongst all Adobe Air-powered Twitter apps. It packs tons of features while keeping RAM usage as low as 25 MB. Compared to TweetDeck, that's pretty low. The application is useful for Twitterers looking to make the most out of the popular micro-blogging and social networking site.
The app interface is smooth and there are plenty of customizable options. Users will like the uncluttered interface, which will easily allow them to browse through DMs, tweets and @mentions quickly. The app also has a nice search feature that offers real-time results. When minimized, the app will only notify you of any new tweets via pop-up messages. You can either disable the pop-ups or choose a place where you want the messages to appear on your desktop.
There are plenty of customizable features. You can change the font size, add a beautiful theme and filter out those users and hashtags that you don't want to see on your timeline. With a focused UI, good features and plenty of tweaks available, Destroy Twitter is your best Twitter client for Windows.
Before choosing a Twitter client for Windows 7, make sure you check their features and see if there are plenty of customizable options.
If you are looking for the best overall Twitter client, then I recommend Destroy Twitter, which is a Twitter-only app and is much lighter than other Adobe Air and Silverlight-based clients.
If you want the fastest app, then you must choose the ones that go native. Windows-only apps like Sobees offer impressive features while utilizing less memory. But if you go by popularity ratings, then TweetDeck or Seesmic will be a good choice.
References
Screenshots, courtesy of their respective developers