Four Must-Have Free Internet Radio Software Programs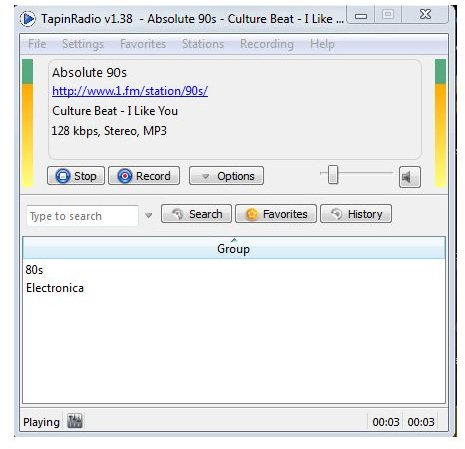 Surely, you would love to have something totally free that not only streams live music, but also lets you record your favorite tracks for personal listening pleasure. There are some great applications that not only have a huge list of streaming radio stations and recording features, but also several additional features like an equalizer, music video library and audio effects. Here are some of the best free applications that boast features similar to paid apps. These aren't shareware programs, but totally free Internet radio software programs that boast thousands of free streaming radio stations and exceptional audio quality (Download links can be found at the end of the article, in the References section).
Tapin Radio
With a sleek, simple UI, Tapin Radio provides a quick and reliable streaming online radio search. After installation, you will have to restart your PC to load a full list of stations. You can the access them via the Stations tab and browse the best ones by region, network or genre. It also updates regularly by adding the latest radio stations to its database and has a separate search function to look for additional ones. You can then add the best radio streams to your favorites and categorize them in your own groups.
Tapin Radio's coolest feature is its clutter-free interface. There are different menus at the top of the screen, including settings and recording. Each menu offers different options to provide an easy listening experience. For example, in the file menu you will find history which remembers all your previous tune-ins. The recording menu suggests whether you want to record songs without splitting or record a single song. The sleep timer in the settings menu lets you set the time to shut down, hibernate or stop playing any songs.
The application features a one-touch recording feature that lets you record radio streams by clicking the Record button conveniently located between Stop and Options button. It also packs in nice equalizer presets. All you have to do is click the Options (located beside the record button) and select your favorite preset or set your own custom present by accessing manual equalizer. If you are looking for an intuitive Internet radio application that boasts a huge database of stations, then you should download Tapin Radio. The software's totally free and does not require you to register or pay any additional fee to access its additional features.
Muziic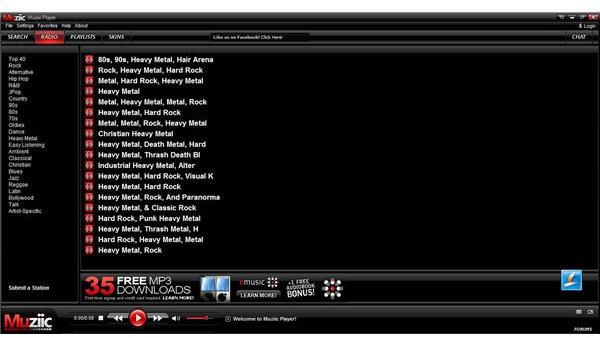 You can call Muziic a multimedia player as it offers streaming radio stations and YouTube videos within one sleek program. It has a comprehensive database of free music and videos and plenty of radio stations to stream to your desktop. The app doesn't have any recording feature, which means users looking for a streaming radio application with a built-in audio recorder may not find it as useful as other applications compiled here. Those who are just looking for a totally free Internet radio station, however low on features it may be, will definitely love the slick interface and good audio/video quality.
Muziic has four well-spaced tabs like Search, Radio, Playlists and Skins. The Playlists tab lets you create your own music/video list and also has its own collection of playlists. Just click on the playlist of your choice and you will get a comprehensive list of songs with lyrics. The Radio tab lists all available streaming radio stations genre-wise. All you have to do is select the genre and soon a list of stations will be displayed on the main screen. You can also change the audio quality via the settings menu. Try the HQ Stereo option if your Internet connection is not slow and get a taste of crisp audio quality when playing your favorite radio streams. However, there isn't any way to add your best radio stations to favorites, although it has a favorites menu. I could not add any of my favorite stations to the menu, which was a bit disappointing.
The application does not have a built-in equalizer. This feature may not be that important to most users, but when you have some of the best Internet radio software programs like Tapin Radio and Nexus radio featuring an equalizer, you would surely wish that Muziic boasts this feature too, considering how popular this software is. Adding a YouTube music video library may well be their plan to compensate for the missing features and this has been a good attempt, though radio listeners like me would also like to have an equalizer and a Favorites tab. I hope the developer will include these features in the future as I have high expectations with this application. All in all, Muziic is a good Internet radio application that plays music videos as well, and allows you to create your own playlists.
Screamer Radio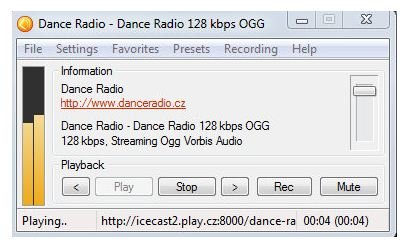 Screamer Radio is one of the lightest Internet radio software programs (takes only 5 Mb of disk space) available online. The tiny application loads streaming radio stations quickly and provides a few extra functions. It is suitable for casual music enthusiasts who would love to have a simple, easy-to-use Internet radio service while traveling. The application has an enormous list of radio presets, but many of them don't stream live music and hence it would be wiser to add URLS of free online radios manually into the software instead of tuning in to those presets.
Screamer Radio has a few additional features. You can add some sound effects (reverse stereo etc.) and save your favorite radio stations. The application also lets you record streaming radio and then listen to your saved songs by opening the recording folder. It has evenly spaced buttons that allow one-touch play/record stop and mute sound. The radio presets have been split into country, genre, language and network to ensure easy searching. You can update presets via the File menu to load more radio stations. Screamer Radio, in spite of being low on features (equalizer, skins etc.) is one of the best Internet radio applications because it streams music effortlessly and packs in a good radio player/streaming music recorder in a sleek program.
Nexus Radio
Nexus Radio is one of the best free Internet radio programs for the Windows 7 platform. The application not only allows users to discover streaming radio stations, but also search for their favorite songs by typing in the song name in the Music Search box. Installation doesn't take much time, though users will have to sign up with the free service after installing the application and only then will they be able to tune in to their favorite radio stations.
The application has a built-in music player, which has separate sections for equalizer and audio effects, and a recording tool. There are 14 audio presets and sound effects like reverb and echo. The music player lets you search for your favorite songs online and play them. Its recording tool lets you record radio streams by right-clicking the song and selecting the record option. The recording tool's fade in, fade out system is quite a novel approach, considering this is a totally free app and features like this are available with only paid software programs. This feature-rich application also provides a variety of skin choices and visualizations.
Nexus Radio has a very user-friendly interface. Everything from Music Search to Visualizations is well categorized in separate tabs. The Radio tab labels streaming radio stations genre-wise, making it easier for users to hunt down a variety of stations. The application also offers some freebies like ID3 tagger and audio trimmer. There's also a separate tab that provides direct download links to additional visualizations and add-ons created by third-part developers. With so many features, it is hard to believe the software is free. My only gripe is the compulsory signup process, which forces users to fill in all details, (including the About Me part, which has to be filled in order to complete signing up with the service). You will have to register in order to enjoy these free features. All in all, Nexus Radio is feature-rich easy-to-use and perfect streaming radio software for Windows 7.
References
Screenshots taken by the author