Top 10 List of PDF Software Recommendations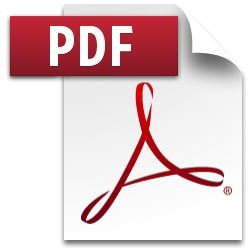 The PDF format was introduced by Adobe in 1993 as a means of creating a portable document that could be read on any computer but could not be edited without special software. Aiming the format (which stands for Portable Document File) at businesses and government departments to aid in the creation and dissemination of policy documents, Adobe soon saw the format become the de facto choice, with computer games manuals and even university coursework soon distributed in this way.
In the face of competition from smaller developers offering their own reverse-engineered PDF generation engines, Adobe declared the standard as "open" in 2008, a move that has resulted in a fascinating list of PDF software fulfilling tasks such as document generation, editing and even conversion into other formats.
Our top 10 list focuses on these three different types, all of which are available for use on Windows 7.
PDF Creation Software
One of the most common tasks in document management and distribution is to create PDF files. A few years ago doing this was an expensive task that could only be achieved by purchasing a copy of Adobe Acrobat Standard. Over time, third parties got involved in providing PDF generation utilities that can convert documents, images and even presentations into PDF.
Generally speaking, there are three types of PDF creation tools:
The standard Adobe-like tool that you import a document into and the PDF is generated.
A tool that has PDF as a file type in the save options.
A virtual printer that can generate PDFs from word processors.
These all create suitable PDFs that can be used for any number of purposes, from eBooks to exam papers, although note that the file size for a single document can differ from app to app, due to the different ways in which they generate the PDFs.
1. Adobe Reader – this is the very first app you should have for your PDFs, and curiously it doesn't create, edit or convert them. Adobe Reader instead provides you with an excellent PDF reading tool.
2. Adobe Acrobat X Pro– ideal for business, Adobe Standard is the premium PDF creation tool, allowing far more flexibility than cheaper options, allowing all manner of ambitious documents to be created, edited and converted. If you plan on carrying out all of these tasks and expect the best results, you should stop reading the list here, and visit www.adobe.com.
3. Microsoft Word – of course, if your PDF documents aren't all that ambitious and you already have Microsoft Office installed on your PC, Word, Excel and PowerPoint all have the option to save in PDF format from Microsoft Office 2010 onwards.
4. PrimoPDF – the ultimate free PDF creation tool, if you don't own Office or Adobe Standard then this is the utility you should choose. Available from www.primopdf.com, this software adds itself to your PC as a virtual printer. All you need to do is print your document, selecting the PrimoPDF printer and the PDF will be created!
Editing PDF Documents
Editing PDFs is a little trickier than generating them, with the tools that are available for doing so quite expensive. This shouldn't come as much of a surprise – once a PDF is created the data is encoded and protected; effectively, an image has been created out of the words of the source document. Editing these is very difficult and best achieved by overlaying any changes onto the original PDF.
5. PDF editing is something that has only come along in the past few years, and Adobe Standard is probably the main tool in its capacity as Adobe's all-in-one PDF management option. However, NitroPDF is certainly an option that you should consider since it offers the ability to edit titles and text, images, and even add links and anchors into an existing PDF document.
6. JawsPDF is a great solution for anyone whose PDF editing needs are more along the lines of form filling rather than rewriting documents. You can download a free trial of this app from www.jawspdf.com.
7. PDF Escape, meanwhile, is a website that offers PDF editing tools within the browser window, and better still, it's free to use. All you need is a PDF document to upload and any of the current common browsers. With no software to download or install, this option is particularly suitable for use on a netbook.
8. Possibly the most impressive collection of PDF tools comes in the shape of PDFill, a free utility that allows you to reorder documents, add headers and footers and generally reformat an entire PDF document without upsetting the flow of the original content.
Converting Your PDFs
The third type of PDF utility that you will find for use on Windows are those that make it possible to convert your PDF into a different format document. These apps are ideal for converting PDFs into presentations, for instance, as well as images that can be displayed as a slideshow.
Converters can even change a text-based PDF back into document format, a vital tool for anyone that has perhaps lost the original document and needs to make some changes to the published PDF.
Beyond Adobe Acrobat X Pro, conversion tools can be found online as web-based utilities.
9. FreePDFConvert is available from the aptly-named www.freepdfconvert.com and features an upload/convert/email system which appears to be fully automated. In addition to uploading files, you can also use the service to create a PDF from an existing web page, simply by entering a URL.
10. ZamZar is better known as a general document conversion website, offering users the facility to convert PNGs into JPGs and PowerPoint presentations into FLV. By visiting www.zamzar.com you can use the website to convert any document into a PDF and PDF documents into text and images.
This selection of the top 10 PDF applications for Windows 7 should cover all of your PDF creation, editing and conversion requirements - but let us know if there are any you think we have missed.
References
Author's own experience.
Image credits: