Free Scenery Wallpaper with High Resolution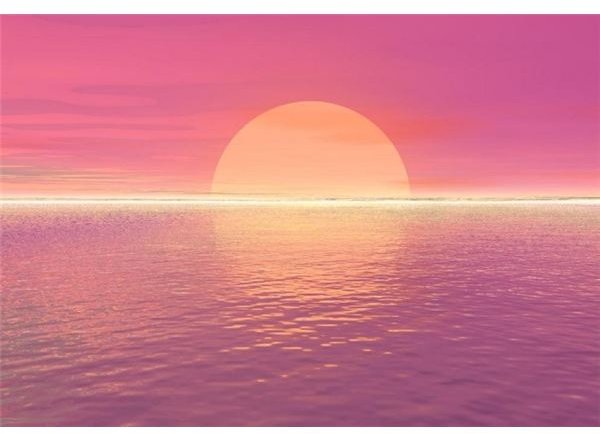 If you are a person who loves scenery, you will absolutely love the wallpapers I have compiled in this guide. They range from sunsets to fall walkways to winter skies. I am sure you will find something you love and want to use in this guide. To use any of the wallpapers below, you will need to find the name of the wallpaper in the "Resources" box at the end of this guide. Then click the link to the right of the name and the wallpaper will open in a new window for you to download and use as your background.
Orange & Purple Sunset
Our first wallpaper in this guide is the sunset background. It is absolutely breath taking. The sunset has a purple tint to it which makes the sky and the water appear to be purple too. To me this is absolutely beautiful. Could you imagine seeing something this beautiful in real life. I bet it would be amazing. If you are looking for relaxing and beautiful scenery wallpaper for your desktop, you may want to add this one.
Waterfall & Rocks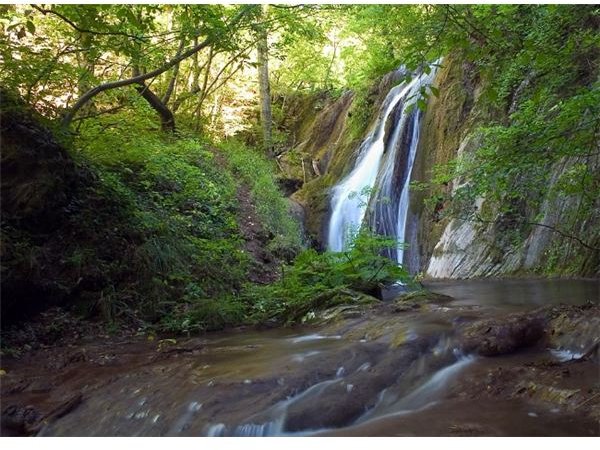 Here we have another beautiful wallpaper. This one has a waterfall scene. The trees and rocks in this background are fantastic by themselves. Adding the waterfall just tops it off. This background would make a great wallpaper for any desktop. It is a high resolution wallpaper, so you shouldn't have any problems when applying it to any size desktop.
Blue Ocean with Fish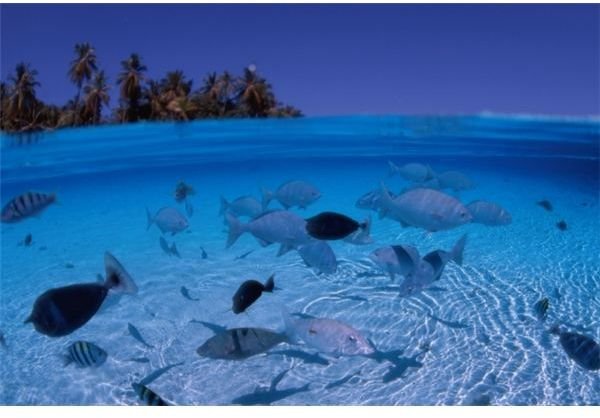 I took a little different approach with this one. Some may not see it as scenery, but I do. What is more beautiful than a clear ocean shot with fish swimming around? I think it is both relaxing and beautiful to look at. Try it out as your wallpaper and you will see what I mean. It feels like you have turned your desktop into a beautiful ocean view when you use this wallpaper.
Yellow Flower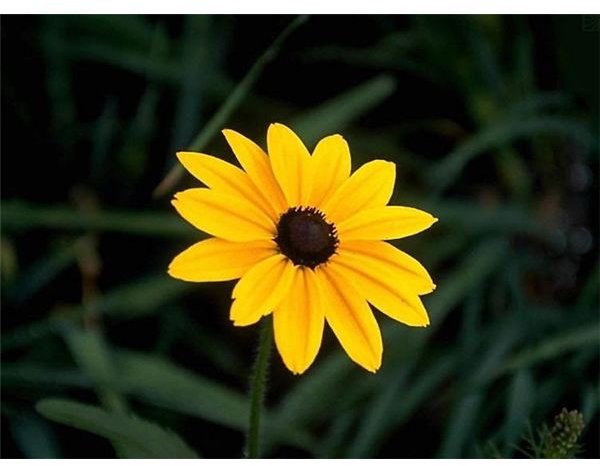 If you are looking for scenery wallpaper that is a little less busy, you may want to try the yellow flower wallpaper. This is a great wallpaper with a high resolution, but at the same time, it is not too gaudy. Having this type of wallpaper is great for those who have desktops full of icons. With this wallpaper, you will be able to rearrange your icons so that you can see all of them without obstructing your nice background.
Sunset Island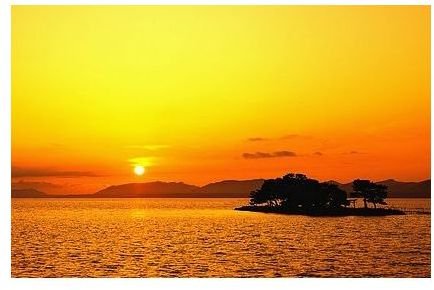 Here is another beautiful sunset wallpaper. This one is a bit different from the first one. The first one had a purple tint and this one has the more natural look of a sunset. The sky is absolutely gorgeous. The sun in this background is setting over what appears to be an immense ocean with a small island standing out.
Winter Trees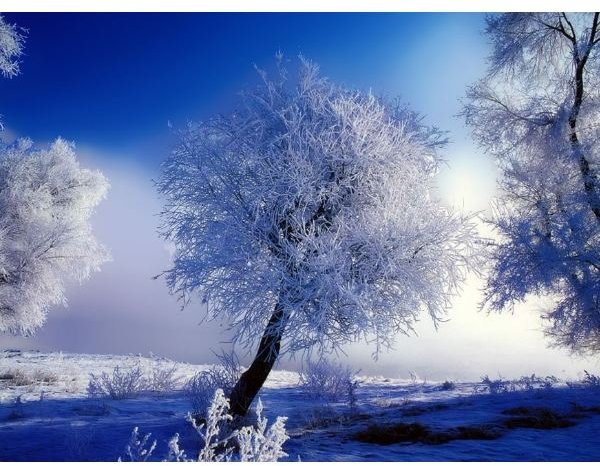 The next background is a change of pace from the above scenery backgrounds. This one takes a winter approach. Though it is not snowing where I am, there are places in the world where it is, and you may be looking for a beautiful snow scene for your background. This wallpaper has a wonderful winter sky with snow on the ground and in the trees. It makes a great wallpaper for any desktop.
Blue Wave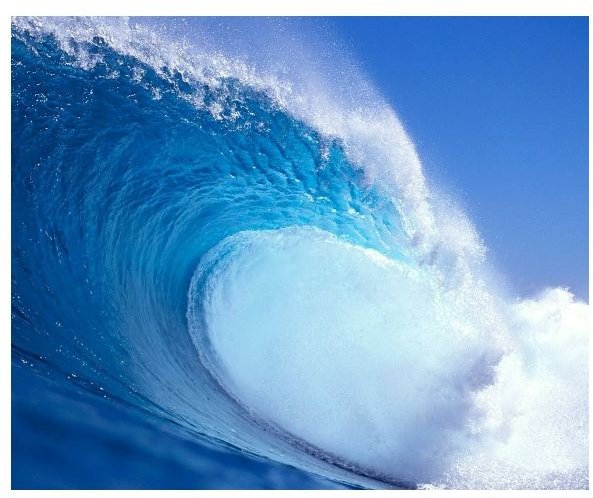 Are you looking for an ocean scene? Here you go. This is a background of a gigantic wave that is about to crash. The ocean water in this wave is a beautiful color of blue. If you are a surfer, this would probably be the wave of your dreams.
Fall Walkway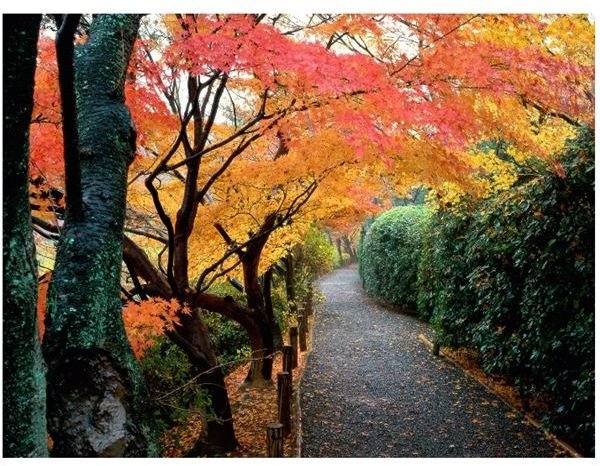 The last background in this guide is the fall walkway. This is a beautiful walkway lined with shrubs on one side and beautiful fall trees on the other side. The fall trees really set this background off. They bring a classic charm to the scene. Even though this is a gorgeous wallpaper, you may not be able to use it if you have a lot of desktop icons. So, if you do have a lot and you still want to use it, you may need to delete some of your icons or create a folder or two and place most of them in those folders.
Resources
1. Orange & Purple Sunset - https://images2.layoutsparks.com/1/203419/orange-sun-set-scenery.jpg
2. Waterfall & Rocks - https://www.e-cobo.com/wallpapers/scenery/scenery_1.jpg
3. Blue Ocean with Fish - https://www.saversplanet.com/wallpapers/blue-beach-wallpapers_3853_1024.jpg
4. Yellow Flower - https://mi9.com/uploads/landscape/2142/flower-scenery-wallpaper-flower-scenery-wallpapers_1024x768_28728.jpg
5. Sunset Island - https://www.wallcoo.net/1920x1440/1920x1440_nature_wallpapers_02/images/%5Bwallcoo.com%5D_1920X1440_JAPANESE_LANDSCAPES_JLA20027E.jpg
6. Winter Trees - https://www.desktopwallpaperhd.com/wallpapers/3/1484.jpg
7. Blue Wave - https://thundafunda.com/393/images/wallpapers/scenery-wallpaper/titan_blue_waves_scenery_wallpaper.jpg
8. Fall Walkway - https://www.sky-wallpaper.com/uploads/2010-08/plant-trees-scenery-wallpaper/1280671257-FRVHY6K.jpg
All screenshots were taken by the author and are the property of their respective sites.