How to Fix a Windows Home Server File Transfer Error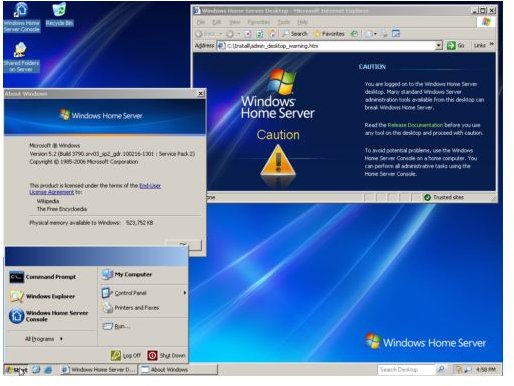 Windows Home Server is the first domestic-targeted server operating system from Microsoft. Intended to give users the ability to manage and serve files across a home network, Windows Home Server (aka WHS) also offers remote access and automated backups, making it easy for you to keep an archive of your data.
Different versions of this operating system exist: the original Windows Home Server 2007 was released in 2007, and three "Power Packs" (essentially service packs) have been released since 2008. Windows Home Server 2011 was released in April 2011, offering a wealth of centralized network PC management options from print sharing and health monitoring to managing media streaming.
If you're fortunate enough to be using Windows Home Server, then you no doubt realize that the benefits of using a system such as this far outweigh the problems. However from time to time you might notice that things aren't running as well as they might. There are various errors that can occur using Windows Home Server, but one of the most common concerns file transfer errors.
Windows Home Server – Great for Hosting Files!
There are various reasons why you might wish to share files across a home network. The most common is probably for media sharing, but you might also be keen to connect computers to your home network that don't have their hard disk drives clogged up with files and folders that they will rarely need.
Throw in some netbooks and laptops, perhaps a media center and a games console and a single PC and you have a wide range of devices that would be better served by having data stored centrally than, for example, having duplicate music and photo folders saved on each of them.
Better still, using this system you can even share files and folders between computers by copying them via Windows Home Server. The benefits of this are considerable, and can save a lot of messing about with disk drives and USB flash sticks.
Avoid Errors – Use Good Quality Hardware and Switches
If you are receiving error messages when transferring files in Windows Home Server, there are various reasons why this might occur (see below) but one of the best ways to prevent it from happening at all is to make sure your WHS box is up to scratch. This might mean spending a bit of extra money, but think of it this way: the Windows Home Server box is headless, meaning that no monitor or keyboard is required, so you already have an extra $80 to spend on ensuring you have used good quality hardware.
The minimum system requirements of WHS 2007 are as follows:
At least 1.0 GHz Intel Pentium 3 (or equivalent) processor
512 MB RAM
65 GB internal hard drive
Meanwhile, the minimum requirements of the 2011 version are:
1.3 GHz x86-64 Dual Core or 1.4 GHz x86-64 Single Core processor
2 GB (8 GB max) RAM
160 GB hard disk space
These minimum requirements are exactly that, however – a minimum. For the best performance from your Windows Home Server you should be making use of good quality network cabling for all static devices (such as the games console, media center and desktop PC) and investing in a wireless router that offers the latest security and speed improvements.
Finally you should also consider investing in a network switch in order to ensure that your data is flowing fast and effectively throughout the network.
Why Do I Get a File Transfer Error?
The most common reason for a file transfer error in Windows Home Server is related to poor network hardware and below standard hard disk drives, but low RAM and slow CPU speeds can also play a part.
If you have a fast, modern system, however, and have been able to rule out faulty network cabling and hardware as a cause for the error, then the problem will probably be either with the Windows Home Server or with the computer that is accessing it.
For instance, you might be receiving the following message:
Insufficient system resources exist to complete the requested service. Error code = 0-800705AA
The cause of this message isn't the server, but it could be the hardware. As long as there is enough hard disk space on the Windows Home Server and the computer that you are trying to transfer files from, then the problem is quite possibly related to anti-virus software.
As such, your only way around this is to disable the anti-virus software on the computer you're attempting to copy the files to. This isn't something that you should do lightly, of course, so make sure that you re-enable the anti-virus software after the file transfer has successfully completed.
McAfee Internet Security and Norton Internet Security have both been reported to cause this issue; however Norton 360 has been cited as an alternative that might allow you to maintain virus protection on your PC to overcome this frustrating problem, and enable you to once again easily transfer data across your Windows Home Server.
References
Author's own experience.
Windows Seven Forums, https://www.sevenforums.com/network-sharing/35749-windows-home-server-whs-file-transfer-problem.html
Image credit: Wikimedia Commons/Koman90