Using a Linux Email Client: Outlook Web Access Tricks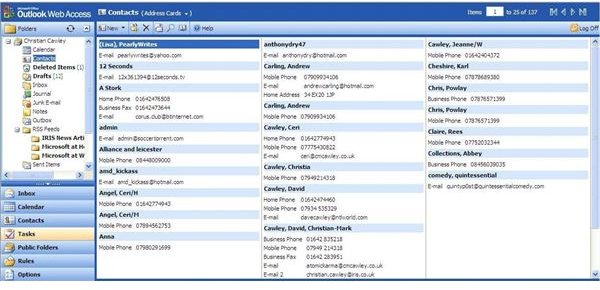 Outlook Web Access (also known as OWA) is the popular name for Microsoft's web-based version of Microsoft Outlook. Offering an Outlook-alike user interface in a browser window, it affords access to corporate email accounts hosted on a Microsoft Exchange email server from any Internet-connected computer. This has obvious benefits for many people, particularly business class travelers or anyone interested in checking their emails while on holiday.
Microsoft Exchange is generally only available to users with Microsoft Outlook on Windows or Mac OS X although BlackBerry, iPhone, Windows Phone and Android mobile users can also receive emails directly to their phones via an Exchange server.
However, if you use Linux, your options for accessing a Microsoft Exchange email account are quite limited, and as such you might take advantage of OWA in the absence of a more suitable email solution. As it happens, however, there is a way to access Outlook Web Access with a Linux email client…
Advantages of Microsoft Exchange over IMAP, POP
Before proceeding, however, let's take a look at Microsoft Exchange and the advantages it has over other email systems such as POP and IMAP.
If you have familiar with POP email you will know that messages appear in your inbox each time the mail server is polled by your email client. These messages are typically deleted from the server (as a storage management measure) when downloaded, and will exist only on your computer.
Meanwhile IMAP accounts allow you to synchronize an email server with an email client on a computer or mobile phone. This synchronization means that you can move emails into folders and this is reflected on the mail server; this is a great way to access the same account and see the same emails in the correct places but from many different devices. Like POP, IMAP has to poll the email server.
Exchange, meanwhile, closely resembles IMAP, but rather than having to connect to the web to check for email messages, Exchange sends the messages to the computer or mobile device as they are received. As such, emails are immediately delivered and can be replied to quickly rather than be delayed by the typical 15 minute check usually found on IMAP and POP accounts.
Using Outlook Web Access in Linux Ubuntu
Despite the name, using Outlook Web Access in any Linux system is simple. For example if you are using the latest Ubuntu distro, OWA can usually be opened in the Firefox browser, although this depends on the version of Outlook Web Access in question.
Older versions that are based on Outlook 2003 are only suitable for use with Internet Explorer – a browser that isn't available for Linux without the help of a virtual machine. Fortunately, however, later versions of Outlook Web Access – such as those provided in Exchange 2007 and 2010 – provide superior access options and can be used from other browsers such as Firefox.
Accessing OWA from any browser requires that you know the URL for the service and have a username (typically your email account) and password to sign in. Once Outlook Web Access loads in your browser you will be able to create, send and receive email messages just as you would in the full desktop version of Outlook. The only real difference is the lack of advanced settings for things you wouldn't usually want to alter until you were back in front of the full Windows desktop version of Outlook; OWA is a great alternative!
Accessing Exchange Email with Evolution Mail
You don't have to be restricted by the web-based alternative to Microsoft Outlook when using Linux computers, however. As long as your distro can run the Evolution email client you can gain access to a Microsoft Exchange account!
This is particularly useful if the account in question runs on older versions of Exchange, as currently Evolution cannot easily connect to Exchange 2007 or later accounts without IMAP4 being active on the mail server.
You will find Evolution in the Applications > Internet menu on Linux Ubuntu and it is available via the Package Manager on other distributions. To setup an Exchange account in Evolution, launch the application and follow the setup wizard through, entering your email address when prompted and selecting Microsoft Exchange in the Server Type field. This will also require you to enter a username and the URL for your organizations OWA page, which Evolution will use. All you should need to do next is click Forward and wait for the auto-configuration process to complete!
So What Does This all Mean?
With different versions of Microsoft Exchange still in use and different methods of accessing them, you might be a little unsure of how to access a particular version. While workarounds for issues access Exchange 2007 and 2010 from Evolution exist, they are not universal.
As a result, the best methods for access the various types of Microsoft Exchange accounts from a Linux computer are as follows:
Outlook 2002 – Outlook Web Access can be accessed via Linux email client Evolution Mail
Outlook 2003 – as above, can be accessed via Evolution Mail
Outlook 2007 – accessed with Mozilla Firefox
Outlook2010 – accessed with Mozilla Firefox
References
User's own experience
Linux mail client compatible with Exchange 2010 not IMAP, https://community.spiceworks.com/topic/97532-linux-mail-client-compatible-with-exchange-2010-not-imap
Linux Mafia FAQ, https://linuxmafia.com/faq/VALinux-kb/ms-exchange-replacements.html
Screenshots provided by author.