Music Wallpaper for Windows Users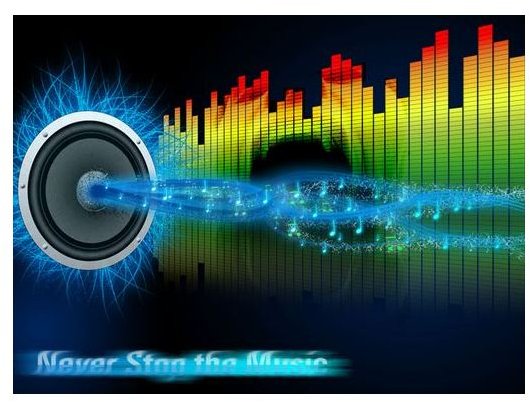 This is the guide for music lovers. If you are a music lover and change your desktop wallpaper often, you will love the music wallpapers in this guide. To use any of the wallpapers in this guide, please use the links in the Resources box at the end of this guide. All of the wallpapers in this guide are free to use and download to your computer. You will find five unique and cool looking backgrounds in this guide that are sure to set your desktop apart from the rest. You can even create custom slideshows of all five if you want. Please see the "Windows 7 Users" box in this guide for more information on creating slideshows.
Abstract Music Notes Wallpaper
This is an abstract music wallpaper for Windows desktops. If you are a fan of both music and abstract art, you will surely love this wallpaper. There is a speaker on the left side of the wallpaper and coming out of the speaker are blue music notes. It is a very cool wallpaper. Make sure the image has fully loaded before you try to right click on it, or it may not work properly as your desktop's wallpaper.
Glowing Music Notes Wallpaper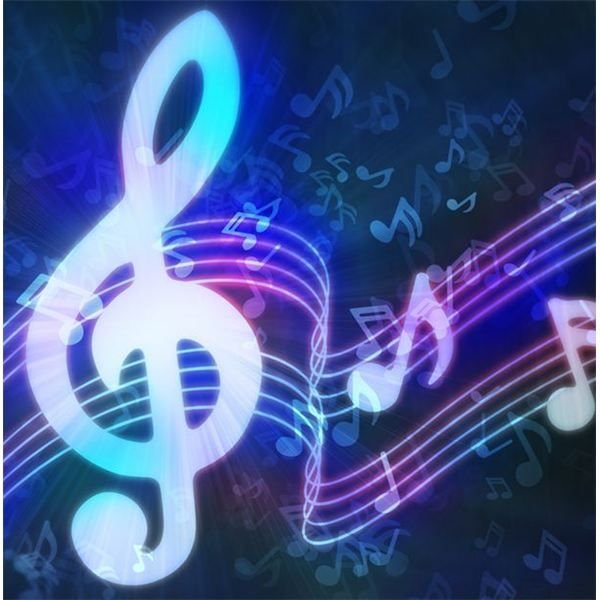 This is what I call a glowing music notes wallpaper. It has many notes on the wallpaper and they are glowing colors of pink, blue, white and purple. There is one large note and then smaller notes following that. It is a very unique looking wallpaper and would work great as a single background for your desktop or as part of a wallpaper slideshow.
3D Glass Music Notes Wallpaper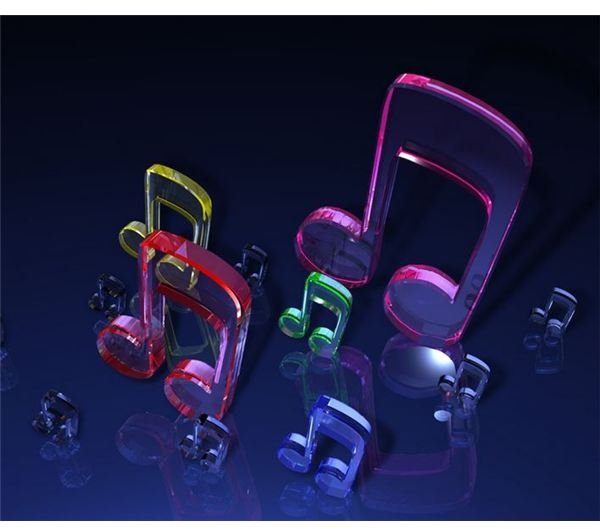 This is a very unusual wallpaper. It has 3D glass music notes on it. The notes also have a reflection beneath each one of them. It is a real eye catching wallpaper and you could spend some time just sitting there admiring the work. This may be one of those wallpapers that will make it difficult to see your desktop icons. If so, you will need to check the color of your icons or clean your desktop up and move your icons around until you can see them.
Gradient Music Notes Wallpaper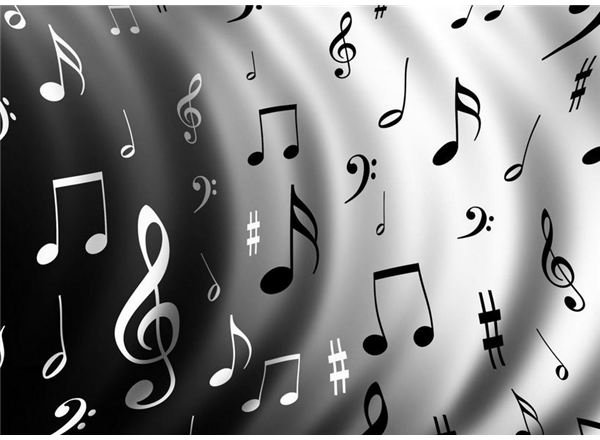 This next background is a gradient wallpaper. Due to the gradient color, it appears to have ripples in the background. This is just one of the cool effects gradients can do to a background. There are also music notes in black and white all over it to please the musically inclined. The gradient ripple background is the main attraction though, as it really sets this wallpaper off. It makes the music notes look like they are floating.
Guitar Wallpaper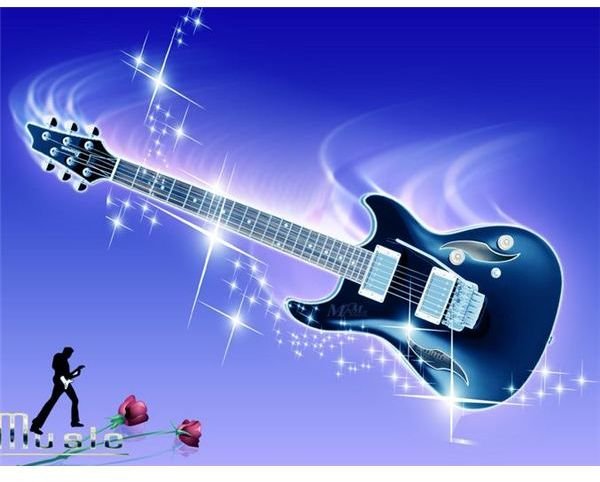 This music background may be better suited for females due to all of the sparkles and the roses. It is an absolutely beautiful background. It has a blue background with a glowing blue guitar. There are stars and sparkles coming off of the guitar to create a very pretty effect. There are also two beautiful pink roses at the bottom of the wallpaper to give it a special touch.
Windows 7 Users
If you are using the latest Windows operating system, you have the option of creating what is called a slideshow for your wallpaper. Basically, you collect however many wallpapers you want and your desktop will change every so often using the wallpapers you want. You have to set this option up. You also have control over what is displayed and how often your desktop changes. For a guide on how to customize your wallpaper, check this link. It will walk you through the steps of creating a slideshow and get you well on your way.
Wallpaper & Icons Help
If you run into the problem of not being able to see your icons once you have applied a new wallpaper, you will have to change the icons. To make changes to your icons, you will need to open the properties panel on your desktop. Then open the appearance section and change the color of your icons' text. Another thing you may want to consider, if you have a lot of desktop icons and can't see them on certain parts of the wallpaper, you may want to drag the icons around the wallpaper so you can see them better.
To save the wallpaper, you basically right-click on the wallpaper in the browser and select the "set as background" option. However, if you are using Chrome, you will need to save the wallpaper to your desktop by right-clicking on the wallpaper and selecting the "Save Image As" option and saving it to your desktop. Then you can go to your desktop, right-click on the image you saved and set it as your background.
Resources
1. Abstract Music Notes Wallpaper - https://www.scenicreflections.com/download/246750/never_stop_the_music_Wallpaper/
2. Glowing Music Notes Wallpaper - https://binuvs.files.wordpress.com/2010/01/music_wallpaper_1280x800_by_twe4k1.jpg
3. 3D Glass Music Notes Wallpaper - https://fc08.deviantart.net/fs34/f/2008/239/c/3/Music_Notes_Wallpaper_by_AMH05.jpg
4. Gradient Music Notes Wallpaper - https://changedesktop.com/wp-content/uploads/2011/01/Music_Notes.jpg
5. Guitar Wallpaper - https://files.myopera.com/m2m99/albums/600729/Music%20Wallpaper%20Design%20By%20mRm.jpg
All screenshots were taken by the author and are the property of their respective sites.