Need to Learn How to Download and Install SD Host Controller Drivers? Read this!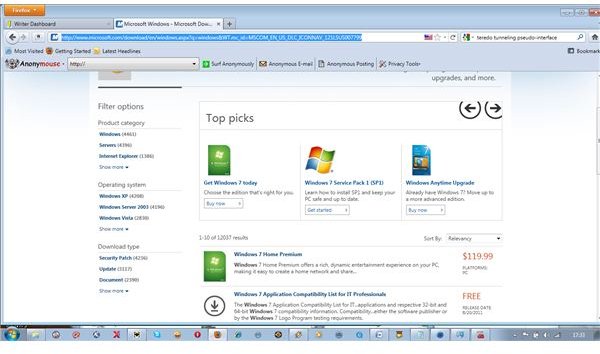 The SD host controller in your system allows you to access your Secure Digital storage media. These are the media cards you use in such devices as your cameras, media players, and some cell phones. The reasons these devices stop working can range from an incompatibility with certain Windows updates to a system crash requiring a system reload. Downloading these drivers can be done at the Windows Download Center, the Support/Downloads pages of the maker of your system, and the Support/Download pages of the device manufacturer.
Microsoft Download Center
Most Windows versions have come with a set of base drivers for most peripheral devices for a number of years. Microsoft maintains a Windows Download Center where they maintain a variety of drivers that will normally be more up-to-date than what was available on your installation disc, or that may have been installed when you bought the computer. However, if you bought a complete system, going to the system maker's website is recommended since you will be able to download drivers that are tailored for your system, whereas those found on the Microsoft site will be generic. Downloading the drivers you needs is a simple matter of clicking the title of the driver and selecting where it will be saved.
Computer Maker's Website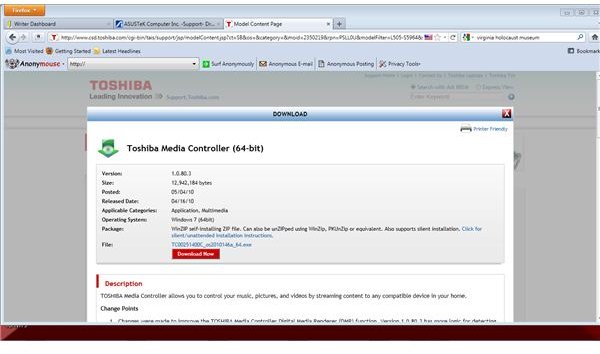 If you bought your computer from a store such as Fry's Electronics or Office Depot, your computer is what I call branded. This means you've got a Dell, Compaq, Gateway, Toshiba, or one of a variety of other well-known computer makers. All of these computer makers have support pages where they have lists of available software for download. Driver for peripherals can be found here. Usually, these will be the most up-to-date drivers available, and, even better, they will be optimized to work with your system. Even better, you don't have to know who makes the SD host controller.
As an example, I use a Toshiba Satellite laptop. I can find a comprehensive listing of everything that Toshiba has available for my laptop on the Toshiba support site. Before going online and looking for those new drivers, you will need to make note of the exact model number of your computer (mine is a Satellite L505-S5964) to make sure you get the drivers that were written specifically for your computer. Some computer makers will make you register with them prior to giving access to the downloads section, but this is just a matter of letting them know who you are and what you have. Find the driver/patch you're looking for, click it, select where to download it to and hit Ok.
The Device Maker's Website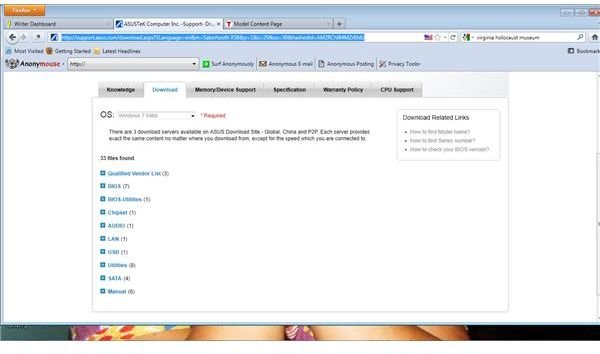 This is for those of you that have built your own computers. You don't get the easy, find-it-all-in-one-place experience that those who bought a complete system will get. But, on the other hand, you most likely have everything you wanted in your system and may have paid less for it. Most likely the media card reader in your computer was built into the case you chose and connected to one of the motherboard's front panel USB headers. You're going to want to head over to the motherboard maker's website and browse their available software. For example, you may have an ASUS motherboard. You may have their top of the line Sabertooth X58 motherboard, running a 64-bit version of Windows 7, so you would download your drivers here. Once you find the driver set you need, just click the link for it. Most sites will take you to a page that describes the driver and has the link for the download at the bottom. Click the link, tell your browser where to put it, and click Ok.
Install Your Downloaded Drivers
Once your driver download completes, you need to install the driver in order to use it. Close everything except Windows Explorer. Browse over to the folder that you downloaded the driver to. In Windows XP, double click the file and in Vista/7 right click the file and select Run as Administrator. Now close Explorer. Follow the onscreen prompts to install the driver. You will more than likely be asked to reboot the system in order for the driver to loaded and be able to use the media card reader in your system.
Driver Installed and Still Not Working?
Installing the newest driver will usually get a computer peripheral back up and running. However, if the device is new, this may not be the case. Normally, if a device such as an SD host controller isn't working after installation of the device drivers, you'll find that there is a resource conflict. Open Control Panel and then open the Device manager. Scroll down to find any devices with yellow triangles with an exclamation point inside to find devices that aren't working properly. If you right click on the problem device, you'll be presented with a context sensitive menu. Select Properties and check the bottom of the next dialog that is labeled Status. This will tell you if the device is working properly and if not, what the problem may be. Remove the resource conflict and the device should work properly.
References
The author has over 15 years experience building, troublehsooting and fixing computers.
Screen capture images provided by author.