Your Guide to Office 2010 Live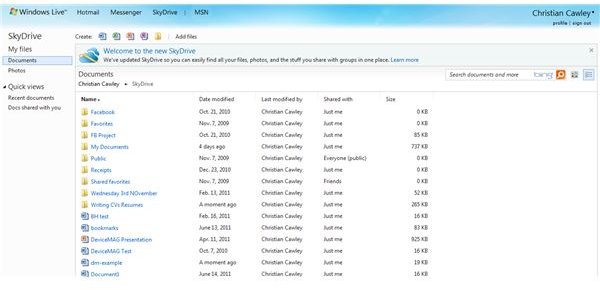 One of the most successful products to come from Microsoft is there mammoth Office suite of productivity applications. Used by businesses and institutions the world over, Microsoft Office offers email (Outlook), word processing (Word), financial calculations, spreadsheet and statistics (Excel), presentation management (PowerPoint), database management (Access) and other optional components. These tools can be purchased as an all-on-one suite and be used to great effect in the workplace, while a home office user might restrict themselves to solitary copies of Word and Excel.
Up until recently, someone using a home office might have weighed up the advantage of spending money on Microsoft Word (around $100) or the lower-spec, modest functionality of Microsoft Works, which features a word processor and spreadsheet. Many have pondered this question.
However, this is no longer an issue following the launch of Microsoft Office Web Apps, also known as Office 2010 Live.
Microsoft Office in Your Browser
Office Web Apps can be accessed via a suitably equipped web browser (typically Microsoft Internet Explorer with Silverlight installed, but this isn't completely necessary) and this enables access to web-based versions of Word, Excel, PowerPoint and OneNote from pretty much any Internet-connected computer.
Files are stored remotely in the cloud, with Microsoft providing you with 25 GB of storage as part of a free Windows Live SkyDrive. This means that you can save your files and then retrieve them later either in another browser window or by opening the document in the desktop version of the corresponding application.
Having access to these applications in your browser delivers considerable benefits, not least reduced local storage requirements for installation when using a tablet or netbook.
However, while the web apps are useful, they feature stripped-down functionality. For instance, as you can see in the accompanying image, there are far fewer options beyond basic text formatting available in the browser-based version of Word compared to the full desktop application.
Office Live and Office 365
Microsoft Office 2010 Live is one of the names given to Microsoft Office Web Apps; another is Office 365, although this has a slightly different focus.
While Office Web Apps is aimed at everybody from school children and students to silver surfers (basically anyone who needs basic office functionality), Office 365 offers all of this and more, combining instant messaging and collaboration via the Microsoft Lync Online tool, group document editing and collaboration via Microsoft SharePoint Online and Microsoft Exchange Online, which provides browser-based access to an Exchange email account in much the same way as Outlook Web Access.
Microsoft Office Web Apps is just a small aspect of Office 365, but while for non-corporate users all that is required to access the web apps is a Windows Live account, to use Office 365 you will need a Microsoft Online Services ID.
Using Microsoft Office Web Apps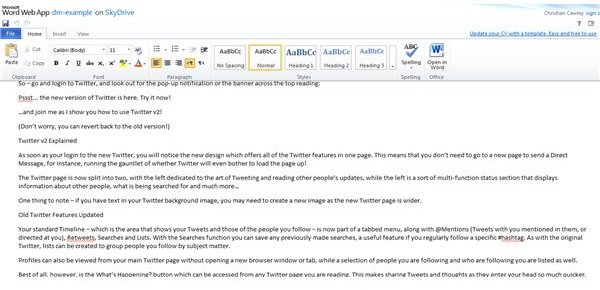 If you're interested in taking advantage of Microsoft Office Web Apps, you can do so via www.officelive.com. Clicking the Get Started Free link will take you to a Windows Live sign-in page, where you can either use an existing account or create a new one to access the web apps.
As described above, you have a choice of Word, Excel, PowerPoint and OneNote, and using the Create a new online document menu you can select one of these web applications to start work!
While the features are limited, the basic functionality is present in Microsoft Office Web Apps. For instance, in the Word Web App you can print your document as well as apply different font styles and sizes, apply bold, underlining and italic formatting, alter text justification and lists and add styles. The app even has a spellcheck tool, as well as an Insert menu for adding images and hyperlinks.
Similarly, the PowerPoint and Excel Web Apps offer a similar degree of usability but with stripped-down features, while OneNote is pretty close to the full desktop application.
Disadvantages of Web Apps
Although they can prove themselves very useful in a tight spot or any scenario where cloud computing is necessary, Microsoft Office Web Apps are not perfect for all tasks.
While it is quite possible to write a long report or even a novel using this system, connectivity issues between your local computer and the server hosting the web app can play havoc with your edits. Similarly, the lack of advanced features may put some users off, particularly if they have a very specific requirement from Word, such as proofing, editing and tracking changes, all of which are missing features from web apps. Similar complaints can be leveled at the other Microsoft Office Web Apps, but if you need a word processor in a hurry or on a low-spec computer, this is the way to do it.
References
Microsoft Office Live: www.officelive.com
Author's own experience.
Screenshots provided by author.