We Explain How to Print Files & Folders in Windows 7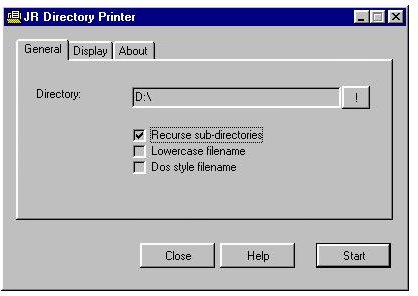 Have you ever tried tidying up your hard disk drive and found that you just have so many old files and folders cluttering things up that you don't know what to keep or delete? One way of coming to a decision can be to forget about the computer and instead make a list of everything in the folder (perhaps My Documents) and then decide on how to sort files out, perhaps based on date or file type.
In this situation, rather than writing a long list, you will need some method of outputting the contents of the folder to a printer. While the easy method of tapping the Print Screen button on your keyboard and pasting this into a Word document before printing might seem attractive, it isn't practical for longer folders. In these situations, you will need to find an alternative.
Luckily there are several ways in which you can print the contents of a folder. One of these uses a built-in Windows feature while the others are third party utilities.
Via the Command Line
Although this doesn't require you to download any other additional software, this method is pretty simple and is great if you don't need to mess around with any settings and specifications and just want to output the contents of a folder. This method involves outputting the contents to a text file which can then be printed.
Begin by starting the command prompt. This can be done in several ways in Windows 7 – for instance, you might press WINDOWS+R and type cmd then click OK, or you might go to Start, type cmd and tap Enter.
From the command prompt, use the cd function to find the directory path to the folder whose contents you want to print.
For instance, I have a folder called Music on my D drive. To print the contents of this, I would navigate to the folder using:
cd d:\music
As I am switching from the default c:\ drive to d:\, in the next line I will need to enter:
d:
Next, view the directory using the dir command. This will give you an idea of the information that will be displayed in the file that you will create. The file is then created using the command
dir > print.txt
This creates a file called print.txt within the selected folder. You can then open this text document and select File > Print.
JR Directory Printer
Another solution is to download a utility that performs the task for you. This will avoid you having to get your hands dirty with the command prompt. A good example is JR Directory Printer, available free from www.spadixbd.com/freetools. The small download is just 174 KB, and when complete you will need to unzip the contents and run JDirPrinter.exe.
This is a very easy-to-use utility. Begin by clicking the ! button to browse to the directory whose contents you wish to print, and then decide whether or not you wish to also feature the contents of any sub-directories by checking the Recurse sub-directories option. You can also select MS-DOS-style and lower-case filenames if required.
On the Display tab, you can opt to include or exclude further information such as file size and date, as well as limit filename length and specify a format for the file size information (Bytes or Kilobytes).
When you are happy with your selections, click Start; the output file will automatically load in Notepad so that you can see the contents, and clicking File > Print will output them to paper.
Image credit: https://www.spadixbd.com/freetools/jdirprint.htm
Karen's Directory Printer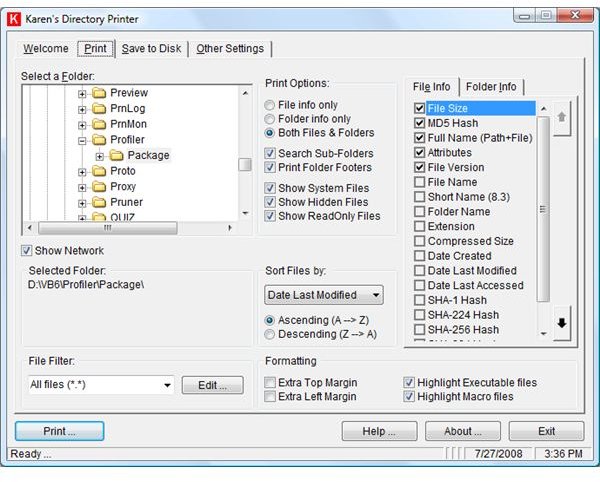 Another useful utility that serves this purpose is Karen's Directory Printer, which can be downloaded from www.karenware.com/powertools/ptdirprn.asp.
This 1.2 MB download can be described as being comprehensive for the task of printing file folders in Windows 7, offering lots of options and settings that will help you to get the desired results. Karen's Directory Printer is installed by running the ptdirprn-setup.exe file, and once you have done this and launched the utility, you can choose between the Print and Save to Disk tabs for creating a listing of the required folder.
For printing the contents of a folder, use the Select a Folder window to find the relevant location on your computer or network (the latter available by checking the Show Network box), and then selecting between File info only, Folder info only and Both Files & Folders.
On the right hand side, various File Info and Folder Info options are available for you to choose from if required, and at the bottom you will notice that you can Sort Files and apply Formatting. Note that you can also use a File Filter to output specific file types (such as images) in the printed list .
After making your selections, click Print… - this will allow you to select a printer, paper type and even a font.
Image credit: https://www.karenware.com/powertools/ptdirprn.asp
Which is the Best Option?
As you can see, we have three great options, each offering an increasing selection of features. If you just want to print the contents of a folder as a one-off project, then you should probably choose the command prompt method, while anyone wanting a quick fix to the task of printing folder contents but apprehensive about text-based commands should use JR Directory Printer.
For the best results, however, Karen's Directory Printer is free and a utility that is easy to use and gives the best results.
References
Author's own experience.