Best FireFox Plug-Ins - CustomizeGoogle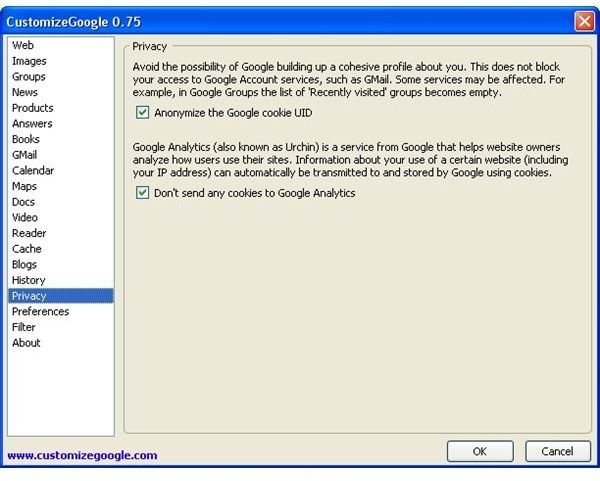 CustomizeGoogle
CustomizeGoogle has literally dozens of features. One of the most talked about is its ability to strip out the ads from Google's websites. Frankly, there are better products for that, and it is one of CustomizeGoogle's least impressive features. So, what makes it such a top plug-in?
Privacy
CustomizeGoogle helps eliminate some of those privacy concerns people are beginning to have regarding Google and the information it collects about you and what you search for. One of Google's biggest tracking tools is a user ID hidden inside of a cookie. You can delete the cookie, of course, but that also deletes all the user preferences, and that isn't good. Instead, CustomizeGoogle tweaks the cookie to change the user ID embedded inside of it. That way, all of your settings stay intact, Gmail and iGoogle work just fine, but Google's database keeps tracking "new users" instead of you. I've never had a single problem with Google's services while using this feature, and I push Google's apps as far as they will go.
Another area CustomizeGoogle helps with privacy is by preventing your cookies from other websites from being sent to Google. As a web designer and site owner, I (and millions of others) use Google Analytics to help track what users do on my site. Don't worry, its mostly harmless, but it allows a site owner to see things like which pages cause users to stick around, and which ones cause them to click away. The catch is that the same cookies that give the site owner that information can be sent to Google as well even they don't have anything to do with the site. CustomizeGoogle stops this as well.
Wait! There's More!
The privacy features alone make this a Best Firefox Plug-in, but that isn't all it does. Customize Google gives you control over your Google experience in a way that would take you days to setup within Google, or in ways that aren't available from Google.
The best feature of CustomizeGoogle is the ability to filter your search results. I despise Experts-Exchange.com. They come up in search results to technical questions. Click on them and you'll see the question, but if you want to see the answer you have to sign up. FAIL! By adding them to my filter, I never see results from them and don't waste time going to a site that won't be helpful. Once you realize the function is there, you'll be adding others all the time until you have eliminated hundreds of useless, ad-filled, or just annoying websites from the results you see in Google. I only wish there was a keyboard shortcut to the filter window so I could add sites faster.
The most useful settings:
Web: Position Counter - for knowing whether this is the 18 ranked site for your search or the 22
Images: Stream search result pages – when looking for images, just keep scrolling down, no need to click next, great help when trying to find just the right image in a crowded search
Secure – several apps have an option to use the secure HTTPS protocol, you never know these days, and since there is no down side, you might as well always go secure
Filter!
CustomizeGoogle Recommendation (5 out of 5)
One of the best Firefox plugins available. No Internet user should be without it.
This post is part of the series: Best Firefox Plug-ins
Once you've graduated from the kiddie pool that is Window's built in browser, Internet Explorer, you'll want to be using Firefox. One of the best things about the Firefox browser is its support for plug-ins. This series highlights the best. "We're the best of the best of the best, sir."