How Do I Remove Temp Files from Firefox?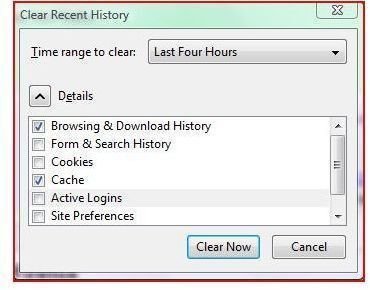 Why Do I Need Them?
The temporary files for Firefox (and every other Internet browser) serve one simple purpose. They make your browsing experience just a little bit faster. When you load a website into your browser, it sends you a lot of data. You need to download the text on the page, the images that they use for their banner and buttons, any other images on the page, any videos on the page, etc. Since most people don't visit a site and immediately want to leave it and never return, the browser stores this information in the temp folder.
This makes it far easier to pull the website up again, if necessary. If you want to include cookies in this, then the temporary files can also store your history and information relevant to the site.
For a practical example, one can look at any online arcade. Firefox will keep the flash files for the game on hold, so that when you go back to the game it will load much faster. The cookies will handle any options for saving your game, or remembering what level you were on (unless there is a permanent account feature).
Why Would I Delete Them?
You may then wonder why anyone would want to delete their temporary files. While the speed boost isn't mind blowing, it should be noticeable for most. Having old favorites loading like the first time you pulled them up can be a little annoying, and those seconds do add up when you just want to look something up quickly.
The tradeoff is usually a matter of privacy and space. Temporary files, especially temporary files for videos and games, can start to clutter up a small hard drive. If you're counting things down to the MB, then clearing out your temp folders in Firefox can be a quick fix until you have time to sort through your files.
Don't go in expecting miracles, but it can be useful in a pinch.
Privacy will probably be your biggest reason. If you share a computer with someone, then they can easily use the temp folders to see where you've been and what you have watched. If you want to keep your browsing private, then just deleting your history will not be enough. Pulling up a temp folder is fairly trivial for any interested person. If you have been viewing anything that you don't want a roommate/family member/significant other to see, then you should probably wipe out the temp folders in Firefox, along with any other browsers that you may use.
Options in Firefox
You have a few ways that you can clean out your temp folders easily. It's basically the same as clearing out your history. Either go to Tools->Clear Recent History or press Ctrl+Shift+Del to pull up the relevant window. You can then tell it to clear your cache for any period, ranging from the last hour to the first time that you loaded the browser. Give it a moment to delete it, and then shut the window. It should all be cleared away.
If you want to be a bit more secure, then Firefox offers a few extra options. You can choose to use private browsing anytime that you're doing something that you don't want it to remember. To start private browsing, go to Tools-> Start Private Browsing or just hit Ctrl+Shift+P. It will save what you're doing, then open a new browser window that will delete all of its temporary files when you close it.
You can also set Firefox up to do this all the time. If you wish, go to Tools->Options->Privacy and then use the dropdown bar to select Custom Privacy Settings. You can then tell Firefox to clear its history every time that it closes. If you go into settings, you can check the boxes by Offline Website Data and Cache to keep your folders clear.
Third Party Software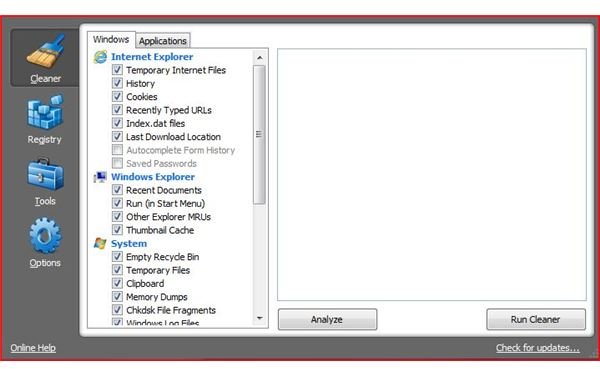 If you want to be extra clear, you can use third-party software, such as CCleaner. That link will take you to a review, if you want all the little details.
This is a great little tool. The program is made specifically to protect your privacy and to clear up unwanted files that are left behind cluttering up your computer. Merely fire up the program, update it, if necessary and then have it analyze your computer. It will take around a minute or two, and should provide you with a rough report of how big your temp folders are, and note things that can be removed.
With this information, you can then go through the list and verify that you wish to delete all of the temporary folders for your browsers. Then just have it run and wait while it cleans up. If you do this occasionally, you should be set.
References
Source: Author's own experience with the programs
Image Credit: Screenshots of Firefox Browser and CCleaner.