You Guide to Microsoft's Free Instant Messenger Software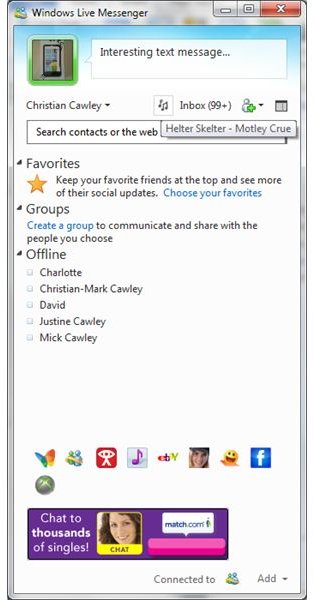 The First Choice Messaging App for Windows
If you only had the chance to install one instant messaging application on Windows, your first choice would probably be Windows Live Messenger.
The latest version of the popular IM (instant messenger) features a whole host of new features, from integration with Facebook to extensions that can display what music you're listening to and even voice and video chat. With Windows Live Messenger installed on your desktop or laptop computer, you can make full use of webcams and microphones, or simply use the chat client for basic text based chat and the occasional bit of file sharing.
Traditionally, people chose chat clients based on the service their friends were using. For instance, if all of your friends were using Yahoo! Messenger, the chances were that you would too. However, these distinctions are no longer as issue, as both chat networks allow you to share contacts, allowing text chat with friends on Yahoo! Messenger from the Windows Live chat client.
Strengths of Windows Live Messenger
As we've already seen, Windows Live Messenger already has particular strengths in its ability to allow users to chat with colleagues on other networks. Yahoo! Messenger interoperability has been available since 2006, while 2010 saw the arrival of Facebook chat integration with the service. Additionally, Windows Live Messenger also features integration with Xbox LIVE, and friends with Gamertags are listed as being online when they are signed into the Xbox gaming service.
Windows Live Messenger comes as part of the Windows Live Essentials pack; as a result, it cannot be installed on any version of Windows prior to Vista. As part of Essentials, Messenger is integrated quite closely with some of the other applications that make up this suite, and away from desktop computing, it is available as an iPhone app, giving users the added functionality of mobile instant messaging.
Additionally, Windows Live Messenger has been designed to allow developers to produce add-ons and extensions that expand the available features.
Getting Started with Windows Live Messenger
In order to use Windows Live Messenger, you will need to have the Windows Live Essentials setup file downloaded from explore.live.com/windows-live-essentials. This shouldn't take too long to download as it is an online installer, and only installs the components that you want to use.
For instance, you can opt to install the whole suite or choose what to install; if you only want Messenger, then select this option and then follow the instructions to download and install Windows Live Messenger on its own.
Note that Windows Live Essentials and its constituent applications (such as Messenger, Windows Live Mail, Windows Live Photo Gallery and others) do not ship with Windows 7 (unless added by the OEM), and as such must be downloaded via the link above. Like the rest of Windows Live Essentials, the Microsoft instant messenger app is free software.
Once installed, Messenger will automatically launch. You will need a Windows Live account to start chatting; also known as an MSN or Hotmail account, a Windows Live login will also allow you to gain access to some of Microsoft's other live services, such as SkyDrive or Microsoft Office Web Apps.
If you have used a previous version of Microsoft's Messenger chat client, then a list of your contacts will be listed when you sign in; also if you have used the Windows Live Hotmail service, or have an Xbox LIVE account linked to your Windows Live account, then any contacts you have added on these services will be listed.
To begin chatting, all you need to do is select a user, right click and choose the type of chat you have in mind – text, voice or webcam. Use the Tools > Set up audio and video devices… to configure any suitable devices that you have attached to your computer.
Using Add-ons and Extensions
Various useful add-ons and extensions are available with Windows Live Messenger, from tools enabling you to display what music you are listening to in Windows Media Player or Zune to additional tools that enhance the way you can use the messenger client.
For instance, Messenger Discovery will allow you to record webcam chats, run multiple copies of the app and even allow you to spot which contacts have deleted you. Elsewhere, at www.msgplus.net/Downloads you will be able to find a variety of useful skins, scripts emoticons and other useful and fun stuff.
Probably the most vital new enhancement to Windows Live Messenger isn't an add-on, however. The integration with Facebook Instant Messenger (the chat system found in the bottom-right corner of your Facebook profile) is very useful, and can be achieved by clicking the Facebook "F" icon and signing into your account, verifying with Facebook that you wish to link the two services together. This will import all of your Facebook contacts into Messenger, and although full integration isn't possible, this offers a means to sign in to Facebook quickly to chat with any friends that appear online.
As you can see, Windows Live Messenger is a powerful instant messaging and online communications service, one that you should not miss!
References
Author's own experience.
Screenshots by author.