Learn about the Best Personal Information Management Software for Outlook and Make Your Life Easier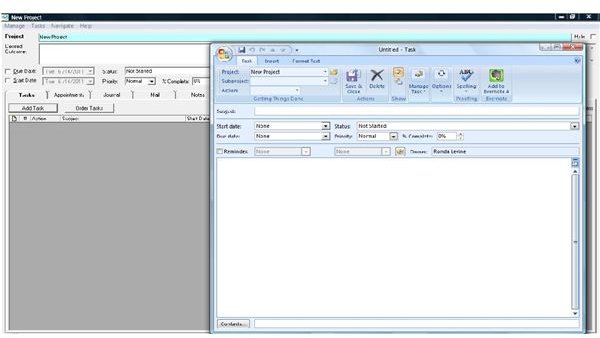 Outlook can be a great tool, but when you work with the program a lot, it begins to seem as though the program is very limited in its scope. For example, you need to get creative to track related tasks or projects. If you've been using Outlook for a long time, and you have a lot of information stored in it, it can become quite time-consuming to go through the program and re-organize everything to meet your current system. If you use social networking a lot, it may become desirable to interface your social networking with Outlook. No matter what sort of capability you need or want from the program, you have the ability to do so by using some of the best personal information management tools for Outlook that are available.
Before you go searching for organization tools, take a moment to brainstorm the sorts of things that would be handy to have Outlook do. Once you've made your list of capabilities you would like to have, you are ready to proceed in the task of downloading and installing tools that can help you be more organized - and ultimately more productive.
GTD Add-In
For those who use David Allen's Getting Things Done (GTD) methodology, the GTD add-in may be a great benefit. The add-in allows you to track projects, link all of your project information together, and keep your journal information, appointments, and emails linked with the projects they belong to so that you can easily find what you need when it's time to work. You can also use the 2 minute timer for tasks that take two minutes or less, organize your tasks by context, and delegate or defer tasks. This plug-in costs $74.95.
Pros:
The program is an outstanding option for those who need to track projects as well as tasks and who want an easy method for doing so
Users will find the program is easy to use
It is a great tool for fans of the GTD methodology
Cons:
The cost of the program can deter people from using it
It may take a while for people to learn how to use the program to best meet their needs
For those unfamiliar with GTD, the program can be overwhelming
Xobni

Xobni is a great tool for those who would like to connect with contacts on social networks, would like to know what time they can expect a response from their contacts, and sync their information across platforms. This program allows users to easily manage their contacts. You can view the social networks a contact is on, send requests to connect, and view recent status updates. There are two different versions, and Xobni is also working on a GMail plug-in, which will help you to sync your contacts across multiple computers - and to access those contacts should you be away from a computer that uses Outlook. Xobni has a free version or the professional version for $7.99 per month. Additionally, should you want to use Xobni in your company, there are options for that.
Pros:
Xobni's features are automatic, meaning you don't have to do anything special to benefit from the program
Xobni is very easy to use - by clicking on the different tabs, you can navigate the add-in quickly and easily
The program makes it so that you can access any contact's information - no matter what social network he or she uses.
Cons:
I found that Outlook would load slower when using Xobni on my computer
Outlook frequently crashed when I used Xobni
Jello Dashboard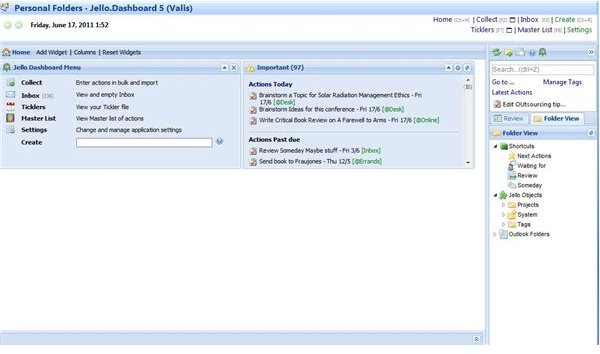 Jello Dashboard is another fun utility for Outlook. Jello Dashboard, like the GTD add-in application is based upon David Allen's principles. The interesting thing about using Jello Dashboard is that you can gather all of the things that are on your mind and automatically import them in as tasks. Once you've imported them, then you're able to process them. This is a great tool for getting all of the things that you need to completed organized in an effecient manner. The program is available to download for free.
Pros:
Perhaps the most useful feature of this program was the ability to complete a mind dump and import the items from that into the system quickly and easily
The program has everything in one place
Jello Dashboard is available to you for free
Cons:
Jello Dashboard works with Outlook, but it really is its own program within a program - this means it can be a little slow
You should probably choose to either use Jello or GTD but not both - they become kind of redundant otherwise
Taglocity

If you're looking for a simple way to organize everything in Outlook, focusing mainly upon the ability to quickly sort through a lot of email, contacts, and tasks, you might want to look into Taglocity. This program makes the life of anyone needing to keep track of all the people and events in their personal lives much easier. Once you begin tagging emails, tasks, appointments, and contacts, you can then filter your Outlook files by this information. You can also group tags together and search for groups based on specified tags. The standard edition of Taglocity is available for free; there are two professional versions. The personal version is $19.95, and the business version is $29.95.
Pros:
Highly individualized - you can create whatever tags you need to.
The program has some pre-selected tags. You can select them using shortcut keys.
Cons:
The main thing I didn't like when using this program was that the shortcuts for this program interfered with my regular Outlook and Windows shortcuts.
Outlook seemed to crash more often when I used this add-in.
Easy2Add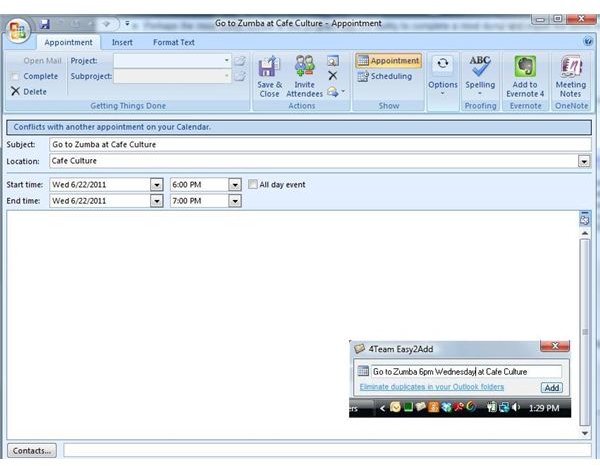 Easy2Add is a neat little utility. What this program does is allow you to instantly create tasks, appointments, contacts, and notes without opening a separate window. You can create an appointment in one line - for example, in the screenshot I created an appointment saying "Go to Zumba 6pm Wednesday at Cafe Culture." You could create start and stop times, create a general event, or add a phone number for a contact. This little program is free for 14 days, after that, the license costs $9.95 for a single licenses, and volume discounts are offered for additional licenses.
Pros:
I love the fact that I don't have to leave the document or page I'm on to add a task or appointment to Outlook
You can fill in all the necessary information for the event, appointment, contact, note, or task in one line
You will have the opportunity to open the new Outlook item after it has been created
Cons:
While the program does cost just under $10, I'm still a bit bummed about the price
Unless you open the created item, you will need to open it in order to categorize it
Google Calendar Sync
Google Calendar Sync allows users to sync their calendars both ways in Outlook and Google Calendar. You might want to download this add-on if you will be accessing your calendar information on a computer not running Outlook. You can either sync your calendar one way or you can sync it both ways. This add-on will update all notes you might have associated with calendar items.
Three Add-Ons Worth Mentioning
While these three add-ons are not PIM programs, they certainly do make organizing tasks, appointments, and emails much easier. Outlook Attachment Remover makes your file much smaller. The tool removes attachments from emails and places them into a designated folder. This helps speed up Outlook, especially if the program has been running slow. The Outlook Attachment Reminder will notify you if it detects that you have overlooked attaching your file to the email - and it saves you the embarrassment of sending a second email to recipients. Finally, the Live Search Maps add-on can make your appointments and tasks more streamlined. If you want to keep all your information in onei place, including how to get to an appointment, then this program will help you to do that.
By carefully selecting the best personal information management add-ons for Outlook, you can increase your productivity and sense of organization. If you're like me, and live in Outlook during your day, then you'll appreciate the ease these programs bring to getting - and staying - organized. The most important part of managing your information in Outlook is developing a consistent system for doing so.
References:
GTD Add-in: https://gtdsupport.netcentrics.com/home/
Xobni https://www.xobni.com/
Jello Dasboard https://jello-dashboard.net/
Taglocity https://www.taglocity.com/index.html
Easy2Add https://www.easy2add.com/
Outlook Attachment Remover https://www.kopf.com.br/outlook/
Outlook Attachment Reminder https://sites.google.com/site/markbird/home
Live Search Maps https://download.cnet.com/Live-Search-Maps-Add-In-for-Microsoft-Office-Outlook/3000-2369_4-10693700.html
All screenshots by Ronda Roberts.