The Ultimate Windows 8 Preview & Roundup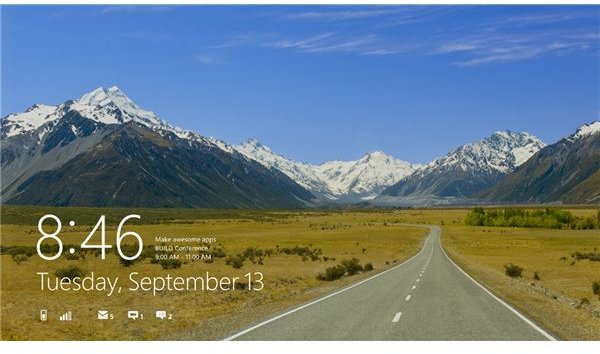 Windows 8 Already?
Windows 7 seems like it only just got here, but already there is talk of Windows 8, with a preview movie, an idea of the types of systems it will run on and news that it will feature a radical new user interface based on the successful Metro UI seen on Windows Phone 7.
In fairness, however, Windows 7 was never really meant to be. Released as a response to the overall poor user experience found in Windows Vista, it is really nothing more than an improved UI and a few extra features rather than a considerable update.
Windows 8, meanwhile, was always meant to be a big step up towards a new generation of operating systems, and with the new netbook and tablet markets demanding operating systems that are scalable and capable of running on non-Intel compatible chipsets, Microsoft are planning to release what could be described as the most radical version of their operating system since Windows 95.
P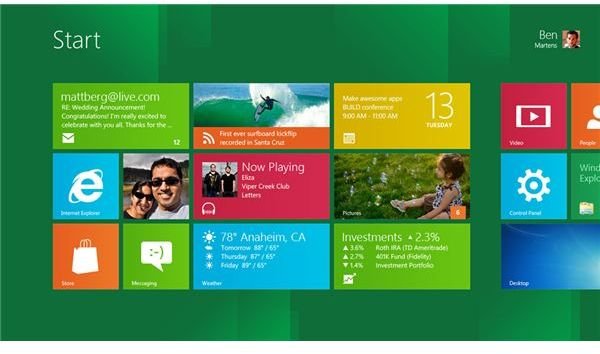 rior to the release of the Developer Preview, Steve Ballmer said that Windows 8 would be Microsoft's "riskiest" release to date. However, feedback from the preview from developers and journalists has been positive, with some even speculating that this version of Windows could disrupt the near monopoly on tablet devices currently enjoyed by Apple.
What is Windows 8?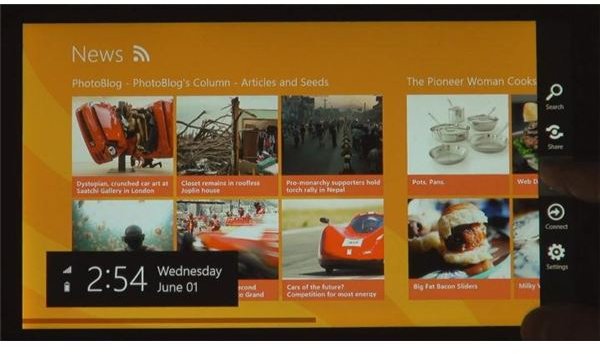 As the name suggests, Windows 8 is the next version of Microsoft's popular operating system, currently expected to be released in 2012. While retaining a version of the traditional user interface as seen in Windows Vista and 7, the new Windows 8 will also feature a new UI designed for use on tablets and touchscreen displays.
Beyond all of this, however, you will still be able to access all of the usual features as you currently can on Windows, such as installing printers, sharing files and folders, sending emails and browsing the web.
The big draw for Windows 8, however, isn't just the new user interface (more on that below) but the fact that the operating system will be scalable for installation on different device types. For instance, a high end PC with an Intel or AMD 64-bit CPU will be running the same version of Windows as an ARM CPU-equipped tablet or slate. This has particular advantages – both at home and in the workplace – for media and file sharing, among other things.
Windows 8 also heralds a new approach from Microsoft in the area of distributing software. For many years Microsoft has provided access to its software via online stores backed by their powerful servers, enabling buyers of Microsoft Office to quickly purchase and download the productivity suite. With the new focus on apps, a new Windows app store will be launched providing an easy way to download all of the popular and regularly used applications such as chat clients, Facebook, Twitter, etc. as well as more expensive offerings.
Does New Architecture Limit Backwards Compatibility?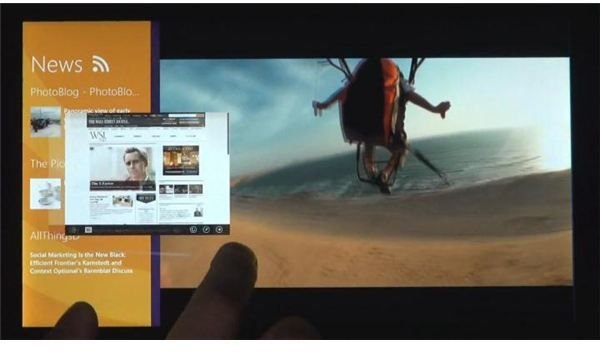 Previously, Windows hasn't been available for any device running non-Intel or non-AMD architecture, so offering support for ARM devices is quite a diversion for Microsoft.
However, while the basics of the operating system and user interface are expected to remain the same from device to device, it won't be possible to run the same software on a medium spec laptop and on a tablet.
For instance, many games and applications depend on the presence of a particular specification of CPU, RAM and hard disk space – not to mention graphics memory – in order to run. Without these present, backwards compatibility for such software will not be possible if you attempt to install on a tablet or low spec notebook or netbook.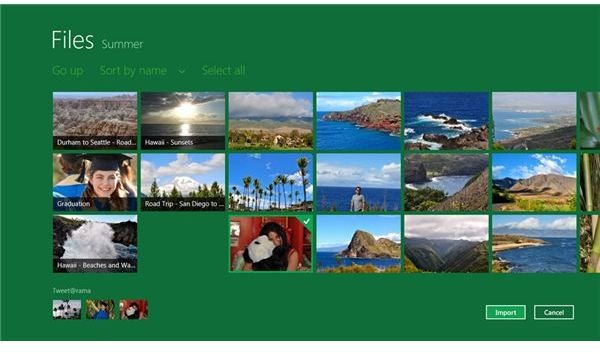 The minimum spec for the developer preview of Windows 8 - a release for developers to tune their existing applications and develop new ones for the new OS - is a 1 GHz x86 or x86-64 processor, 1 GB of RAM for 32-bit systems or 2 GB for 64-bit architecture, DirectX 9 capable graphics, 16 GB of HDD for the 32-bit version, 20 GB of HDD for the 64-bit release and a screen resolution of 1024x768 to use Metro.
Devices with a touch screen interface will also benefit, although this isn't necessary.
Going forward, the system requirements for the various types of supported device will be very different.
Why is a New User Interface Required?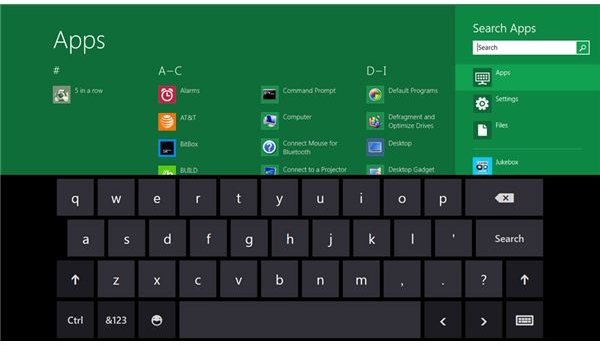 Although touch screen support has been included for tablet PCs in Windows 7, it isn't used very regularly. This is mainly because there aren't many Windows 7 tablet PCs in use at present, and those that are in use are often used in conjunction with a stylus.
The new user interface is designed for fingers, rather than styli, and owes a lot to the Metro UI seen on Windows Phone 7 devices. With this finger-based user interface you can browse and launch applications, snap in a second app for multitasking, rotate through a list of currently running apps and use an onscreen keyboard, as well as enjoy general interaction with the file system and supported services.
It all looks pretty cool, but if you don't have a touch screen device, it doesn't matter, as the new UI can be used with a mouse if required. Disabling the Metro interface would certainly be preferable for the majority of enterprise users if Windows 8 is truly going to be a single "do it all" operating system, but early signs are that the traditional Windows desktop will be available as an application rather than a state to revert to.
Tablets, PCs and Notebooks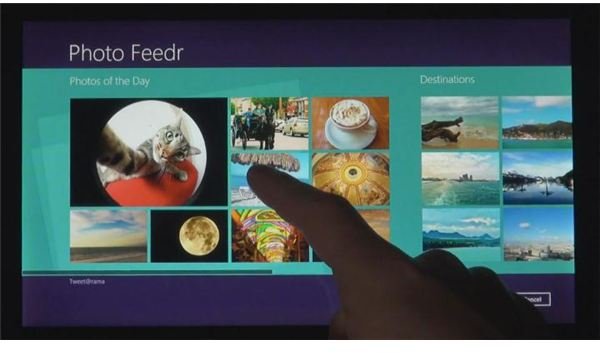 Windows 8 has been conceived as a single, scalable user interface for use across a multitude of device types. While Google has Android for mobiles, Android Honeycomb for tablets and the coming Chrome OS for computers, and Apple have iOS for mobiles and tablets and Mac OS X for desktop and laptops, Microsoft's past experience with scaling the operating system depending on the host hardware (such as in Windows 7) could see them gain considerable credit for taking this approach.
Currently available demonstration videos feature Windows 8 running on Core i5-powered slates rather than lower-end devices, but with devices equipped with NVIDIA's Tegra 4 and other ARM multi-core system- on-a-chip variants said to be capable of running Windows 8 it is likely that we'll see demonstrations of the operating system's scalability later on.
Certainly the presence of a Metro UI-like touch interface is welcomed and will generate plenty of goodwill among technology journalists impressed with Windows Phone 7. If Microsoft's support for tablets can be as impressive as Apple and Android's while maintaining a strong experience for the standard Windows desktop user, then Windows 8 could prove to be a massive success.
References