Overview of How Kaseya Works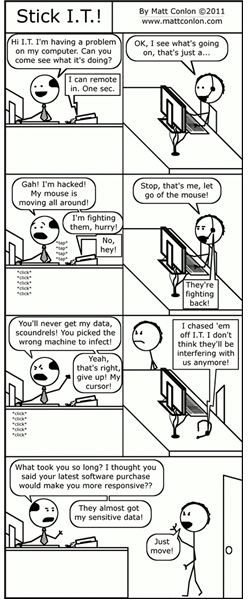 What is Kaseya?
Information Technology professionals the world over will tell you that the profession sometimes requires long, odd hours that frequently run outside the typical work day timeframe. If you work in the I.T. field and you find yourself in a similar situation, you owe it to yourself to find out how Kaseya works.
Kaseya is a tool that gives I.T. professionals the freedom of being able to perform more efficiently. Not only can they sit anywhere there's internet access and address an end user's concerns or troubleshoot software issues, but Kaseya also makes it possible for administrators to detect minor issues, so that they can be addressed before they become big issues.
Being proactive is invaluable to an I.T. professional. Many of the problems that technology experiences can lead to data loss, time loss, revenue loss, and serious frustration. Most of the time, these problems can be avoided. An ounce of prevention is worth a pound of cure.
Kaseya works similarly to LogMeIn and GoToMyPC, as it uses a program agent that is loaded on the machine. Once that machine gets an internet connection, the agent reports in to the server, which an administrator can log into via a web interface. The agent gives the administrator a secure connection to the computer, regardless of the physical location of the computer or the administrator. All that's required is that both the administrator and the end-user have an active internet connection.
Using Kaseya for Remote Support
Ticketing allows users to open trouble tickets right from their computers by right clicking the agent icon in the system tray, instead of calling the service desk and sitting in a queue. They can log back into the console later and see updates on their issues, or even close the tickets if they've figured things out for themselves.
The technician can then begin support, connect remotely and control the computer whether the user is at the machine or not. When a user calls in and says "There's an error on my screen, what do I do?" the admin can immediately connect to that machine and see what the user is looking at.
This feature can also be configured to allow the user to log in using a unique username and password, and they'll be able to remotely control their machine as well. This can allow them to retrieve files or access data they'd otherwise have to be at the computer to get to.
Other features for remote support include the ability to remotely view the system's running tasks, transfer of files to or from the remote computer, execute DOS commands via a remote command prompt, and even add or remove registry keys through remote registry editor.
Patch Management
Microsoft comes out with tons of patches on a very frequent basis, and sometimes these patches can cause problems. Patch management allows for approval of patches that will keep your machines protected from the latest threats, or denial of patches that will conflict with other installed software. Not ready to move on to Internet Explorer 9? Deny the patch, and it will not install.
The administrator can schedule patches to install during the off hours, and define the reboot policy. Options include automatic reboot, nag the user, send an email to a recipient, or do nothing.
When a brand new computer is added to the network, the admin can select "Initial Patching" and Kaseya will bring that system up to date with all applicable patches, and reboot the system automatically when needed. No more babysitting the workstation as it patches.
Monitoring and Alerting
The monitoring features are what gives the administrator the edge to be proactive. The agent can be configured to monitor for specific events, and alert when they occur.
For example, a monitor set that is configured to watch for Microsoft Exchange events, will detect when the information store service is stopped, and an email will be sent to the administrator. Or if a computer is having trouble writing to a hard drive, a disk performance monitor set will email the administrator.
The system also has a dashboard that shows the results of monitor sets. A green light on the dashboard means that all is well, whereas a red light lets the admin know that something is going on and needs to be addressed.
Auditing and Reporting
Once the agent is installed, audit information is gathered. The Kaseya server scans through everything on the computer and collects information like what programs are installed, hardware information, serial numbers, product I.D.s and so on. This information is then conveniently accessible to the administrator.
Reports can then be generated. If the administrator needed to see how many machines had Adobe Acrobat Pro installed, and what serial numbers were installed on which machines, the software license report can be run in a matter of minutes.
Another useful report is the executive summary report. This report shows the patch status, the number of machines in your organization, the disk space utilization and a number of other options that can be added, to help give the reader an idea of the overall health of the machines on the network.
Scheduling Scripts
Scripts have been a useful tool to all I.T. administrators since the beginning of computing. Kaseya leverages scripting by managing the scripts all in one centralized location, and allowing the administrator to create new ones, edit old ones, and run them on endpoints either immediately or on a reoccurring schedule.
Included with the Kaseya package are a couple of "clean up" scripts - one for workstations and one for servers. These scripts can be scheduled to run after hours and will initiate maintenance tasks. A disk clean up will run to remove temp files and free up disk space. It will then run a defrag analyze, and if the drive should be defragmented, it'll go ahead and defrag. It will check anti-virus definitions for several main stream anti-virus programs.
Any task an admin could script could then be added to this nightly script and be executed regularly.
Additional Modules
The features listed so far are just some of the features included in the default installation of Kaseya. They are considered "core components". There are other modules that can be purchased through your regional sales rep, such as anti-virus, backup management, desktop migration and anti-malware.
Whether or not these modules make sense for you to own is really dependent on the type of service you are hoping to offer. If you have another corporate solution for anti-virus, then obviously it doesn't make sense to purchase licenses for Kaseya Endpoint Security.
If you aren't sure if these features would be useful to you or your organization, talk to your sales rep about getting a free trial.
In Conclusion
An I.T. professional's job hinges on his or her ability to support the end users and maintain the infrastructure to ensure continued reliability and accessibility of information. Without the proper tools, these task are daunting and can quickly become unmanageable. The correct tools put the important information within reach, automate the maintenance, and facilitate fast and reliable response to technical support issues.
Whether you are a managed service provider, supporting thousands of computers across the globe, or an I.T. Director supporting a small business, Kaseya has the tools to help you work smarter and faster, not harder and longer.
Useful Links and References
For more information on how Kaseya works, visit their website's feature page here. There are buttons at the top page for you to try it out, and to request a quote.
Stay up to date with everything that Kaseya is doing and events coming down the line by frequenting Kaseya's Blog here.
Before deciding on Kaseya as a solution, be sure to review the system requirements here. If you can't meet these requirements, they also have hosted solutions you can review here.
All information in this article is from the writer's own experience, but can also be verified on Kaseya's own website.
The web comic "Stick I.T." is written and drawn by the author of this article, Matt Conlon. The views reflected in the comic do not necessarily represent those of Brighthub.com.