Setting a Restore Point in Windows Vista - What's the Fastest Way?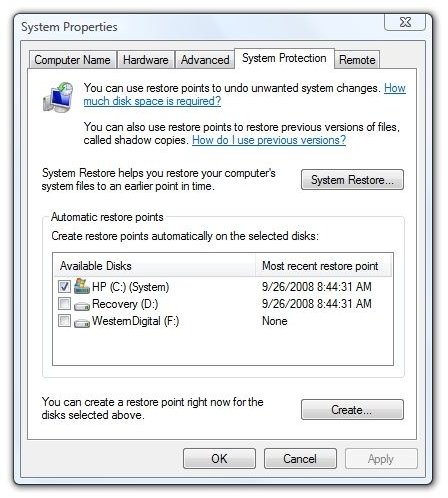 In Vista, it's a good idea to set a restore point, or go-back-to point, before installing new software or doing maintenance such as editing the registry, which may affect the stability of your PC.
Here's the absolute fastest way to create a restore point in Vista that I've found:
1. Click start and type in "systempropertiesprotection"
2. If User Access Control is active, click Continue
(Click image to enlarge)
Images
3. Click Create
Image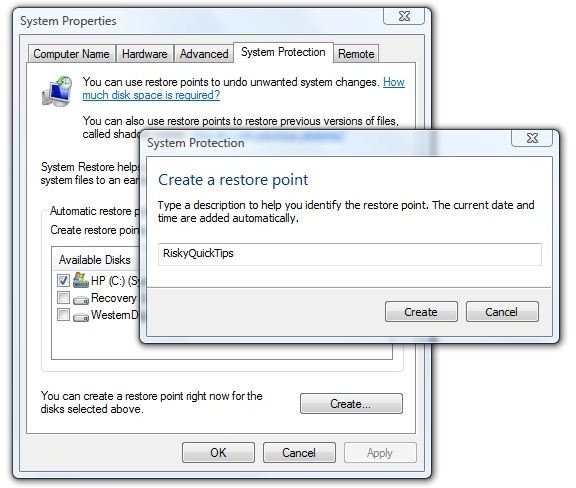 4. Enter a meaningful name for your restore point
5. Click Create and watch as it makes the restore point
6. Click OK to close the System Properties dialog.
And that's it - the fastest way to create a restore point in Vista.
What's a Quick Tip?
A Quick Tip is a Bright Hub article that is too short to be a full article but is too long to be a blog posting. Quick Tips deal with one single process or the answer to a specific question that can be described briefly in words and images.
Other Vista Quick Tips
How to Test High Definition Video on Your Vista PC or Notebook - Want to find out what high-definition video looks like on your current Vista or high-end XP PC without spending any money or buying any additional equipment? You'll find out quickly if your PC can handle 720p or 1080p video. All you need is a fast Net connection and Windows Media Player 9 or 11.
How to Deauthorize All Computers in iTunes - If you go through computers the way I do, you've probably encountered the problem of running out of authorizations in iTunes.It's no longer the hassle it once was. Now it is possible to de-authorize ALL the computers at once, instead of doing them one at a time.
How to Measure Broadband Consumption on Your Windows PC - Need a way to measure the Internet bandwidth consumed by your PC and monitor your download habits? Maybe because your ISP has set new limits on consumption? This brief article shows how to use the free application Bitmeter to measure and track your bandwidth.
Three Clocks for Three Time Zones in Vista - It's always been there - that little digital clock in the System Tray in Windows. It's a bit more talented in Vista than it used to be, and it can be easily tweaked to add one or more additional clocks set to any time zone in the world. Here we show you how.