How to Synchronize Outlook Email to Web Email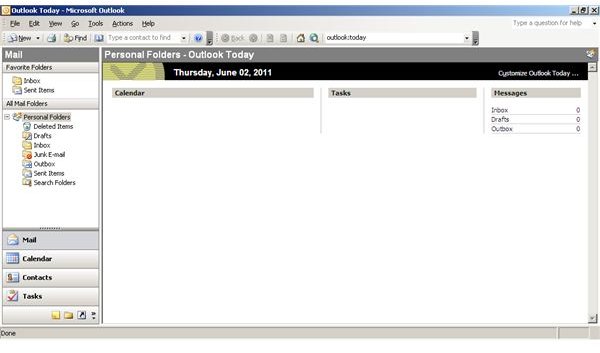 Getting Started
MS Outlook is a simple program that basically handles emails that are normally stored on the internet and makes them accessible and backed up on your computer. Not the most powerful of the MS Office applications, still it's quite useful and delivers what it promises. Naturally the details of its operation can be quite bewildering and setting it up and synchronizing with a webmail account is not an easy task.
But before you call a computer specialist to help you out, why don't you give it a try on your own? We'll help you with synchronizing Outlook email and a web email account, so just be patient and follow the simple steps in the next section.
Setting Up the Synchronization Process
First you need to start MS Outlook. You'll find a shortcut of it on the Windows Start menu (figure below), in the Microsoft Office folder (you may even have a shortcut of it on your Desktop).

Once the program is running, go to the Tools title (figure below) on the program's main menu and select the option Email Accounts (6th option from the top).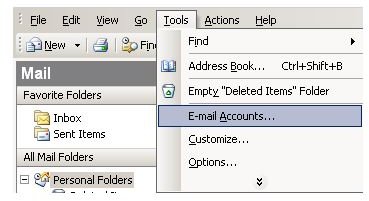 Afterwards, a new window should appear, titled "Email Accounts" (figure below). In this window, select the first option "Add a new email account", which should be set as the default option, and click on the Next button below.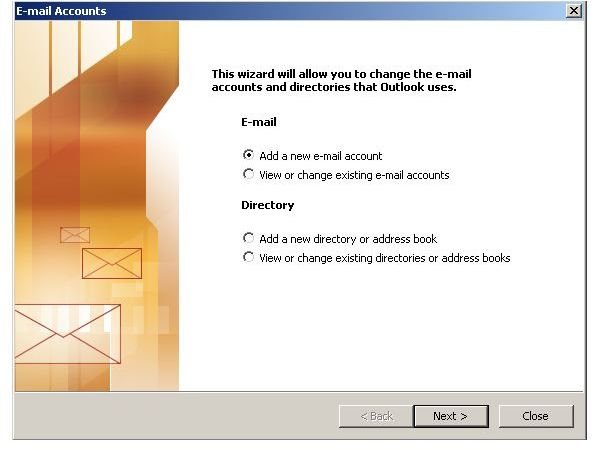 In the window that appears (figure below), select the POP3 option (second from the top) and then click on the Next button below.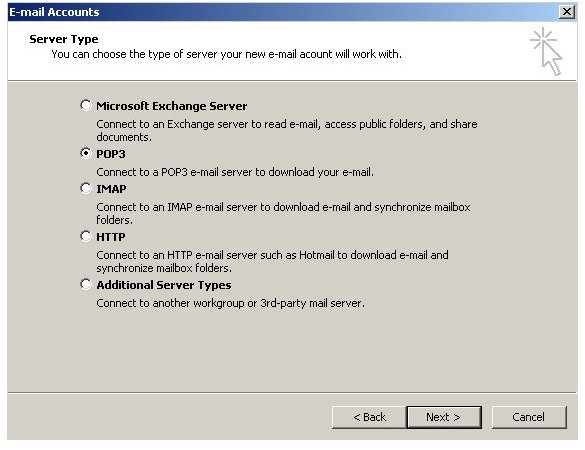 Now for the hardest part, which should be a breeze if you continue following our instructions. A new window should appear asking you for the specifics of your webmail account (figure below). Normally you shouldn't have trouble providing the program with your username and password information, as well as your email address. If your email is [email protected] and your password is Zbooks123 your the relevant information you can get from this is: name = Samantha, username = samantha123, and password = Zbooks123. However, this is not enough. You will need some extra information that you can get from your webmail's website. Specifically, you need the POP3 and SMTP server info.
For Gmail, these are pop.gmail.com and smtp.gmail.com respectively.If this information is not easily accessible in your webmail's website, send the support team a quick email and they'll be happy to provide it for you. This may delay the whole process, but it's something you'll only have to do once, fortunately. Once you have entered this information check the Log In Requires Authentication box, which is located on the bottom-left side of the window, but only if your webmail supports that (you should be able to find this in their website. Gmail does not support it so if you use Gmail, leave the box as it is).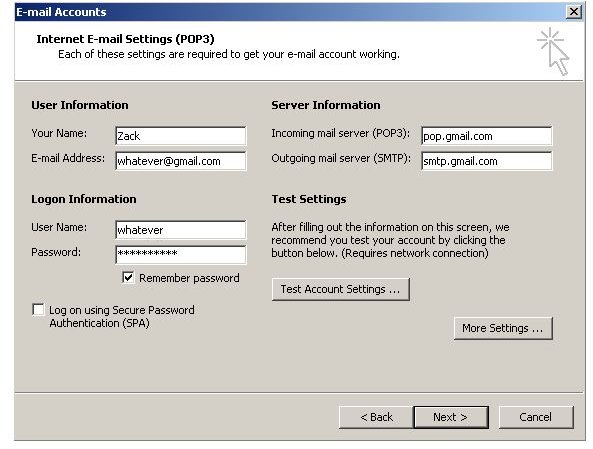 Now, click on the button More Settings and go to the Advanced tab. There you should complete these additional options (which actually are very fundamental. It's a mystery why they were hidden in this far off part of the program). Note that these options are not the same for every webmail and that the ones shown in the figure below are for Gmail only (if you use Yahoo mail things are similar and if you use the information in the linked article correctly you shouldn't experience any problems). Having done that you can continue with the process by clicking on the OK button below and then the Next one in the active window.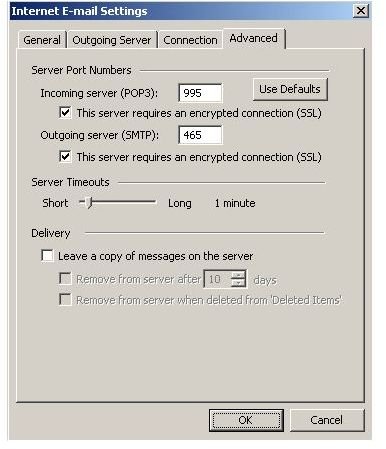 Finally, you need to click on the Finish button, in the new window that appears (figure below).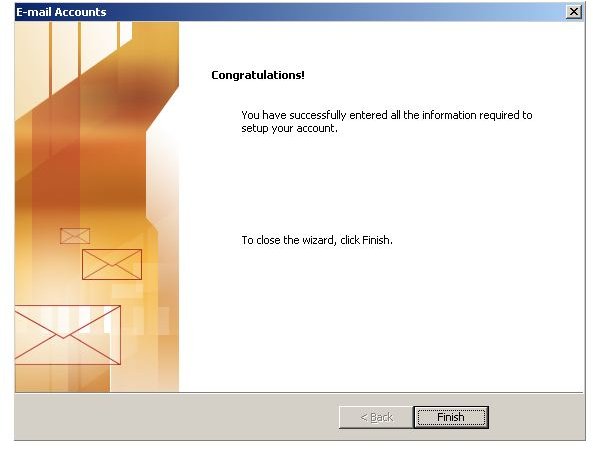 A Few Comments and Remarks
This whole process of synchronizing MS Outlook with a web email account can sometimes be unbelievably frustrating and time-consuming. However, this is mainly because the program itself is poorly designed and the email-related information is not properly presented (or even accessible, for that matter). Once you get the right figures and the right server names though it's not that hard to input them in the program. Remember that if you experience unnecessary hustle it's mainly because of the confusing way this webmail information is given and used by the program, so don't give up on this yet.
Once you've done it you'll be able to do it all over again in many other computer systems if you want, and it will make your electronic correpsondence much easier. MS Outlook maybe one of the less sophisticated email programs out there, but it is offers a lot of interesting security settings, which in combination with synchronizing with a webmail account can make it a useful program on your computer.
References
Configuring other mail clients, https://mail.google.com/support/bin/answer.py?answer=13287
Cawley, Christian. "Using Outlook 2010 to Receive Yahoo Email", https://www.brighthub.com/computing/windows-platform/articles/70977.aspx
Cawley, Christian. "Troubleshooting Outlook Connection Problems", https://www.brighthub.com/computing/windows-platform/articles/77299.aspx
(Pages last accessed in June, 2011)
Images created by the author of this article.