Introducing the Outlook Calendar Horizontal Layout Overview: See Your Week at a Glance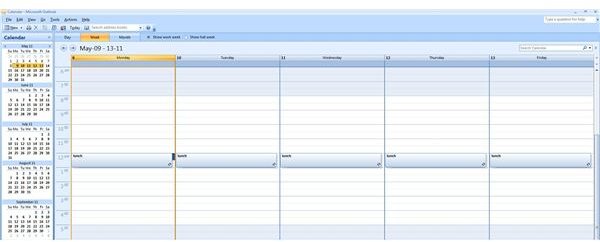 Outlook Does Much More Than Email
Beyond email, the Calendar function of Outlook is one of the application's most popular features. In large organizations that use the Microsoft Exchange server, you can use the Calendar to schedule meeting rooms, conference lines and meetings with co-workers. For busy professionals, Outlook can be especially helpful in showing a sequence of meetings, setting reminders and color coding different events. If the right options are enabled, you can check meeting room availability and view other people's calendars right in Outlook. This option is very helpful if you are organizing a large meeting and have some people who absolutely must attend.
Calendar Options and Tips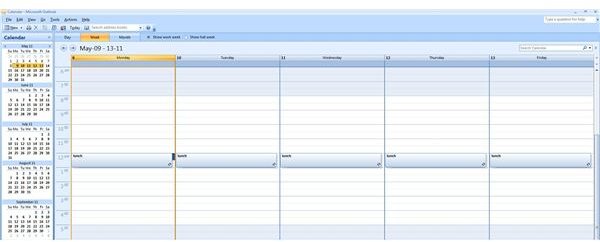 As your Outlook calendar becomes more and more full, you can easily get overwhelmed. There are ways to filter an Outlook calendar so that you only look at the most important appointments. Customizing your Outlook calendar to meet your needs is an important way of making sure you control Outlook, rather than the other way around. The Outlook calendar horizontal layout overview remains the classic way of reviewing your calendar.
The Outlook Calendar can be viewed at several levels of detail: month, week and day. For most people, the week view (or the "work week" view that only shows Monday to Friday) is the most convenient way of monitoring your time. By default, Outlook displays a calendar focusing on the traditional work day (e.g. 9am-5pm). This does not prevent you from scheduling evening committments if you so wish though.
Outlook Calendar Views
There are four primary ways to view your Outlook calendar and each method has its advantages.
The Month View: The month view is a helpful way to review your time at a high level. It can also be helpful to remind yourself of holidays and deadlines.

The Week View: The full week view is more focused on work but with the inclusion of weekends. If you often travel on weekends, go on sales trips or other events, viewing weekends may well be necessary. Outlook displays weekend days differently from weekday days though - a helpful reminder that many people are unavailable on weekends.

The Work Week View: For most people, this is the best Outlook calendar view to use. Reviewing your work week schedule on Mondays so that you can block off time to work on projects is one way you can use Outlook to enhance your productivity.

The Day View: This calendar view is most useful if you often have multiple appointments and meetings at the same time.This view also makes it easier to see conflicts. For example, if you have a client meeting away from your office, you can use the day view to schedule in travel time.
Resources
Microsoft Outlook Calendar and Scheduling, https://office.microsoft.com/en-us/outlook-help/CH006255610.aspx
Share an Outlook Calendar with other people, https://office.microsoft.com/en-us/outlook-help/share-an-outlook-calendar-with-other-people-HA010354420.aspx
Image Credit: Outlook 2007 Calendar, screenshot by the author