How the Capabilities of Paint in Windows 7 Have Been Enhanced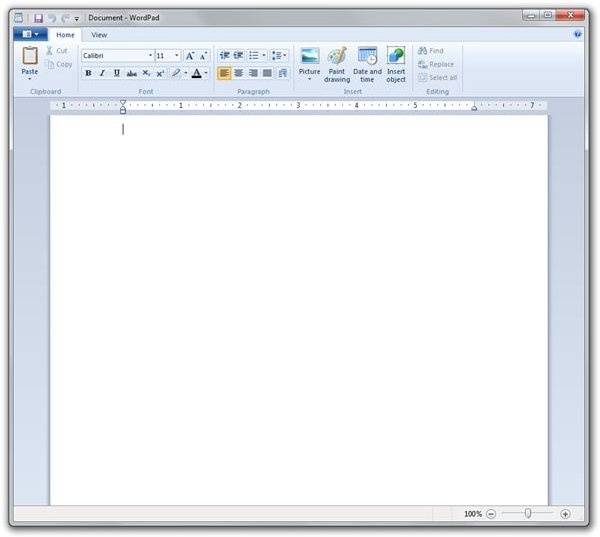 WordPad and Paint are two of the older Windows accessories that had remained largely unchanged with each new version of Windows. However, now they have finally been given a required revamp in Windows 7. As such, a variety of new options have been added to both WordPad and Paint which has further enhanced these accessories.
WordPad
Let us first begin with WordPad, which is the word processor that is included with Windows 7. Before Windows 7 this was a very basic word processor that could easily be overlooked with freeware office suites such as OpenOffice. However, now this has been enhanced with a few new options as well as a redesign.
Let us first consider the new options that WordPad has for formatting documents. Now WordPad has options for inserting pictures and Paint documents. You can also insert various formats for date and time which can now be included in WordPad documents.
There are also a few new text formatting options included in WordPad. Among these is the highlighter option which when selected can highlight any selected text with a variety of colors. In addition to this, WordPad also has subscript options which can produce smaller text next to regular text either above or below the regular text's baseline.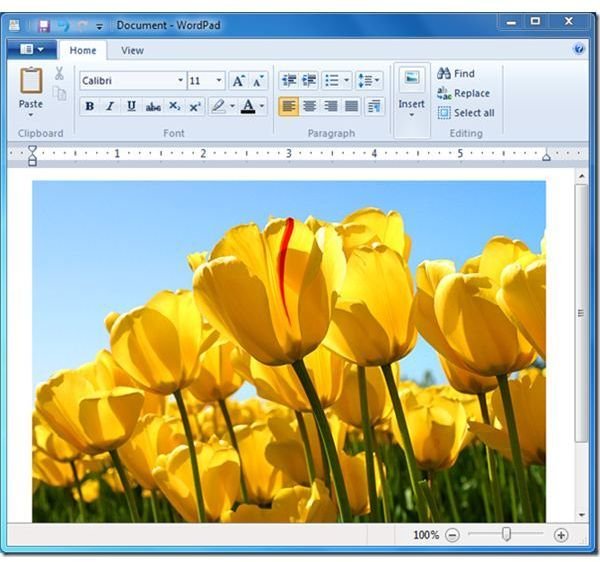 WordPad and Paint also have a zoom in and out option located at the bottom right. Drag this bar to the left and you can zoom out more. However, if you drag this bar to the right then this will zoom into the document. Or alternatively, this zoom option can also be selected from the view tab.
Both WordPad and Paint have redesigned menus. Now the main tools that these accessories have are divided into tabs, as opposed to dropdown menus. They also have a Quick Access bar in the top left which includes undo and redo options. However, this Quick Access bar is open to customization and further options can be added to it.
Paint
Like WordPad, the Paint art accessory now also includes a greater number of options that enhance the capabilities of Paint in Windows 7. To begin with, Windows 7 Paint has a wider range of brushes to select from. Now there are calligraphy brushes, airbrushes, oil brushes, crayons, and water color brushes.
Whichever brush you choose there is now also a wider selection of colors to select from. The edit color option allows you to mix your own shades. These shades can then be saved alongside the other standard color options.
On the view tab there is a new display option. By selecting the full-screen option a full-screen display of the Paint document will then be provided. There are also options to include gridlines and rulers with the Paint document.
You can also save your Paint document with more variable file formats. Select save as and you can save with any of the following formats**:** JPEG, PNG, GIF, and BMP. As such, Paint supports a variety of file formats.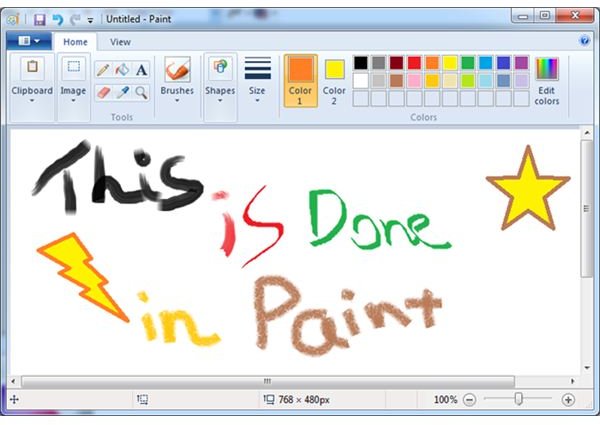 Like WordPad, Paint has also been redesigned in much the same way. The zoom slider is also included in Paint, as well as Quick Access bar, and tabs. All Paint's main options can now be reached with just a single click.
So overall, Paint and WordPad are now all the better in Windows 7. Having been redesigned with a number of new options added they are now more advanced accessories that provide greater scope for word processing and art & drawing than was previously the case. For sure, they are not yet great alternatives to Word and Paint Shop Pro, but still have some good options.
References
The Ultimate Guide to Windows 7
Screenshots from the following web pages: