Must Have Microsoft Virtual Machine Downloads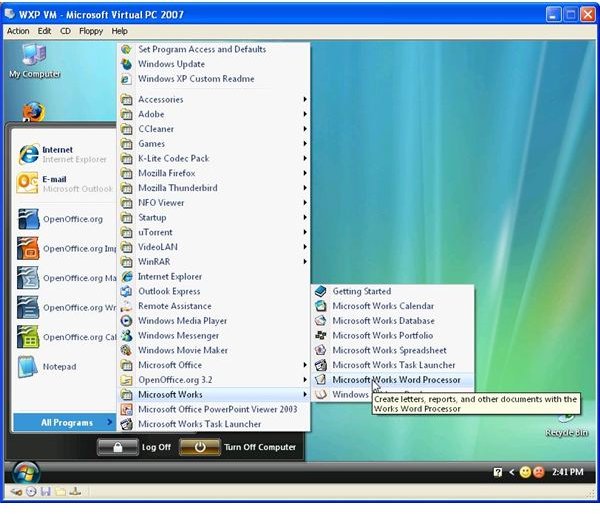 The Advantages of a Virtual PC
Great for running old and current versions of Windows in a safe environment – and for trying out new applications without installing them on your PC – are the various versions of Virtual PC.
You can use this software either to provide yourself with an alternative operating system for running legacy applications, for evaluating software and even to provide yourself with a virtual computer equipped with pre-installed applications that you can run on different host machines.
Microsoft's virtual machine application comes in two flavors. There is the very popular Virtual PC 2007 which is available for XP, Vista and Windows 7 users to download and install a guest operating system on, or there is Windows XP Mode and Windows Virtual PC for Windows 7 only. This application is Microsoft's ultimate answer to compatibility issues, and is available only to Windows 7 Professional and Windows 7 Ultimate users.
Screenshot by author
Windows XP Mode and Windows Virtual PC
The main current virtual machine solution that you can download from Microsoft is the latest Virtual PC, with its optional Windows XP Mode. You can get this free from www.microsoft.com/windows/virtual-pc if you have a genuine copy of Windows 7.
Whichever download you choose depends on your requirements; if you already have a Windows XP installer disc then adding 500 MB to your download will take up unnecessary time, so you will probably be better off just choosing the Virtual PC download.
With the Windows XP Mode, however, you don't need to spend time installing Windows XP into your Virtual PC guest operating system, so this might be preferable if you want a quick start up for running legacy applications.
Virtual PC 2007
Available free from www.microsoft.com, Virtual PC 2007 has a low spec CPU requirement of 400 MHz Pentium-compatible processor, although CPUs of 1 GHz or faster are recommended. The virtual environment itself requires 35 MB of hard disk space, although note that this is separate to the virtual disk drive that will be created when you add a guest operating system to your PC. Virtual PC 2007 runs on most versions of Windows XP, Windows Vista and Windows 7.
It's very easy to use by adding a guest operating system to use as a virtual PC is a case of running the software, configuring the virtual machine hardware and inserting your Windows installer disc in your PC's optical drive. Installation will take as long as it might on a physical PC, but once complete you will have an environment that you can use for testing software, providing a training environment and much more.
Which is the Best Virtual Machine to Download?
It all depends really on your current operating system and what you hope to achieve. While it is simple to use Virtual PC to create virtual environments for running older versions of Windows, the options that Windows XP Mode brings to Windows 7 users on high-spec PCs enables a way around compatibility issues with legacy applications that Microsoft has previously omitted to provide in previous operating system releases.
If you have a suitable version of Windows 7, then taking advantage of the Windows XP Mode and Windows Virtual PC downloads – which are free – would seem to be the best course of action. Otherwise, Virtual PC 2007 is available.
Ultimately, the decision on which virtual machine you download from Microsoft is up to you.
References
Author's own experience.
Download Virtual PC 2007, https://www.microsoft.com/DOWNLOADS/en/details.aspx?FamilyId=28C97D22-6EB8-4A09-A7F7-F6C7A1F000B5&displaylang=en
Download, Windows XP Mode and Windows Virtual PC**,** https://www.microsoft.com/windows/virtual-pc/download.aspx