Where Is the Google Desktop Search Outlook Add-in?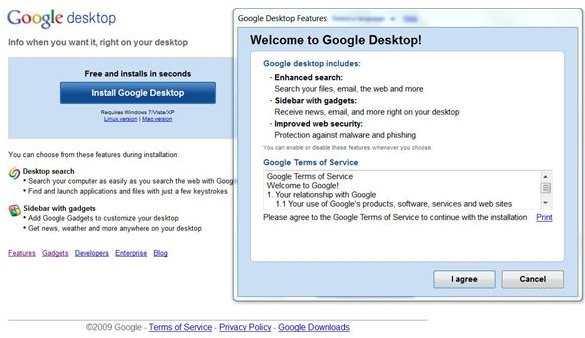 How to Get the Google Desktop Add-in
There is no way to just download the Outlook add-in provided by Google Desktop. It is automatically installed and enabled when you download Google Desktop. To do so, go to desktop.google.com and click the Install Google Desktop button.
Once the download is complete, walk through the steps provided by the setup wizard. You may need to restart Outlook or your computer in order for the toolbar to appear in Outlook.
It is important to note that the toolbar add-in will not appear in Outlook 2010. As this version of the email client uses the fluent ribbon interface as opposed to the toolbars of previous versions, they are not compatible. If you are using Outlook 2010, you might be better off using its built-in search tools or another add-in.
If Google Desktop Doesn't Search Outlook
You have successfully downloaded and installed Google Desktop, but it doesn't seem to search Outlook properly. Perhaps you are missing the toolbar add-in as well. There are a few factors that might cause this to happen and fixes that resolve some of these issues.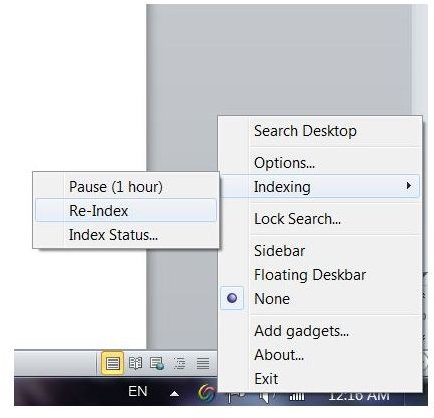 First, ensure that Google Desktop is set up to index your email. Right-click the icon in your system tray and select Options. On the Desktop Search tab, make sure that Email is selected in the Search Types section. Click the Save Preferences window to apply any changes.
Keep Outlook open when Desktop is initially indexing your files. To begin indexing, right-click the system tray icon, point to Indexing and select Re-Index. You can also uninstall and reinstall Google Desktop, leaving Outlook running while you do so, if you choose.
Check to see if the add-in is installed. In Outlook 2003, go to the Tools menu and select Options. On the Other tab, click Advanced Options and then click the Add-in Manager button. In Outlook 2007, go to the Tools menu and select Trust Center. Click the Add-ins button. Check to see whether the Google Desktop Search Outlook Addin check box is listed and selected.
If the add-in is not listed, you can add it manually.
Manually Install the Add-in
Manually adding Google Desktop Search to Outlook requires that you edit the Windows Registry. Be sure that you are confident in doing so before starting, as incorrect editing can seriously harm your system. It is advisable to back up your settings first.
When you are ready to begin, close Outlook. Click Start and then click Run. Type regedit into the Open box and press Enter. In Windows Vista or 7, simply type regedit into the Search box at the bottom of the Start Menu and press Enter. Click Yes if prompted by a User Account Control Window.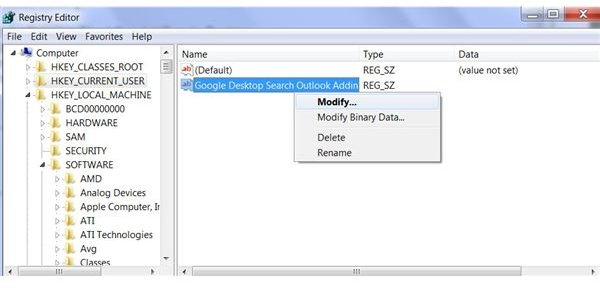 Expand the HKEY_LOCAL_MACHINE folder. Navigate to SOFTWARE\Microsoft\Exchange\Client\Extensions. Right-click anywhere on the blank area in the right section, point to New and select String Value. Name the string Google Desktop Search Outlook Addin. Right-click this string and select Modify. Copy and paste the following value into the Value Data Field and click OK:
4.0;C:\\Program Files\\Google\\Google Desktop Search\\GoogleDesktopOffice.dll;5;10000110000000;0001000000
Close the registry and restart the computer. The add-in should now be visible and ready for you to use in Outlook.
References and Resources
Screenshots provided by the writer
Google Desktop Help, https://desktop.google.com/support/bin/answer.py?hl=en&answer=12410&ctx=cb&src=cb&cbid=-hb54ok1wp22e&cbrank=3