What to Do About Microsoft Outlook Double Emails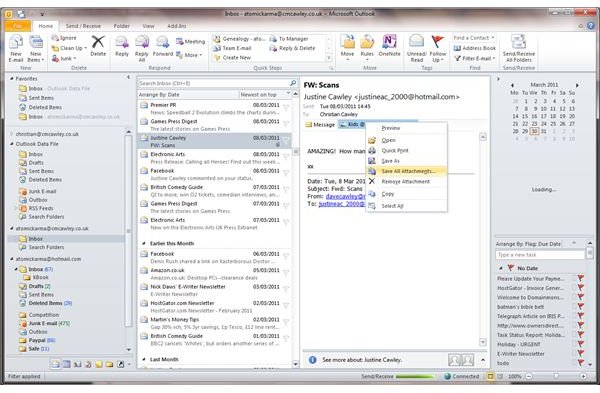 E-mail: The Heart of Daily Communications
Email messages are the heart of our daily communications. Intra-business and business-to-business communication is conducted almost completely via email, and most of us use Microsoft Outlook for this purpose.
However, it is a little inconvenient when we find that messages we have sent have been received twice! While it isn't the end of the world, your recipient's may start to get a little frustrated by the appearance of two identical copies of the same message appearing in their inbox at the same time.
There are a couple of reasons for Outlook sending multiple emails, both related to Outlook itself and any email scanning software that you might have installed.
The Reason Microsoft Outlook is Sending Double Emails
The most common reason for sending two copies of the same message from Outlook is that your email client has been configured to do so. This most likely occurs with IMAP email, where the folders containing sent messages are not correctly synched.
A quick way of check if this is happening is to check your Sent Items folder, and look for duplicates. If you find none, then this means that your email account is sending emails from both your PC and the sent emails folder on your IMAP server.
To resolve this, go to File > Info > Account Settings > Email and double-click the account that is sending duplicates. Go to More Settings > Sent Items and at the bottom of the window select Save sent items in sent folder on this computer, click OK and then check to see if the message is fixed by clicking Next and waiting for the Outlook test message.
Is Your Anti-Virus Scanning Outlook?
Another reason that your e-mail messages might be duplicated when sending them is thanks to your anti-virus software.
What you may find is happening is that the anti-virus software features a mail scanning tool, designed to check incoming and outgoing e-mail messages. After all, e-mail is one of the primary causes of virus and malware spreading, and users around the world regularly receive spam and spoof emails every day.
E-mail scanning software usually works by checking incoming and outgoing e-mails for threats, but might also copy the message that you are sending to ensure that it is going out to the recipient "clean." If the original message is already safe, then this might also be sent, resulting in your duplicate. The best way to check this is to disable your anti-virus temporarily and test whether or not your recipient still receives a duplicate with the anti-virus software disabled. If this is the case, then you should contact the support department of the anti-virus suite that you are using and find out if there is a solution for the problem.
There is every reason to have a strong anti-virus suite that features an e-mail scanning component, so it does not make sense to disable this feature.
References
Author's own experience.