Guide to Fixing a Microsoft Outlook Crash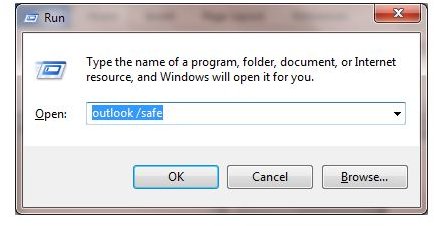 Sometimes, Software Crashes
Microsoft Outlook is a popular and successful email client that also features contacts management and one of the best calendar systems available. These aspects, coupled with the speed and convenience of Exchange email, collaboration options and delegate access have helped to make it a vital corporate tool, relied upon by organizations large and small, from the US government to the most modest not-for-profits.
If you are reading this article, you're probably looking for a way to resolve a crash that has occurred with your Microsoft Outlook email client. There are several paths you can take, but the best is to follow the basic rule of "escape, diagnose, repair".
Escaping a Microsoft Outlook Crash
In most situations, a crash in Microsoft Outlook will result in the application freezing, or shutting down of its own accord. In both cases there will probably be a process still running in Task Manager, and this can be forced to close to escape the crash.
Before doing this, however, make a note of what it was you were attempting to do when the program crashed. If Outlook froze, cast your eye over the status bar across the bottom of the window to try and work out what action was taking place.
You can close Outlook via Task Manager by right-clicking the Windows Taskbar, selecting Start Task Manager, switching to the Processes tab, choosing Outlook and clicking the End Process button.
Diagnosing Outlook Faults
The most typical cause of an Outlook crash is related to problems accessing the PST file, which is stored on your computer and holds all of your e-mails, contact and calendar information.
However there are other faults that can occur in Outlook. For instance, connectivity issues with a Microsoft Exchange server can cause Outlook to hang and crash without warning, particularly on slower computers.
Additionally, instructing the software to attempt to perform too many "collection" tasks – that is, the action of collecting e-mails and RSS feeds over regular intervals – can lead to performance issues that might also crash your computer, rather than just the e-mail client.
Add-ins for e-mail scanning or faxing can also cause problems in Outlook, but by launching the application in Safe Mode, these can be disabled.
Repairing Microsoft Outlook Crashes
Problems can be repaired most effectively by running the application in Safe Mode. Like Windows Safe Mode, Outlook has its own method of launching in a "stripped-down" mode.
This is best launched by pressing WINDOWS + R and typing:
outlook /safe
This will launch the e-mail client in Safe Mode, without any additional components such as any e-mail scanning add-in.
In Safe Mode you should find that Outlook runs without an issue, so take the opportunity to uninstall any add-ins that you think might be responsible, change your e-mail and RSS feed collection schedule, and run a scan on your PST files to check for errors.
With all of these steps completed you should find that Microsoft Outlook crashes less often.
(Screenshot by author)
References
Author's own experience.