What to Do if Outlook Wants a Digital Certificate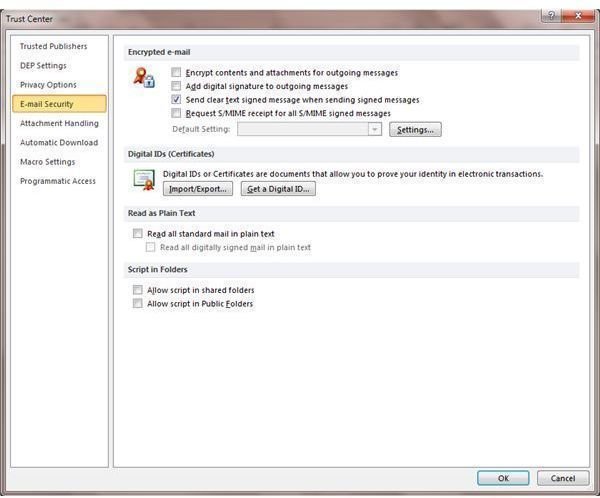 Certificates for Security and Encryption
As you will probably know, sending and receiving emails is usually pretty straightforward. You open a new message, enter the recipient's email address and a subject line, a few words, perhaps a sign off and then you send it.
However, in some cases it isn't as simple as all that. Some networks require a digital certificate to be associated with any messages that you send, in order to confirm their authenticity, and this requires some configuration in Outlook.
Creating a digital certificate used to be a complicated process. These days it is much more straightforward, although you will need to follow the steps closely.
What Is a Digital Certificate?
Basically, a digital certificate is a way of confirming the authenticity of a message. They are also concerned with encryption and are employed when using a secure email server.
A digital certificate is attached to email messages by the client software when the email is sent over an encrypted connection, and contains information concerning the identification of the sender as well as the public key that will be used to decrypt the message by the recipient.
When received, the email client will confirm the digital certificate (with the Certificate Authority that issued it) and, using the information within, decrypt the message.
If Outlook Wants a Digital Certificate, Give it One!
Control and access to digital certificates in Outlook depends on your email server. If you are not using a secure connection then you probably won't require a digital certificate until someone attempts to send you an encrypted message.
In this situation, Outlook will inform you that such a message is waiting and that it requires you to accept the digital certificate. As Outlook is able to read messages encrypted in this method, all you will need to do is agree to the notification that is displayed and a few moments later the incoming email message will be ready to read.
It really is as simple as this; the message that is displayed will explain anything else that you need to know.
Using Your Own Digital Certificate
Microsoft Outlook is also capable of using digital certificates that you have been assigned and have downloaded in Internet Explorer. You will be able to check these in the Windows 7 Certificate Manager.
In Outlook 2010, go to File > Options > Trust Center > Trust Center Settings > E-mail Security and use the Import/Export button to Browse… for and find your digital certificate. Remember to use the same password as the one assigned when the certificate was setup.
(The same functions are available in Outlook 2007 via Tools > Trust Center > E-mail Security)
Remember to click OK when the certificate has been added, and you will then be able to use your own digital certificate when sending messages via a secure email server.
These steps are all pretty straightforward in Outlook; if you're using a different e-mail client, however, the steps will probably be quite different.
References
Author's own experience
Image provided by author