Fixing Common Problems in MS Outlook: Default Client Not Properly Installed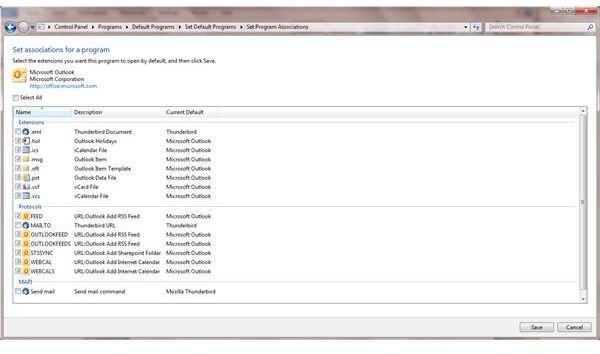 What's Wrong with Microsoft Outlook?
Microsoft Outlook is one of the most popular e-mail clients around, and is used extensively in corporate environments. With its key strengths of Exchange e-mail, calendars and contacts as well as ability to be used as a client for other common POP and IMAP mail servers, Outlook is the e-mail client of choice for many users.
But this doesn't necessarily mean that it is the only one that you might have installed on your computer, and it also doesn't necessarily follow that you would have Outlook set up as your default.
This is one of the reasons why the "Default client not properly installed" error message appears. In this case Windows doesn't quite understand which installed e-mail client is supposed to be the default one.
Why the Error Occurs
Typically you will find that you get this sort of error message when Microsoft Outlook is called into use from a web page.
For instance you might be attempting to click an e-mail address in a web page in Internet Explorer. Under normal circumstances, this would open a new e-mail message box with the address (and sometimes the subject line) already populated. If you're receiving the Outlook error message instead, then chances are that Windows isn't quite certain which e-mail client that you have installed is the default.
This usually happens when you have multiple e-mail applications installed, although it is possible that it might occur due to an incomplete or faulty installation of Outlook.
Resolving the "Default Client Not Properly Installed" MS Outlook Error
In older versions of Windows and Internet Explorer, opening the Tools > Internet Options box and going to the Programs tab would allow you to select the correct default e-mail client from the Mail list; setting Outlook as the option and applying it would in most cases resolve the error (possibly after uninstalling and reinstalling Outlook).
However in more recent versions of Windows, you can go to Start > Default Programs > Set your default programs to adjust the defaults.
If you have multiple e-mail clients or a badly installed application, you should be able to easily assign the correct application to the behavior of launching e-mail messages from web pages, thereby overcoming the error message.
Assigning Outlook to the MAILTO Extension and Behavior
In the Set your default programs screen, select Microsoft Outlook from the menu on the left. Beneath a description of the software, the number of defaults that the application has will be listed. If you're receiving the Microsoft Outlook error, then you will have less than the maximum 16 defaults applied.
You can either Set this program as default, or Choose defaults for this program; if you choose the second option, browse through the next screen looking for the MAILTO extension under Protocols and put a check in the box, before clicking Save.
With this change made, you will no longer receive the error message when Outlook is called into action from a web page!
References
Author's own experience.
Screenshots by author.