Creating, Saving and Using Microsoft Office 2010 Outlook Templates: Tutorial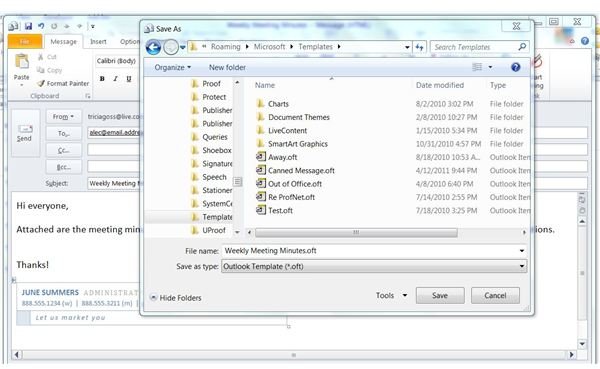 Why Do I Need Outlook Templates?
In Microsoft Outlook, templates are simply pre-written and formatted email messages. If you write the same or similar message on a regular basis, such as a quick note stating that weekly meeting minutes are attached or a monthly check-in with team members, you can make a custom template to use rather than recreate the message every time.
In addition, you can use your templates in conjunction with rules to send out automatic emails, such as away messages or canned responses to emails you receive that meet specific criteria.
The Basics of Outlook Template Creation
There is little more to creating a template in Outlook 2010 than simply making a new email message. Click the New Email button in the New section of the Home tab to open a new email message window. As long as you are in the Mail category in Outlook, you can also use the keyboard shortcut Ctrl+N to open a new message window. Another shortcut you can use is Ctrl+Shift+M, which works no matter where you are in Outlook.
Type a subject into the Subject field and write the standard email message you wish to use into the body of the message form. You can change these at any time, so do not worry that any of these are set in stone. Add contacts in the To, CC or BCC lines, insert images and end with a custom signature if you choose.
When your message is complete, save it as a template. Go to the File tab and click on Save As. Change the option in the Save as Type drop down list to Outlook Template (*.oft). The file name is the same as the message's subject line, but you can change it if you choose.
Outlook should select the default template location automatically. If not, you can navigate to that location. In Windows XP, the location is c:\documents and settings\username\application data\microsoft\templates . In Windows Vista or 7, the location is c:\users\username\appdata\roaming\microsoft\templates**.**
Click Save to save your custom template and then close it.
Using the Outlook 2010 Templates You Create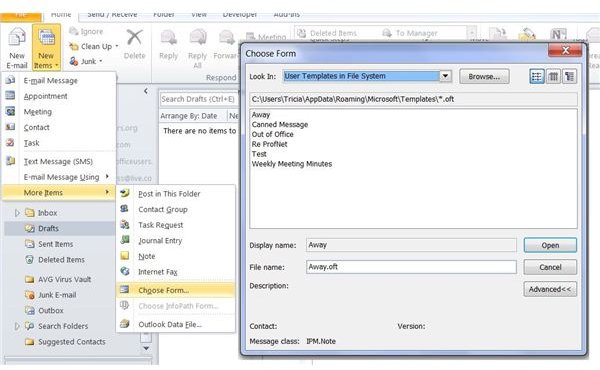 Once you have created one or many templates in Microsoft Outlook 2010, you can start using them with ease. Click New Items in the New group of the Home tab. Point to More Items and select Choose Form. In the Look In drop down list, choose User Templates in File System to go to the default custom templates location.
Click on the template you want to use and click Open. The file opens as a new email message window. Make any changes you want, add attachments or modify the text. When you are ready, simply click Send.
Use Rules to Send Emails From Templates Automatically
You can use rules to send messages from your templates automatically. Unless you are on Exchange Server, Outlook must be running in order for these custom, automatic replies to be sent.
Making a custom rule is straigtforward, thanks to the Rules Wizard.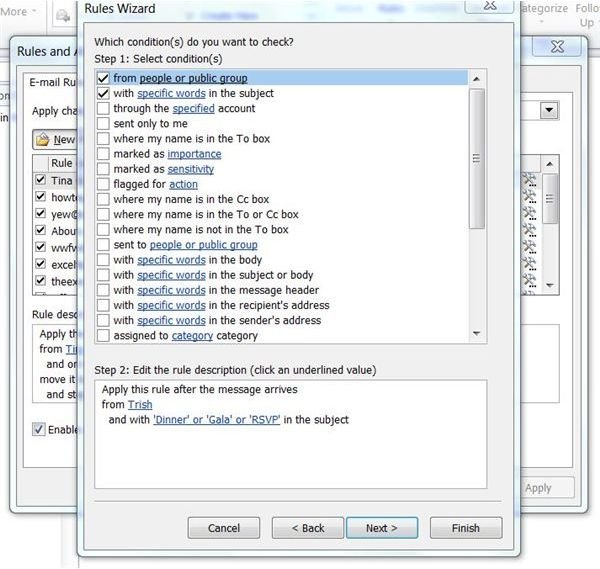 Go to the Home tab and click on Rules in the Move group. Select Manage Rules and Alerts and click on New Rule. Select Apply Rule on Messages I Receive under Start From a Blank Rule and click Next.
Choose any of the conditions you wish to apply, such as Specific Words in the Subject or From People or Public Group. In the Edit the Rule Description section, click on the hyperlink associated with each condition to add your specificatins, such as the words in the subject or the names in the From line that you want to spur the reply. Click Next.
Select the Reply Using a Specific Template check box. Click on A Specific Template in the Edit the Rule Description section. Select User Templates in File System in the Look In drop down list and click on the message template you want to use. Click Open.
Click Next. Select any additional exceptions you wish to add and set them up accordingly. For instance, if you can avoid sending the response to specific people even if they send you an email meeting the specifications of your rule.
Click Next. Enter a name for the rule and select Turn on This Rule. You can also choose to run the rule on current messages and create it on all of your email accounts, if you have more than one. Click Finish and close the Rules and Alerts dialog box.
Now that you have done the bulk of the work in advance, you can sit back and let Outlook do the rest.
References
Source: author's own experience.
Screenshots provided by writer.