Windows 7 Benchmark Tools - Test Your Computer Speed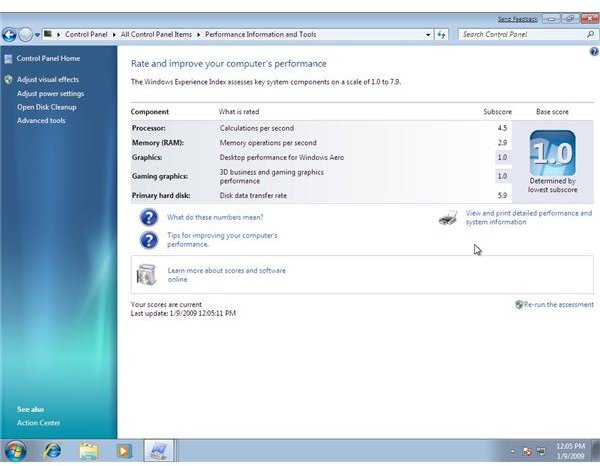 Ever wondered how your PC hardware measures up against other computers? Of course, hardware specifications for RAM, CPU clock speed, hard-disk, and graphics card can provide a 'rough' guide - but that is all. As such, there are a variety of benchmarking software titles which can provide a more detailed and comparable benchmark of the various hardware components in your PC.
Why Benchmark Your Windows 7 PC?
So, why do you need to benchmark? Well, firstly because it's always interesting! And secondly, because when hardware becomes more outmoded, benchmarking can highlight this and provide a great guide for upgrading hardware if you have a desktop. In this respect, component based benchmarking can provide a variety of figures, or ratings, for your hardware that can then be compared with a variety of other alternatives. It can also help you isolate problems when the machine is performing poorly.
Windows 7 Base Score
A good starting point for a Windows 7 benchmark is to consider some of the options that Windows 7 provides for benchmarking. In this respect, the Windows 7 index is worth noting. To reach the Windows 7 index go to the Control Panel, then under System select the option that says Check the Windows 7 index.
This Windows 7 index provides sub-scores for the following components: processor, memory, graphics, game graphics, and primary hard-disk. In addition to this, a base score is also provided which is actually just the lowest of these sub-scores. Overall, the scores range from 1.00 – 7.9 and the higher the scores the better the relative hardware. As such, components with the lowest scores are the ones that should be upgraded. If you add new hardware the Windows 7 base score can always be recalculated to highlight how the new hardware component has enhanced the PC.
SiSoftware Sandra
Of course, the Windows 7 base score is a fairly limited Windows 7 benchmark tool. As such, for more detailed benchmarking some more specific benchmarking software applications will be required. Step in SiSoftware Sandra, which is an acronym for System Analyser, Diagnostic, and Reporting Assistant, that can provide much more detailed benchmarking of various hardware components. There are a number of editions, including a more limited freeware Sandra Lite edition which can be downloaded from the SiSoftware website.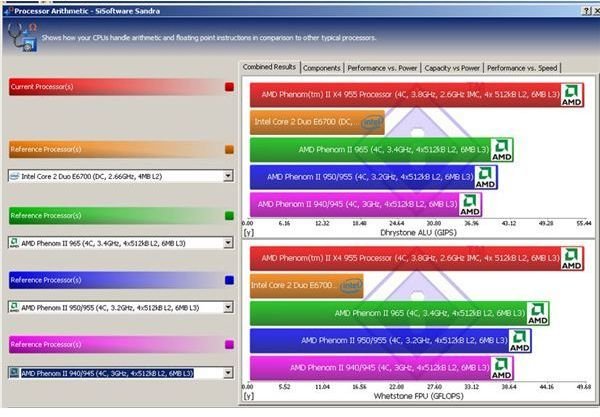 This software has four modules, among which a benchmark module is included. From the benchmark module there are various benchmarks for processor, graphics processor, storage devices, memory, network, and virtual machine. Select an area you wish to benchmark and then Sandra Lite will provide a benchmark score for the component, as well as graphs displaying other alternative hardware component scores (as in the above screenshot). The software can also provide an overall score and more general rating for your PC; to do so select the Tools option and then overall score.
SiSoftware Website
After benchmarking your own hardware you can also visit the SiSoftware website which provides some detailed lists of some of the best hardware that has been benchmarked by Sandra. If it seems that certain hardware upgrades may be required, then you should consider visiting the SiSoftware hardware page which lists a variety of top PC hardware.
Other Alternatives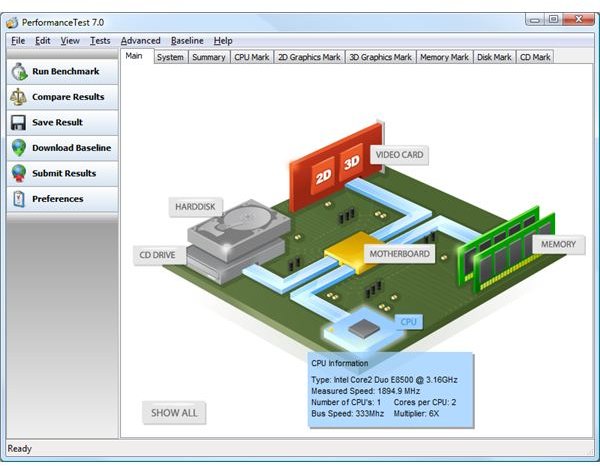 However, there are other benchmark software alternatives to Sandra. One good alternative is PassMark Performance Test. PassMark provides 28 standard system benchmarks, and like Sandra hardware can then be compared with other alternatives. This multi-platform benchmarking software can therefore be a good alternative to Sandra, but it should be noted that it is not freeware. However, you can still download a 30-day trial of the full software package to benchmark your current hardware.
If you are more interested in benchmarking your hardware in relation to PC games, then you might consider some of Futuremark's benchmarking software such as 3DMark Vantage. This is industry standard benchmark software for DirectX 10 PC gaming, and it has a basic freeware edition as well as more advanced premium editions which are hundreds of dollars. Software such as SuperPi can also time how long it takes for a PC to calculate Pi to a certain number of digits, a good processor benchmark, although aside from this provides few other options for benchmarking. However, the software is available for download.
As such, you can benchmark your Windows 7 PC with the Windows 7 index as well as software titles such as Sandra, 3DMark Vantage, PassMark, and SuperPi. Install this software to begin benchmarking your desktop PC, and if hardware upgrades are required consider some of the alternatives listed at the SiSoftware website.
References: