Learn How To Restore MS Office Outlook From a Backup (.Pst File)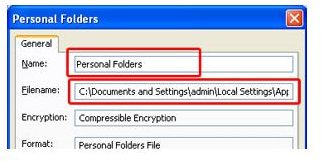 The Wisdom of Backups
It is very annoying when we lose email. Wise people regularly take backups of their emails so that they can easily get them back if they are accidentally deleted or lost. So if you are one of those wise email users, you should be taking regular email backups, and won't need to follow these methods to restore lost/deleted emails from a previous backup…
Here are the steps you need to restore MS Office Outlook from a backup.
Step 1: Restoring Office Outlook From a Backup
The first thing to do in the process of restoring Outlook from a backup is to delete all the files that Outlook has created. And to do this, we must know where these files are. Here is what you can do to find out the files' location:
a. Right click Personal Folders, in the left pane of Microsoft Outlook and select Properties from the contextual menu that pops up. A dialog box opens.
b. Click on the Advanced button; another dialog box appears.
c. Copy the directory location from the Filename field and close Outlook.
d. Open Windows Explorer and paste the directory location in the Windows Explorer's address bar. This is the location where Outlooks keeps the data files!
Now delete all the files in this directory path.
Step 2: Selecting the .Pst File
Launch Microsoft Outlook again. When Outlook opens, it looks for the Personal Folder file (.pst) and because you have deleted all files from the Outlook's content folder, Outlook will prompt you that the .pst file is missing and will ask you to select it from the location where it can be found. Now browse the file on the hard drive where you stored it during backup. As you select the .pst file, Outlook asks you to restart the program; click OK and then launch Microsoft Outlook again. You will notice that Outlook is restored with all the same stuff as before.
Although everything should have restored properly but it is a good idea to check and confirm that all your calendar entries, emails, and contacts etc have been restored and open normally. You will notice that your data has been restored but email accounts are not there. Outlook does let us backup our data but unfortunately it does not backup email accounts; you have to do it manually.
Final Step: Recreating Email Accounts
So once you have restored your data from the pst file, the next step you have to perform is to recreate email accounts and configure their settings. For help on creating a new email account in Microsoft Outlook 2007, read the article Creating Email Accounts In Outlook 2007 .
Alternatively, if you know the workaround of storing email accounts in a Windows registry file (.reg) and you created the registry file during the backup process, then simply double-click on the registry file and your email accounts will be restored. When you double-click on the registry file, Windows will warn you that working with Windows registry files can be dangerous. Just ignore the message as nothing wrong will happen to Windows unless the registry file contains malicious or incorrect information, or obsolete entries that might make your system unstable. But if you backed up the accounts properly to the registry file, there is nothing to worry about the warning message that pops up.
This was how to restore MS Office Outlook from a backup. Those interested to learn the Outlook email backup procedure will find Backing Up Outlook 2010 a useful read.
Reference
Author's own experience.
Screenshot by author.