Learn about Email Extracting Software for Outlook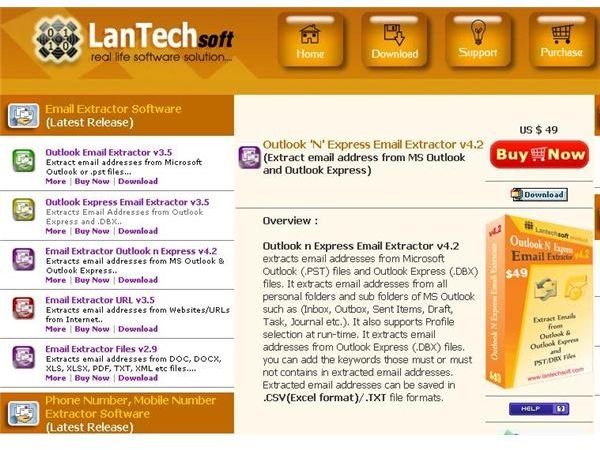 Email Extracting Software for Outlook
Email addresses can be worth a lot of money, especially to email marketers or others who need a comprehensive list of email contacts available to databases and other software applications. To build an impressive list of addresses, most people need look no farther than their Outlook mail folders.
Extracting software will look into Outlook mail folders, pick out all the email addresses they contain and then present them in an easy to use .csv or .txt format. Here we show you the best of these solutions.
Outlook 'N' Express Email Extractor
Outlook 'N' Express Email Extractor by LanTechsoft will extract email addresses from Outlook and Outlook Express. When working with
Outlook, the program allows users to select from different Outlook profiles and will search the Inbox as well as all folders looking for mail addresses. The results can then be stored as .csv or .txt format and then be imported into a contact list, database or mailing list software application.
Built into the software is the ability to filter out duplicate email addresses and to create custom filters to select specific subsets of data for export.
This extractor costs $49 from the manufacturer (prices may vary without notice).
Digital Software Development Email Extractor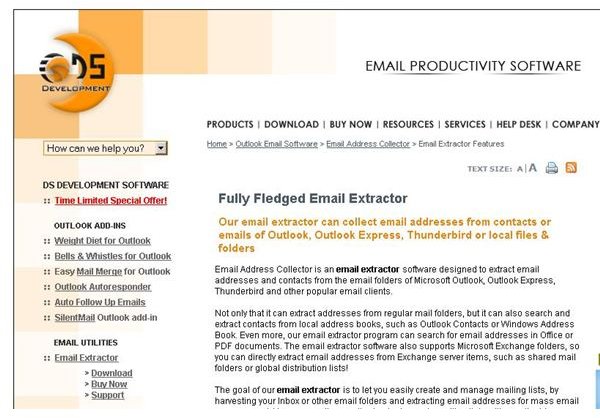 An email extractor for Outlook offered by Digital Software Development gives users advanced ways to search for email addresses inside Outlook emails and then save them to a list for use with email marketing tools or for separate, customized contact lists. The program transcends Outlook, however, scouring Microsoft Office files of all types, Microsoft exchange objects and even Adobe PDF's to build comprehensive lists from data found on your computer.
This robust email extraction tool sells for $29.95 as a direct download from the manufacturer (price may be subject to change without notice).
EPractize Labs Email Spider Software
The EPractize Labs Email Spider Software is a full featured email extracting software for Outlook that will create lists from messages held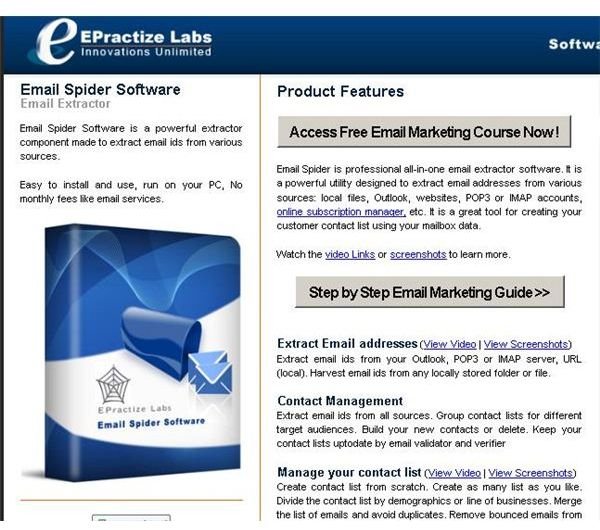 in all Outlook folders. The program can glean information from messages with multiple recipients, carbon copies and blind carbon copies to retrieve all the addresses from a user's email files.
This extractor goes way beyond email, however, to make it a versatile tool for scouring web pages for email addresses as well.
The EPractize Labs product comes with a powerful contact management applet that helps users manage a large number of contact lists with ease. This program is designed with email marketers in mind, so it has the features they need to help them succeed.
Download Email Spider Software from the web for just $20. Specials are often available for this program, so the actual cost could be more or less, depending on when you buy.
Conclusion
Now you know three of the best email extraction programs for Outlook. Choose one of them and then watch your email marketing efforts turn into gold.
References
LanTechsoft. "Outlook 'N' Express Email Extractor" https://www.lantechsoft.com/email-outlook-n-express-42.html
Digital Software Development. " Email Extractor for Addresses from Outlook or Outlook Express", https://www.emailaddressmanager.com/outlook/email-extractor.html
EPractize Labs. "Email Spider Software", https://www.epractizelabs.com/email-marketing/emailspidersoftware.html
Screenshots provided by writer