Tips on Filtering Outlook Calendar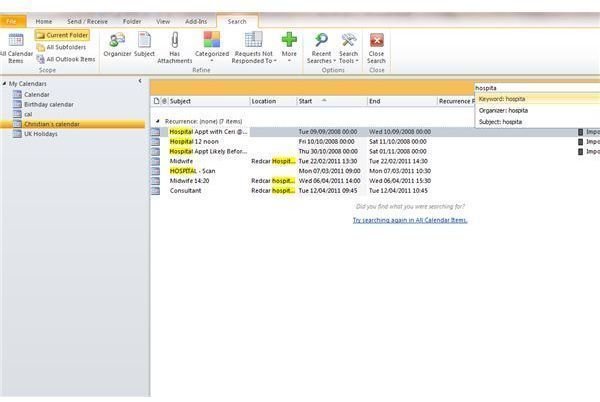 Lost Your Outlook Appointments?
A busy Outlook calendar will betray a busy life – but things can get too busy. For instance how easy would it be to find an appointment that you have in two weeks' time if the same period is littered with tasks and meetings and projects?
While setting up calendar alerts in Outlook 2010 is a great way of staying on top of any major appointments that are coming up, you will only get to know about these when the appointment is imminent.
Browsing the calendar for specific events on particular dates is tricky, but by using the Outlook calendar filtering tools you should be able to find out what's in store in a matter of minutes.
How to Use Search
There are various ways you can filter your Outlook calendar – the most basic is to use the Search function, which sits in the top-right of the calendar window. Using the Outlook calendar search you can look for any appointments that you have that might feature a specific keyword.
When these appointments are found the results will filter them down and display them in list view, where they can be double-clicked to open them.
You can exit the search results filter view by clicking the X on the right-hand side of the search box. This will return you to the calendar view.
Screenshot by author
Views and Filters
In order to gain control over how Outlook displays your calendar items, go to View > Change View while in the calendar, and select List. This will display a full list of items currently in your calendar, with a search bar again displayed in the top-right corner and column headings that can be adjusted.
For instance to sort your list of appointments alphabetically by subject, left click the Subject column; to arrange your appointments by start date, right-click any column header and select Arrange By > Start Date.
Right-clicking a column header and selecting Remove This Column will take that column out of any future sorts that you perform, while Field Chooser will allow you to add and remove any fields that will make searching for information easier.
Finally the Group By This Field option can be chosen by right-clicking the appropriate column header, and will group your calendar data by the selected field. The chosen field will be displayed at the top of the window, where you will be able to change the direction of the sort if necessary.
Other Outlook Calendar Filtering Options
You might find that just using the Arrangement section of the View tab (which features Start Date, Recurrence and Reverse Sort buttons) is more effective – after all these are some of the more commonly used functions in the filter view.
If the various filters that you have applied have become a bit too complicated and you want to reset them, this can be done by clicking Reset View. This will return the data to the previous List View, which can in turn be excited via Change View > Calendar.
References
Author's own experience.