Windows 7 - XP Compatibility Mode Guide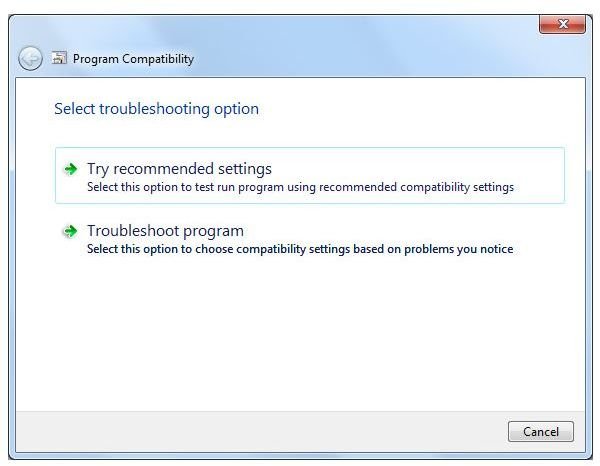 Windows Compatibility
Every version of Windows is a little different. Although what you see on the front end may seem more like cosmetic changes and menus being moved around, on the back end programming side of things, there are huge differences between Windows XP and Windows 7. Microsoft has done quite a lot to ensure compatibility between newer versions of Windows and older versions of software and hardware, but sometimes things just don't work out. This is why Windows Vista includes an XP compatibility mode and why Windows 7 includes compatibility modes for Windows XP as well as Vista and other versions. Learn more about how to use this mode when your older software doesn't work properly in Windows 7.
Windows 7 XP Mode
XP Mode for Windows 7 is currently only available in the Professional, Ultimate and Enterprise editions of Windows 7. It will work with either 32-bit or 64-bit versions of Windows. If you are a Netbook owner, chances are you have the Windows 7 Starter edition, which has many features removed, and it is not compatible.
Chances are you may already have the compatibility mode feature already installed and enabled on your Windows 7 PC. If not, you can download Microsoft Windows XP Mode and Windows Virtual PC directly from Microsoft's website at https://www.microsoft.com/windows/virtual-pc.
Compatibility Troubleshooting
If you try using older hardware with Windows 7, you may not be able to install the drivers because it will throw an error saying The operating system you are using is not supported or you will see a pop up window saying This program may not have installed correctly. Thankfully, Windows 7 includes an application called the Program Compatibility Assistant that will try to find the correct configuration to make your software work, or at least help you locate an updated version of that software.
If you are installing something and one of those errors pops up, Windows should automatically start the Program Compatibility Assistant and give you the option to Reinstall using recommended settings, which will then automatically adjust the options for you. Sometimes you might get an error saying This program blocked due to compatibility issues and then you can let the Assistant search Microsoft's site for additional help.
After your software is installed, it may still have some issues preventing it from working. If this happens, you can right-click on the icon for that program and choose Troubleshoot compatibility from the pop-up menu that appears. This will launch the Program Compatibility application and let you try running the software using recommended settings or let you select descriptions of the problem you are having in order to help isolate the issue.
Compatibility Options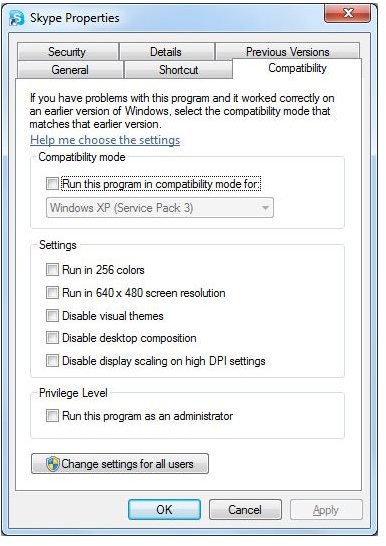 To configure Compatibility Mode in Windows 7 manually, just right click on the icon for whatever program you wish to change and select Properties from the menu that pops up. In the program properties window, click on the Compatibility tab and you'll be presented with options for which older version of Windows to run as, individual settings to force, and the option to run the program with Administrator privileges enabled. In the screenshot here, you can see that we are looking at some of the options for Skype.
Under the Compatibility mode section, you can check the box for 'Run this program in compatibility mode for:' and then select an older version of Windows from the drop-down menu. Depending on what operating system your older software was originally designed for, you may want to try a couple of different ones here until you get it to work. It is best to start with Windows XP (Service Pack 3) and work your way back.
Under the Settings section, these options let you force visual options like limiting the display to 256 colors or a 640x480 resolution. These options are especially helpful for very old programs (like something designed for Windows 95) that may not be compatible with current video cards.
The Privilege Level section gives you the option to run the program as an Administrator. This is helpful for when programs may need access to certain folders that are normally restricted. If the program works in Administrator mode but not for the regular user, you may need to change the folder permissions for where the application is installed, or perhaps change permissions in the registry.
Final Considerations
If using all variations of options and configurations in Windows 7 XP compatibility mode still does not make your software work properly, you are going to have to choose between the operating system and the software. If you wish to keep Windows 7, then whatever software you are trying to run may need to be upgraded or even replaced. Likewise, if you would rather use that software than bother with Windows 7, you can always considering downgrading your computer to an older version of Windows. Hopefully, whichever choice you wind up making will not be too expensive.
References