How to Search for Duplicate Files in Outlook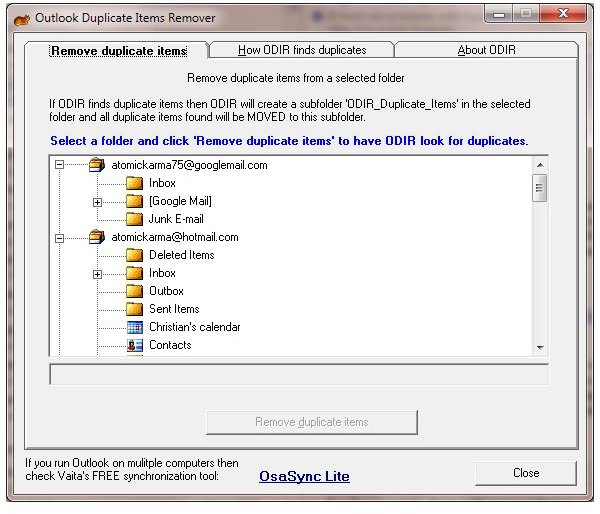 Why Do I Have So Many Duplicates?
Using Outlook gives you power to control your contacts, calendar and email messages from one easy to use email client. You can send and receive emails, add and edit contacts and manage tasks and appointments in the calendar with a minimum of effort.
In fact, everything is so simple to do it's easy to find yourself repeating tasks, reading the same emails twice, finding duplicate contacts, and so on.
One of the main problems with Outlook is that you can end up with duplicates. This can happen with just a single email account or if you have your account synced with an additional Exchange server or perhaps even a Hotmail account. If you use a Windows Mobile device which is synced with your computer (via ActiveSync) this is another way in which duplicates can occur.
Emails might be sent to all of your accounts, and your contacts will be split up into different folders, such as one per account, and this is another way in which duplicate information can end up in Outlook.
However you probably know all of this already – what you want to know now is how to find and remove duplicates!
Avoiding Duplicate Contacts with Outlook 2010
You don't have to use third party software to find and remove duplicates in Microsoft Outlook 2010 – the latest version of the Microsoft Office email client has a built-in tool for finding duplicate contacts.
While there is no provision for finding duplicate emails (other than using the Search Inbox function across all of your emails) the software will automatically detect existing contact records when you try and add a new one.
For instance if you switch to the Contacts view in Outlook and add a New Contact, the software will scan the existing records and highlight any duplicates, asking you to either Add this new contact or Update and open the existing record.
If your duplicate issues are more deep-rooted, however, you will need to consider a free third party tool, ODIR (Outlook Duplicate Items Remover).
Download and Use Outlook Duplicate Items Remover
To take advantage of this excellent free tool, head to www.vaita.com/ODIR.asp and use the Download Now link – ODIR is just 2.4 MB in size and should download to your PC or laptop pretty quickly.
Double click the ODIR.exe file to install – ODIR takes the form of an Outlook Add-In, and can be accessed from the Add-Ins menu. To check for duplicates, go to Add-Ins > ODIR > Remove duplicate items… which will open the Outlook Duplicate Items Remover tool will open.
All you need to do is select a folder to check and then click Remove duplicate items – any duplicates will be saved to the ODIR_Duplicate_Items folder in Outlook.
Screenshot by author
Which Solution is For Me?
Depending on what duplicate issues you have, your choice will differ. If you have problems with actual duplicates that have already occurred then ODIR will check contacts, appointments, emails, tasks and notes in Outlook, moving duplicates to the ODIR_Duplicate_Items folder where you can check and delete them.
However if all you are concerned about is the possibility of adding duplicate contacts then don't be because Outlook has this covered!
References
Author's own experience.