How to Sync Droid with Outlook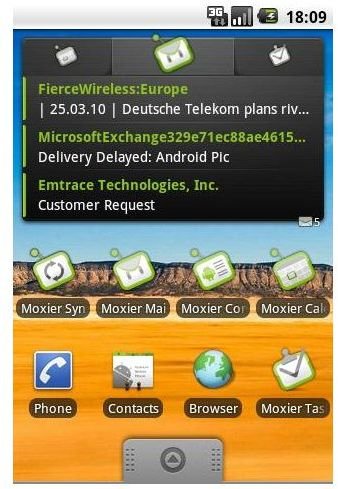 Shouldn't Syncing Android with Outlook Be Simple?
If you have a smartphone, one of the main functions you might expect to use is the ability to sync with Outlook, and have e-mails and contacts from your computer synced to your handset.
However it is not always as simple as this.
While it might be simple to sync Outlook with a BlackBerry or iPhone or even a Windows Mobile or Windows Phone, it is not so easy to sync Android with Outlook.
However, there are tools and options available that can help you to get your Outlook e-mails, calendar data, contacts and more synced from your computer to your phone.
(Image credit: https://www.appbrain.com/app/moxier-mail-%28exchange%29/com.moxier.mail)
Using Built-in Tools to Sync Droid with Outlook
There are various data types that you might want to sync between Outlook and your Android phone, and one of the most common are e-mails. If you use Outlook to access e-mails from an Exchange server, this can be done very easily without additional software in Android 2.2.
Open Settings > Accounts & sync > Add account > Corporate and enter your e-mail address and password. Click Next to proceed and your Android should then auto-configure your account details, and you will then be ready to give the e-mail account a name and start using it.
Using this method you can connect your Android to Microsoft Exchange and then enjoy e-mail pushed straight to your inbox as it arrives at the Exchange server!
App-Based Android Syncing with Outlook
The most common solution for syncing your Android phone with Outlook is to take advantage of a dedicated app. While there are some apps that claim to be free, many of these have a PC-based client that adds quite a few dollars onto the price.
One popular way around this is to take advantage of cloud-based solutions such as Funambol which offers free syncing of contacts and calendar data.
This can be installed via the Android Market and requires you to sign up for an account. Once this has been done, you can sync contacts and calendar data from Outlook to your Android. Just visit https://my.funambol.com from your PC, sign into the account you created and use the Download Windows/Outlook Sync Client link found on the right-hand side of the main screen to download and install the software that will allow you to sync with Outlook.
This is just 3.5 MB so it shouldn't take long to download. Once installed, run the client and go to Tools > Options to enter the username and password of the account you created. Finally, click Sync All to continue, and your calendar data, contacts, tasks and notes will be synced from your PC via your Funambol account and to your Android handset!
Third Party Tools That You Might Find on Your Android
If none of these solutions works for you, why not take another look at your Android device? Some devices ship with suitable Outlook syncing software already installed.
One such example is the Moxier Mail, which offers synchronization with an Exchange server for e-mail, contacts, calendar and task information. While expensive (it is available on the Market for around $19.99) this is a popular option and is ideal for anyone using Exchange to sync e-mails, contacts and calendar data.
References
Author's own experience