Microsoft Outlook Archiving - Default Settings & Customizing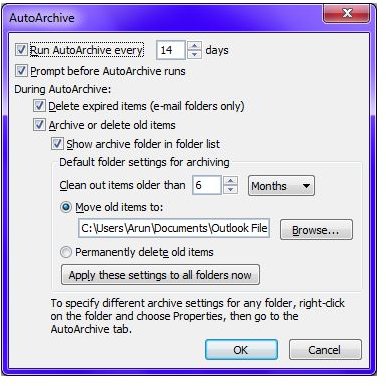 Archiving vs Backing Up
Microsoft Outlook archiving may look similar to backing up emails. However, there is a huge difference between Microsoft Outlook archiving and backing up Outlook items. When you back up Outlook items, you copy them to a different file. The file can be of any format - PST, Excel sheet or text file. Microsoft Outlook archiving on the other hand, moves old but important items from your Outlook folders to a separate file.
This means that when you back up items, they still appear in their relevant folders. When you archive, the items are moved and do not appear in the folders where they were present initially. With Microsoft Outlook archiving feature, you can create only a PST file (which can be opened only with Microsoft Outlook). If you want to see the archived items at a later time, instead of importing the file using the Import Export wizard, you need to add it using the Data tab in Account Settings window of Microsoft Outlook.
If you are looking for information on backing up Outlook emails, please read our article How to Back up Outlook Emails? This article explains Microsoft Outlook archiving features.
Microsoft Outlook Archiving Tools
Outlook allows you to manually or automatically archive your messages. Microsoft Outlook has an auto archiving feature that helps you archive your messages, tasks and calendars at regular intervals. When you install Microsoft Outlook, the Auto Archiving feature is turned ON automatically and the time-interval for running the auto archive wizard is set to 14 days.
This means that the Microsoft Outlook Auto Archiving wizard will run every 14 days unless you specify otherwise. The Auto Archiving wizards checks for OLD items in all your folders and moves them to a separate file. For example, if you have email messages that are more than six months old, the Auto Archive wizard will move them to a separate PST file. When it starts, the Microsoft Outlook Auto Archiving wizard will prompt you asking if you wish to archive your Outlook items. To continue, click Yes and to cancel the wizard, click No.
Note that the default Auto Archive settings for Sent Items and Deleted Items is only two months as against six months for other folders.
Changing Auto Archive Settings
You can open the Auto Archive Settings box and change the default settings to something else. You can change:
The period when you want the Auto Archive wizard to run.
Whether you wish to delete the old email messages. By default, Auto Archive wizard will delete emails older than six months. If you wish to move them to the PST files along with other items, uncheck the box against Delete Expired Items (see Image).
Default location and filename for archive file
Change the period when the Auto Archive considers an item as OLD to move it to archive file.
Using the settings dialog for Auto Archiving, you can also specify if you wish to delete all the old items. The default setting is to move everything except email messages, to a file that you specify.
Note: When Microsoft Outlook Auto Archiving moves an email message to a different PST file, it also moves any attachments with that mail. However, it will not move the attachments that you stored separately on the hard disk.
Setting up Microsoft Outlook Auto Archive for Individual Folders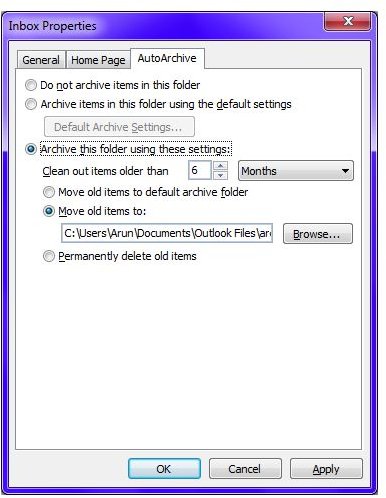 You can also specify different auto archive settings for different folders. To do this:
Right click on the folder
In the context menu that appears, select Properties.
In the Properties dialog, select Auto Archive tab.
View or change the Auto Archive settings for that folder (see image).
The following explains how to open Auto Archive default settings box in Microsoft Outlook 2003, Outlook 2007 and Outlook 2010.
For Microsoft Outlook 2003 and Outlook 2007, you will find the option for auto archiving under Tools -> Options -> Other
For Microsoft Outlook 2010, you will find the option under File -> Options -> Advanced
This explains Microsoft Outlook archiving feature. If you have any questions, please feel free to use our comment boxes.
References
Images from Microsoft Outlook 2010
Microsoft Knowledge Base, Article ID: 830119