How to Set Up and Install Microsoft Office Outlook Updates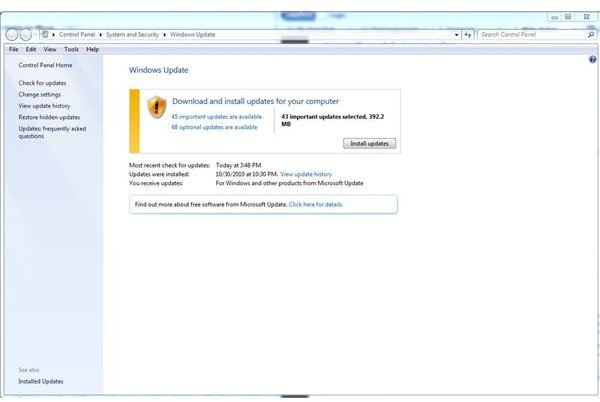 Setting Up Windows Update for Microsoft Outlook
The easiest way to keep Microsoft Office Outlook 2010 updated is to use the built-in Windows Update utility. Click the "Start" button, select "All Programs" and click "Windows Update" to see the following window:
You have two choices for installing updates with this utility. First, you can set up automatic updates for both Office and Windows. To do so, click the "Change Settings" link on the left column of the window, and then select "Install Updates Automatically (Recommended)" from the "Important Updates" drop-down list. This will automatically download and install important updates for Microsoft Office and Windows. However, you might want to download and install recommended updates as well. To do so, tick the box next to "Give me recommended updates the same way I receive important updates." Click "OK" at the bottom of the window to finalize your settings.
If you don't want to automatically download and install updates, that's fine because you can manually check for updates at any time. Click the "Check for Updates" button on the main Windows Update screen to look for the latest updates. After Windows finds what's available, you'll see a notice like in the first picture, which tells how many important and optional updates are available. Click one of the links to see available updates as shown below: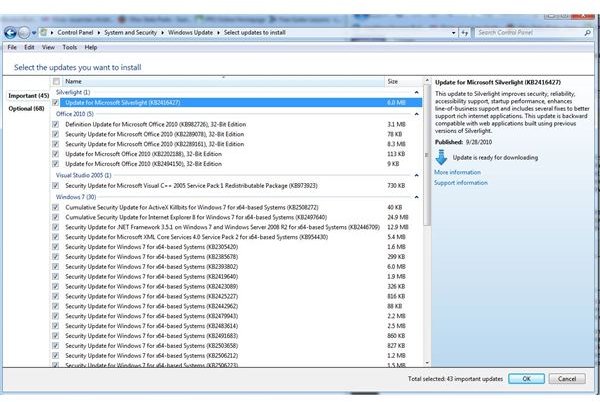 Office updates are grouped together, so you can clear the box beside any update you don't want, and then click "OK" at the bottom of the screen. You'll be taken back to the main Windows Update screen where you can click the "Install Updates" button to download and install the updates you selected.
Downloading Microsoft Office Outlook Updates Manually
If you prefer not to use Windows Update or want to get more information about updates before downloading them, you can use the Microsoft Download Center website. The website offers updates for many versions of Microsoft Office Outlook and lets you search for updates based on release date, title and popularity. If you use Outlook 2010, click the "Released" column to view the most recent updates that Microsoft has released.
You can click the title of the update that interests you to view more information about problems the update corrects or features it adds. You will also see information on system requirements and the required procedures for installing the update. For most updates, the installation procedure is straightforward. After you click the "Download" button on the update's page, you will want to close any open programs, especially Microsoft Office products. You will then double-click the update's file after it finishes downloading to launch the installation wizard. The wizard can vary depending on the update, but it will guide you through the entire installation process. You might be required to restart your computer after the update installs, which means you may need to reboot your computer multiple times if you plan to install several updates.
References
All screenshots made by author and all references taken from Microsoft Outlook Office 2010 and Windows Update in Windows 7
Microsoft Office Outlook 2010's official product website: https://office.microsoft.com/en-us/outlook/