A Guide to Using Outlook Secure Email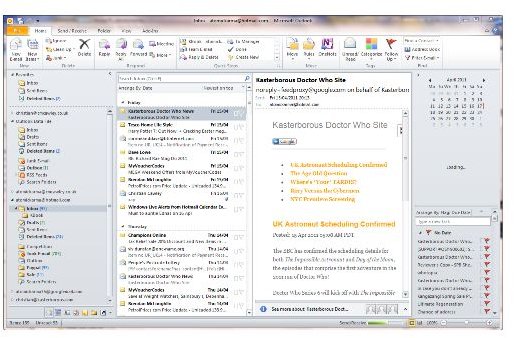 Using Outlook for Secure Email
Microsoft Outlook is one of the most popular email tools in the world, and certainly the most vital in a corporate environment. Offering email and calendar solutions as well as maintaining a record of all of your contacts and tasks, Outlook can be configured to access pretty much any type of commonly-used email account.
Less common than some is the use of Outlook secure email, the act of sending and receiving email messages over a secure connection. While this might seem like an obvious thing to do with email, the fact is that few emails are sent in this way, which results in countless potential security breaches on a daily basis.
(Screenshot by author)
What is a Secure Connection?
A secure connection for your emails is one that will prevent interception of your messages when you send and receive them to and from the email server.
That's right – every message you send and receive can potentially be "sniffed" by software created by fraudsters and hackers looking for information that they can profit from. Typically such information would be personally identifiable data, but in a corporate environment your messages might be targeted because they contain commercially sensitive information. As such you need to take steps to prevent this from happening.
You can send emails over a secure connection if your email client supports this type of communication and your email host (an ISP, web host or employer) provides a secure option.
Configuring Outlook to Use a Secure Connection
If you have access to a webserver that allows you to use a secure connection, you can take advantage of this and configure Outlook. This will prevent your emails from being intercepted by sniffer software and provide you with a more secure email experience.
For instance, you might receive a set of instructions as below:
Mail Server Username: username+webhost.com
Incoming Mail Server: mail.webhost.com
Incoming Mail Server: (SSL) host578.webhost.com
Outgoing Mail Server: mail.webhost.com (server requires authentication) port 26
Outgoing Mail Server: (SSL) *.webhost.com (server requires authentication) port 465
Supported Incoming Mail Protocols: POP3, POP3S (SSL/TLS), IMAP, IMAPS (SSL/TLS)
Supported Outgoing Mail Protocols: SMTP, SMTPS (SSL/TLS)
Further Settings for Securing Outlook
Instructions such as those outlined above would require you to alter the current settings in Outlook to reflect the SSL (secure socket layer) options above.
To do this in Outlook 2010, go to File > Account Settings > Account Settings, select the email account concerned and click Change….
Under Server Information, alter the Incoming Mail Server and Outgoing Mail Server fields so that they reflect the SSL options that you have been provided with.
You will then need to specify the correct ports, so click More Settings… and on the Advanced tab set the encryption type for both incoming and outgoing servers to SSL and then specify the port numbers as instructed.
Note that the example above doesn't cover all bases; your ISP might provide you with TLS encryption rather than SSL, for instance. Also note that Microsoft Exchange uses SSL so if your Outlook email account is an Exchange account, you won't need to make any changes.
As you can see, while a slightly involved process, secure email can be setup in Outlook in a matter of minutes. Don't forget to bookmark this page or print it out to refer back to in future!
References
Author's own experience.