How to Remove the Outlook Attachment Size Limit Warning
How Outlook Limits Your Attachment Size
If you need to send a large file as an email attachment in Outlook, you might come into a problem. Microsoft Outlook 2010 sets a default maximum attachment size limit to 20 megabytes, even if your Internet email service provider supports attachments over this size. If you try to attach a file that is 30 megabytes in size, you'll see a message like the one below:
Like many other settings in Outlook and in your other programs, Windows stores these settings in its registry. If you have a Windows administrator account, you can simply log on and make some modifications to the registry, keeping in mind that there are potential risks. You should also keep in mind that changing the Outlook attachment size limit warning settings will not enable you to send larger attachments than your Internet email provider allows.
Preparation for Changing the Outlook Registry Settings
To access the registry, you'll need to log on to Windows as an administrator. After you're logged on, follow one of the these two methods for accessing the Registry Editor, depending on your version of Windows.
Windows XP - Click the "Start" button and click "Run" to open an "Open" prompt. Type "regedit" in the box and press "Enter" to launch the Registry Editor.

Windows Vista and 7: Click the "Start" button and type "regedit" in the box at the bottom of the menu. Press "Enter" to open the Registry Editor.
Before you change any settings in the registry, you should create a backup so that you can repair your settings if something goes wrong. Windows allows you to export the entire registry or registry information for a single element. Its usually easier and safer to just make a copy of the whole registry. To do so, click the "File" menu and select "Export." Find a location to save the registry backup and then type a file name for it. Click "Save" and Windows will export the registry.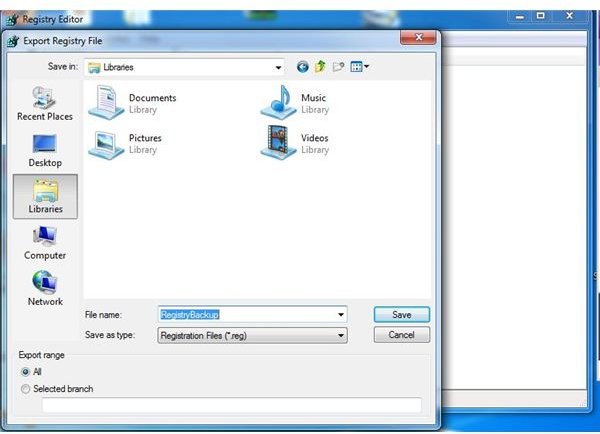 How to Change the Outlook Attachment Size Limit Warning
After the export process finishes, return to the main Registry Editor window. The registry value that you need to edit will exist in the following location: "HKEY_CURRENT_USER\Software\Microsoft\Office\14.0\Outlook\Preferences." However, you could also do the setting using the "HKEY_CURRENT_USER\Software\Policies\Microsoft\Office\14.0\Outlook\Preferences" path. For this explanation, I'll be using the original location.
To begin, click the triange beside "HKEY_CURRENT_USER" and double-click the "Software" folder. Double-click the "Microsoft" folder, and then double-click "Office" and "14.0." Double-click "Outlook" followed by "Preferences" to complete the navigation. On the right pane of Registry Editor, right-click an empty space and select "New" and "DWORD (32-bit) Value." Name the value "MaximumAttachmentSize" and press "Enter" to apply the name.
Next, double-click the registry value you just created to view it's properties as seen below: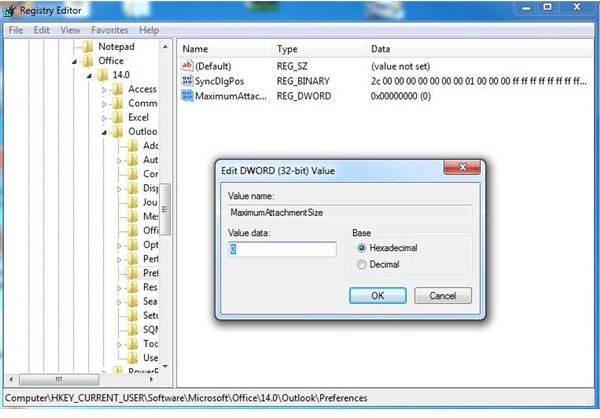 If you want to completely remove the attachment size limit, simply type "0" under "Value Data." If you want to specify a certain size such as 30 megabytes, you'd type "30720" and select the "Decimal" under "Base." Keep in mind you'll need to enter the exact megabyte amount if you choose to specify a size. Click "OK" and close the Registry Editor window. Restart Outlook to apply your change.
References
All screenshots made by author and all references taken from Windows 7 and Microsoft Outlook 2010.
Outlook 2010's official product website: https://office.microsoft.com/en-us/outlook-help/