Find a Wireless USB Network Adapter Compatible with Win 7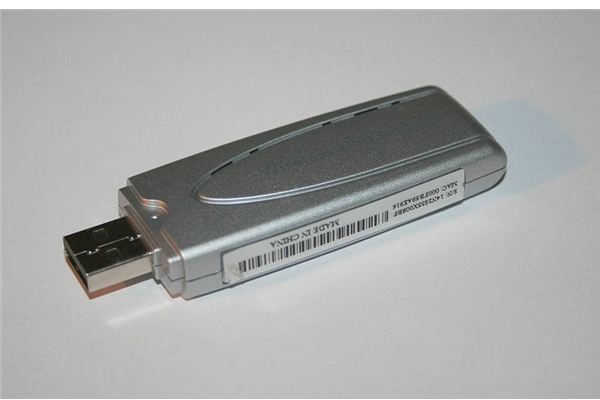 Driver Compatibility
A wireless USB network adapter compatible with Win 7 will come with a compatible driver. These days, most new adapters come with
Windows 7 drivers, but some older adapters that are used or are from surplus sources may predate the operating system.
The version of Windows 7 also makes a difference. An adapter that comes with a driver for Windows 7 may have one for the 32-bit version of Windows, but not the 64-bit version.
For best practices, a buyer should verify that an adapter either comes with Windows 7 drivers in the box that matches their operating system (32-bit or 64-bit) or that the manufacturer has a compatible driver available for download before completing the purchase.
Image Credit: Wikimedia Commons/Marcus Wong
Router Compatibility
When buying a USB network adapter for use with Windows 7, be sure to look for one that needs or exceeds the maximum speed of your primary router. Although most routers and adapters are backward compatible, meaning that they will work with older standards, a Windows users will want to get the most possible speed from their router by getting the fastest card.
For example, a user who uses Windows primarily at home with an 802.11n compatible router can usually get by with an 802.11b USB network adapter. However, the connection will be at 802.11b speeds. To get the most out of that router, a user would do much better buying an 802.11n network adapter.
Even when the user's primary router is slow, however, a faster card will still usually pay off because it can connect at faster speeds while at remote locations that have faster routers.
Check with Microsoft
Although most wireless USB network adapters will work with Windows 7, they may not be completely compatible. Microsoft maintains a list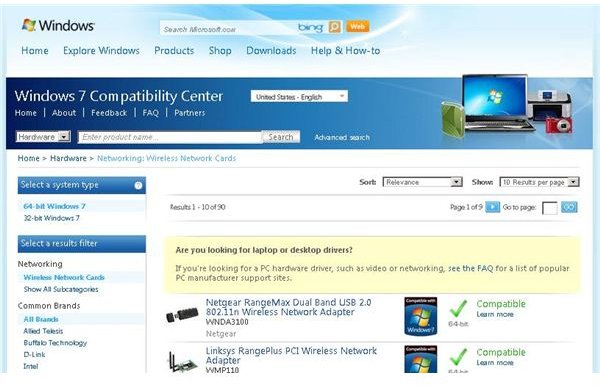 of Windows 7 devices that it has tested and verified for compatibility and rates them for 32-bit and 64-bit versions of the operating system. By choosing a model of adapter from the official compatibility list, buyers are assured that their device will work well with their system.
To use the Windows 7 Compatibility Center, users select either 32-bit or 64-bit at the top of the left column and then select "Wireless Network Cards" in the results filter. Users can then optionally search a particular brand. At the bottom of the left column, users can specify the level of compatibility of adapters displayed on the screen. The ones compatible enough to earn the "Windows Logo" are probably the best ones from which to choose.
The compatibility list includes all compatible wireless adapters. Be careful to only select the ones that are USB adapters.
Recommended Wireless USB Adapters for Windows 7
To help you choose a good USB adapter, we recommend the following:
Netgear RangeMax Dual Band USB 2.0 802.11n Wireless Network Adapter
This adapter uses the latest technology to deliver high speed 802.11n connectivity and is certified as compatible with Windows 7 32-bit and 64-bit versions. It operates with a dual-band radio that works on 23 channels on the 5 GHz band for less interference and optimal throughput. The adapter is backwards compatible with 802.11g devices as well as 802.11 a/b. This adapter is currently available from Amazon for $59.03. Price and availability may change without notice.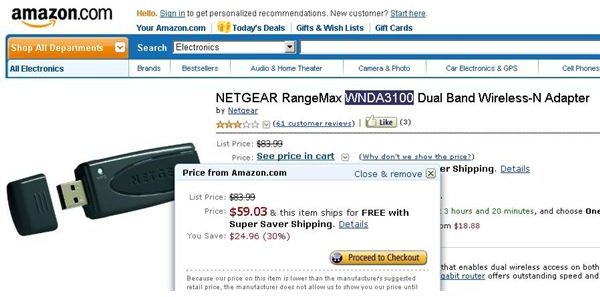 Linksys Wireless-N USB with Dual-Band WUSB600N Wireless Network Adapter
From Cisco-Linksys, this wireless N adapter is certified compatible with Windows 7 32-bit and 64-bit versions. it works on the 5 GHz band and the 2.4 GHz band for maximum router compatibility and long range. The adapter is also backwards compatible with 802.11 a/b/g environments. This adapter is currently available from Amazon for $49.99. Prices and availability are subject to change without notice.

References
Microsoft. "Windows 7 Compatibility Center", https://www.microsoft.com/windows/compatibility/windows-7/en-us/Browse.aspx?type=Hardware&category=Networking&subcategory=Wireless%20Network%20Cards
Author's own experience
Screenshots provided by author