How to Repair a Folder List in Microsoft Outlook - A Guide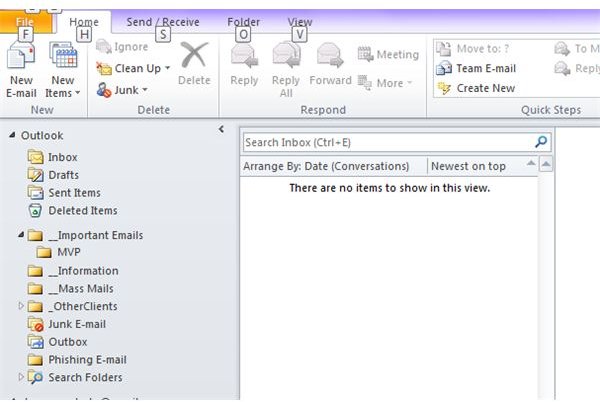 How to Repair a Folder List in Microsoft Outlook - Why Repair?
Before talking about how to repair a folder list in Microsoft Outlook, I will talk about the possible reasons why the folder list gets corrupt and what are the possibilities after attempting a repair.
The folders you create and use in Microsoft Outlook are stored in data files. Whenever you configure an account in Microsoft Outlook, a related file is created on your hard disk. The extension of these files is .PST. If you create a folder list for storing offline messages, the extensions of related data files is .OST.
When you install Microsoft Outlook, a default PST file is created. Named Outlook.pst, this file contains your first POP3 account, inbox, contacts, tasks and calendar details. It also contains all the custom folders and messages for that folder list. For Outlook 2007 and above versions, the custom rules and alerts are also stored in the PST files.
A folder list is corrupted because the PST or OST file is corrupted. Each PST file contains a table that stores information about each folder and its contents. There is an entry even for each message that your folders and subfolders contain. If this table is corrupt, Microsoft Outlook cannot display or open the contents. Sometimes, it may open the folder and you find it empty because part of the PST table containing information about the messages in that folder is corrupt.
PST files can be corrupt because of two main reasons:
The PST file is too big and contains too many fragments on your hard drive.
An improper shutdown of Microsoft Outlook did not allow it to update the PST table before closing.
How to Repair a Folder List in Microsoft Outlook - Using ScanPST
This section talks about how to repair a folder list in Microsoft Outlook. As discussed in the above section, Microsoft Outlook is unable to display a folder list properly is the related PST file is damaged. To repair a folder list in Microsoft Outlook, you have to repair the related PST file.
Microsoft Office installs two hidden applications when you install Microsoft Outlook: ScanPST.exe and ScanOST.exe. These applications help you in repairing corrupt PST files and OST files. You will have to search for these applications before you can execute the applications. You also have to search the location of the PST or OST files so that you can repair them.
Though it is successful most of the times, the repair using ScanPST or ScanOST can be disappointing at times. These are the cases where the files' tables are damaged beyond repair. Sometimes, a PST table may contain an entry for a folder but ScanPST cannot locate the folder in the file. In such case, the ScanPST will delete the entry whereby you lose the data in that folder. However, if ScanPST finds a folder and cannot find a related entry, it can create on for you. The possibilities of ScanPST not being able to repair your folder list in Microsoft Outlook though less, they still exist.
To know how to use ScanPST to repair a folder list in Microsoft Outlook, please read our article - How to Repair Outlook PST file. The method to use ScanOST is same as that for ScanPST. You can use ScanOST for OST files only.
Tip: It is always better to run a third party defragmentation tool such as SmartDefrag before attempting a repair so that ScanPST is more effective.
References
Image from Microsoft Outlook 2010
References from office.microsoft.com
This post is part of the series: Learning Microsoft Outlook
This article series on Microsoft Outlook aims to help you sharpen your skills on the email client from Microsoft. It offers tutorials, tips tricks, troubleshooting help and more.