Microsoft Outlook Tutorials - A Collection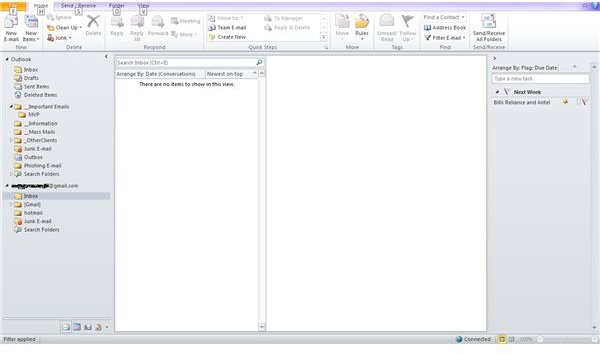 Microsoft Outlook Tutorials - E-mail Account Configuration
From the many Microsoft Outlook tutorials on Brighthub, the first one I present is the tutorial on setting up e-mail accounts. The article, How to Perform Outlook E-mail Setup from Brighthub's Microsoft Outlook tutorials, talks about multiple Outlook installations and about setting up e-mail accounts on a newly installed Microsoft Outlook product. It also talks about possible settings for POP3 accounts related to your website or domain.
If you are configuring multiple POP3 accounts, you will find a different folder-group for each account that clutters your Outlook. You may want to read How to Combine Outlook Accounts, another tutorial from Brighthub's Microsoft Outlook tutorials that talks about combining multiple POP3 accounts so that you get a single inbox for all POP3 accounts.
If you already configured Microsoft Outlook on a machine and now wish to install it on a different machine, you can skip installation of some e-mail accounts by copying the default Outlook.pst and other files related to e-mail accounts. We have an article that explains Easy Transfer of Outlook from One Machine to Another so that you may not have to configure all the accounts again on the new installation.
Microsoft Outlook Tutorials - Other Tasks
This section brings you more Microsoft Outlook Tutorials from Brighthub. These tutorials focus on other tasks that you would perform in addition to configuring e-mail accounts.
One of the important tasks is to create a contact list for use with e-mails. You can always use File -> New in Outlook 2003 to create a contact list. In Outlook 2010, you can click on New Items -> Contact to create a contact list. It is a good idea to back up these contacts from time to time. Read How to Export Contacts for information on backing up the Contacts folder and for information on the file formats you should select for different purposes.
Talking about contacts, you may also like to send a single mail to many people. You need not compose the message each time to mail it to a different recipient. You can Create A Distribution List to add all the contacts to a group. You can later send messages to this group so that it reaches each contact in the distribution list. The process is same in Outlook 2003 and Outlook 2007. For Outlook 2010, you will have to open the main dialog from New Items -> More Items -> Contact Group.
You can also E-mail the Distribution List to Others so that they can use it. The information about contacts is also called business card. Business cards contain the name and e-mail address of people with whom you interact using e-mails. If you want, you can add information regarding their address, phone numbers and more to the business cards. You can also Send the Business Card to Someone so that they too can use this information.
You may also want to back up Outlook information from time to time. Backing up Outlook data helps you retain information in case your original data file is corrupted for some reason. You can also backup Outlook data so that you can use it on other installations or on other computers. The article How to Backup Outlook Data offers information on backing up Outlook data.
You may also feel the need to save the e-mail messages that you receive using Microsoft Outlook. Though there are several options when you click on Save As (F12), you need to select the option that suits you best. You can also copy the contents of e-mail to other applications for opening the e-mail messages in Microsoft Word. Read Saving Outlook E-mails as HTML to My Hard Drive to know more.
These were some basic Microsoft Outlook tutorials from Brighthub. For more tutorials, click Outlook 2010 and Outlook 2007.
Related Reading:
Microsoft Outlook Tips and Tricks From Brighthub
References
Screenshots and References from Microsoft Outlook 2010