We Answer: How to Configure MS Outlook to Read Yahoo Mail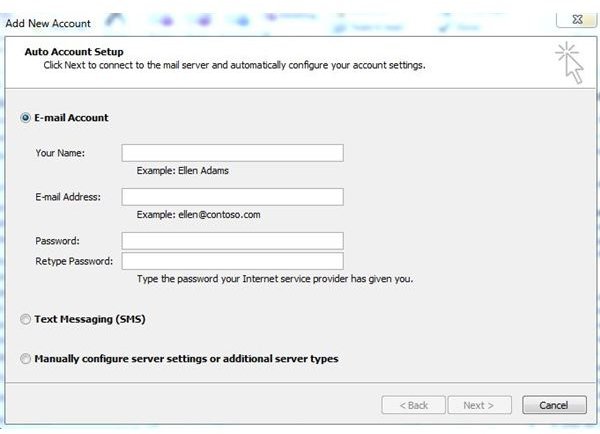 Preparing Your Yahoo Mail Account
Although Yahoo lets you access your mail account on the website for free, it requires a fee to use your account with programs such as MS Outlook. Before you can configure Outlook to read Yahoo mail, you must purchase a subscription to the Yahoo Mail Plus service, which is priced at $19.99 a year as of March 2011. You can sign up by clicking here and clicking "Upgrade Now." You will be asked to log in to your Yahoo account and enter information on the sign up form. After you enter your payment information and confirm, you will be able to access your email on Outlook. In addition, the service also includes extras, including disposable email addresses, email forwarding and a variety of filters.
How to Configure Yahoo Email for Outlook
Now that you have your Yahoo Mail Plus account, you can open Outlook and add your account. While Outlook supports both the IMAP and POP email access protocols, Yahoo Mail Plus uses POP, which means that your email will be downloaded to your computer and deleted from the Yahoo! server. Select the "File" tab on the Outlook toolbar and click the "Info" option on the menu. Click "Add Account" under "Account Information" to add a new email account.You'll see a window like the one below.
Since Yahoo! Mail Plus requires a special configuration, click the radio button beside "Manually configure server settings or additional server types," then click "Next." You'll then see a "Choose Service" screen where you need to click "Internet E-mail" and click "Next." You'll now be required to enter all of your account settings on the following screen: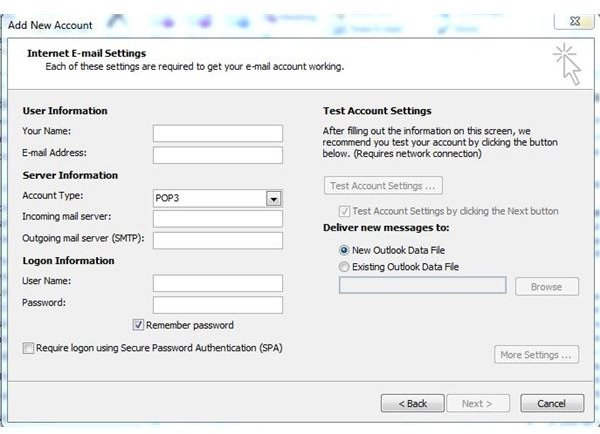 Under "User Information," type your real name and full Yahoo email address. Under the "Server Information" section, select "POP3" as the account type, then type "plus.pop.mail.yahoo.com" next to "Incoming mail server" and "plus.smtp.mail.yahoo.com" next to "Outgoing mail server (SMTP). Type your Yahoo! account name and password under "Logon Information."
Because Yahoo requires custom port settings and SSL security, you'll need to click the "More Settings" button and select the "Advanced" tab. Click the box next to "This server requires an encrypted connection (SSL)" under "Incoming Server (POP3), then type "995" in the port number box. Type "465" next to "Outgoing server (SMTP) and select "SSL" from the menu next to "Use the following type of encrypted connection." Click "OK" to save your settings.
Click "Next" to move on. Outlook will test your account settings to verify that everything is in working order. After it verifies that your account configuration is correct, it will show a success message. Click "Finish" to return to the main Outlook window.
How to Download Yahoo Mail to Outlook
After you initially set up your account, Outlook will download new email messages immediately and at a certain time interval thereafter. If you don't want to wait for email to download, you can download messages manually at any time. Click "Send/Receive All Folders" on the "Home" tab of the Outlook Ribbon to download messages from all your accounts. If you want to check only your Yahoo! mail, click your Yahoo inbox on the left pane, then select the "Send/Receive" tab on the Outlook Ribbon. Click "Update Folder" in the "Send and Receive" group.
References
Screenshots provided by the writer