Using Outlook: How to Save an Email Draft

The Importance of Saving Draft Emails in Outlook
Writing an email is usually a pretty quick task. You click on New (or Reply), select your recipient, enter the subject line and start typing. Very rarely you might have to stop to look for some additional information to go in the email, and clicking Send marks the end of the task.
However that moment when you have to find some additional information to go into the email could be the difference between success and failure if you don't save a draft of the message. A power failure might shut down your computer, or Outlook might crash for some reason. Either way ensuring you have a draft copy saved is a good habit to get into.
Draft emails in Microsoft Outlook can be saved just as easily as attachments and messages that are sent to you.
Using Outlook: How to Save an Email Draft
It is always a good idea to save a draft copy of any email, and there are various ways in which you can do this.
The first – and most obvious – is to use the Save button while you write your email. This is found in the top left-hand corner of the email you are composing, and just one click of this will save the message.
Meanwhile you can also automate this task, which will certainly prove useful in most cases. In File > Options > Mail look for the Save messages section. Here you will see the check box to Automatically save items that have not been sent… and the option to specify a time frame. The default is 3 minutes, but you can reduce this as low as 1 minute. Remember to click OK to confirm the change.
Using these methods you can quickly and easily save draft emails and no longer worry about losing a message before it is completed and sent!
Other Ways to Save Microsoft Outlook Emails and Attachments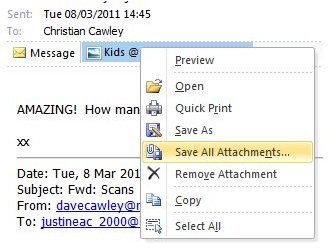 If you're less inclined to save drafts but more interested in keeping a copy of your messages, there are other ways of saving Microsoft Outlook emails and attachments.
For instance you might want to save a copy of a particular email message to your computer for safe keeping. This is easily done in Outlook by opening the email message in its own window (double-click the email in the summary column) and then going to File > Save As to choose a filename, save location and format. Outlook will select the default format of .msg although you choose to save as plain text (.txt) or HTML (.html).
Additionally, you can save email attachments to your computer. This is done by opening the email with an attachment that you want to keep, right-clicking the attachment (found in the top third of the window) and selecting Save As. For multiple attachments you might choose Save All Attachments… and both options allow you to browse to a location to save the files.
References
All references and screenshots from Microsoft Outloo 2010