How to Find Microsoft Outlook Email File Locations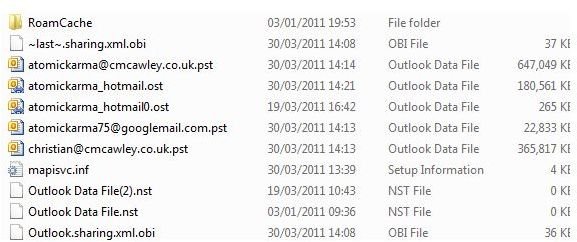 PST Files Explained
PST (personal storage table) files are created by Microsoft Outlook and store your emails and related data. If you're looking for your Microsoft Outlook file locations where PST data might be stored, without the right knowledge you could find yourself searching for a long time. You might be looking for the PST files in order to back up your email account in the event of problems with Outlook.
The various email files associated with your Outlook account can usually be found hidden away in locations on your C: drive.
"Hidden" is the right word, too – using some clever Windows Explorer conventions, the data is hidden from view to anyone without the right privileges, and even those with suitable ones.
Luckily, this is something that can be easily changed, and by enabling the viewing of hidden files the PST data can be found and copied.
Windows protects various vital files and folders from accidental deletion and user errors by making them invisible in Windows Explorer. This preventative measure is ideal for the vast majority of users, but can cause the odd problem from time to time. These hidden locations can easily be revealed, however.
To do this, go to Start > Computer > Organize > Folder and search options > View and find Hidden files and folders under Advanced settings. By default, Don't show hidden files, folders, or drives will be selected – change this to Show hidden files, folders, or drives. Click Apply and then OK.
You will now be able to find your Microsoft Outlook email file.
Finding Microsoft Outlook Email Files: Locations to Check
If you have been searching your computer for some time looking for a file in a hidden folder, the chances are that you have already come close to uncovering the Outlook PST file.
By default, this is found at C:\Users\[PROFILENAME]\AppData\Local\Microsoft\Outlook (this is for Windows 7 – in Windows XP you will find it at C:\Documents and Settings\[PROFILENAME]\Local Settings\Application Data\Microsoft\Outlook\Archive.pst).
Once you have found your PST file, you can do various things with it. For instance you might make a copy of the file as a manual backup – particularly useful if you are having problems with Outlook and want to make an archive of your email data.
If you have multiple email accounts you might also notice that there are several PST files present. These should all be copied if you wish to retain copies of your emails and any related data such as attachments.
Don't forget, however, that you can access Outlook files via the application itself. For instance you can check the size of a mailbox by right-clicking it and selecting Properties. On the General tab you will see the Folder size… button which will display size information concerning the mailbox and its subfolders.
References
All references and screenshots from Windows 7