How To Change Your Outlook Audible Alerts

Get Audible Notifications of New Emails in Outlook
It can be easy to miss an email dropping into your Outlook email inbox, especially if you have your computer's sound turned down.
With Outlook audible alerts you should be able to hear when emails arrive in your inbox, so there is no chance of you missing that all-important message. These alerts can be customized, changed so that the notification sound plays whatever WAV file you like.
This is easily set up in Windows, and can be used to good effect. You might change the standard chime to something more imaginative like a sample from a record or some speech, for instance…
Enabling and Disabling Alerts
Before we start playing around with custom alerts, however, it is important that you know how to disable them – after all, you might find that they become distracting!
To enable and disable audible alerts in Outlook 2010, go to File > Options, where you will find the Mail options screen; look for Message arrival and you will find the Play a sound checkbox, which can be enabled and disabled. This section also allows you to toggle whether or not Outlook displays a desktop alert.
Before proceeding, ensure that the box is ticked – otherwise the changes you are about to make won't work!
Notifications in Outlook: Audible Alerts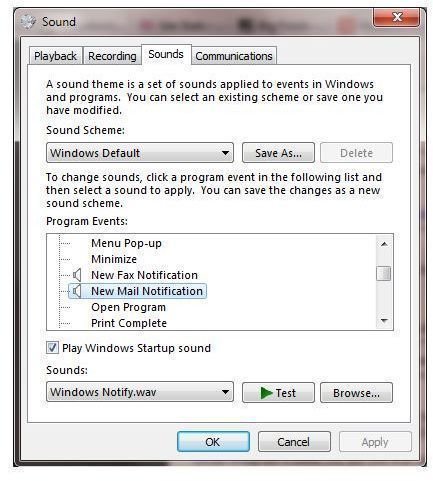 You can configure and alter all audible alerts in Windows from the same place – the Sound properties box accessed via the Control Panel. This is most quickly accessed in Windows 7 via Start > search, where you should enter "sound" into the search box; alternatively head to Start > Control Panel > Hardware and sound > Sound).
On the Sounds tab you will notice various Sound Schemes can be chosen from the drop-down menu. These all offer different sounds for different alerts, although you probably have the Windows Default scheme setup.
Under Program Events you will see that some events have sounds and others do not. You will be able to select one with a sound assigned and click the Test button at the bottom of the window to see how it sounds. Using the Sounds drop down menu beside the Test button, you can choose a different audible alert for that event, while using the Browse button you will be able to search for other sound files.
However, note that you're limited to WAV files, so if you have a particular sound file that you want to use it must be in this format. You might use a tool such as Koyote Free MP3 WMA Converter to do this.
Finding and Setting Email Alerts in Windows
To find the correct audible alert setting for email, scroll through the Program Events until you find New Mail Notification (which you will find under New Fax Notification). Use the Sounds drop down menu or the Browse button to find a suitable WAV file and then click Apply.
You will then need to restart Microsoft Outlook – from now on the audible alerts you have setup will be played each time you receive a new email message!
References
All references and screenshots from Windows 7 and Outlook 2010