Three Free Wireless Network Monitoring Software Packages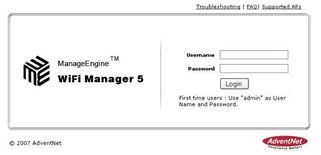 ManageEngine Network Monitoring Software
Designed to offer security and management tools for small wireless networks, ManageEngine network monitoring software is a freeware option for network management.
It allows for web-based monitoring of wireless access points as well as monitoring of wireless clients operating within your network. Configure access points, monitor thick and thin access points from one console, upgrade firmware across multiple access points in a few easy steps, and create visual images of your network layout so you can better understand where the access points and the clients are dispersed throughout the network.
But perhaps the best feature of ManageEngine is the cost: A big fat zero. You can download it from Manage Engine's homepage: ManageEngine.com.
PRTG Free Network Monitoring Software
PRTG is commercial grade network monitoring software with a freeware version available for offering 10 to 20 sensors instead of the 300,000 available in the commercial version.
Boasting more than 150,000 PRTG software packages monitoring networks worldwide, this feature rich product will offer more than enough toys for you to play with over your home network. With PRTG, you can track and control bandwidth usage. So if you have ever wondered where all of your bandwidth was going, you can pinpoint it using PRTG software.
Automated messaging features will alert you if there is any downtime or poor performance throughout your network, so you can immediately address the issue to limit down time. PRTG Also offers a graphical user interface that will show you your entire network, graphing bandwidth usage, performance and downtime for your later perusal. All in all, you can have some incredible, high-level network monitoring software to monitor your home network without having any out of pocket expense.
Check out PRTG's freeware network monitoring software on their home page at paessler.com.
Solar Winds Free Network Device Monitor
The Solar Winds Free Network Device Monitor allows users to monitor a single device on their home network in real time. Download the program, define the name or IP address of the device that you want to track on your network, and then watch with glee or terror as the program displays the performance of that device. You can know exactly how much bandwidth your iPhone or your DSI use when connected to your network.
The program also can track numerous other aspects about that device, as long as they are recorded by the Simple Network Management Protocol. Worried that your fans aren't running correctly, or that the temperature of the device you are monitoring is too high? Track the info with the Solar Winds device monitor.
Download the Solar Winds free wireless network monitoring software from their homepage at Solarwinds.com
Resources and References
All screen shots were taken by Michael Elkins and are of the actual products or their promotional materials.
PTGR Homepage:https://www.paessler.com/prtg
List of Network Monitoring Resources for Network Administrators: https://www.slac.stanford.edu/xorg/nmtf/nmtf-tools.html