The Best Registry Cleaners Compared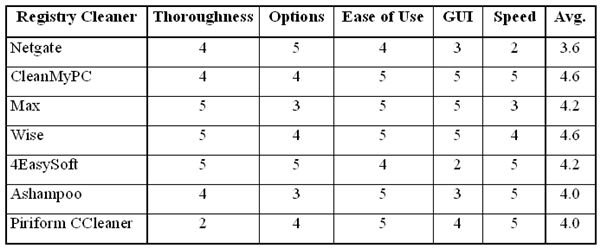 Introduction
Registry cleaners are a type of software used to improve Windows performance by removing the clutter from the system's registry. The registry is the place where all the relevant information to the system's operation is stored (e.g. which programs are installed and where, what file types are there and how to handle them, etc.). You can clean the registry using the built-in registry editor that Windows has, called Regedit, but such an approach is very risky since it takes an in-depth understanding of the system to know what to remove and where to look for it. Besides, unless you are quite experienced in this, the whole process can be quite time-consuming. This is what brought about the various registry cleaning programs that are available. In fact, there are so many out there that choosing which one to use can be a daunting task. Yet, after finishing reading this article you will be more familiar with most of the options and be knowledgeable enough to make a good choice.
Comparisons Overview
In this article seven different registry cleaning programs are evaluated. The criteria used are thoroughness of cleaning, variety of options, ease of use, user interface quality, and speed. For each one of them a score from 1 to 5 is given to the various programs tested, namely Netgate, CleanMyPC, Max, Wise (Pro), 4EasySoft, Ashampoo and Piriform CCleaner. The last one is the only freeware registry cleaner in this evaluation series. All the scores can be seen at the overview table below, followed by a more detailed review on each one.
Netgate Software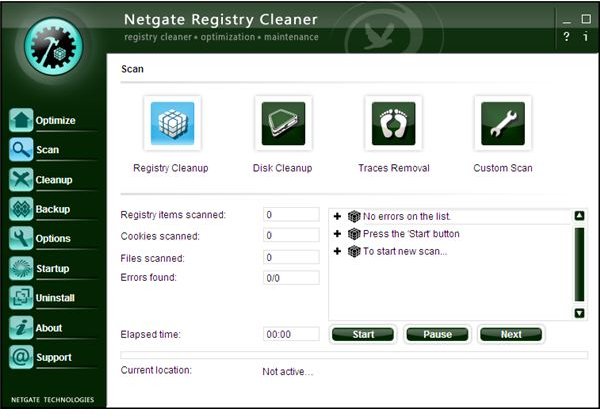 The Netgate Registry Cleaner is a quite robust and versatile program that offers a wide variety of options. I ran it on a netbook that hadn't been cleaned for a while (also, to make it a bit more challenging, I uninstalled a piece of software from it, making the registry even more cluttered). The Netgate program scanned the registry in about 4 and a half minutes, found 323 errors, over 15 categories and recommended an action for each one of them. The program is relatively easy to use, offering balloon tips for each step of the cleaning process. However the graphical user interface (GUI) is quite average and the fact that it doesn't have a close button can be frustrating to the user. Overall, it is an average option.
CleanMyPC Software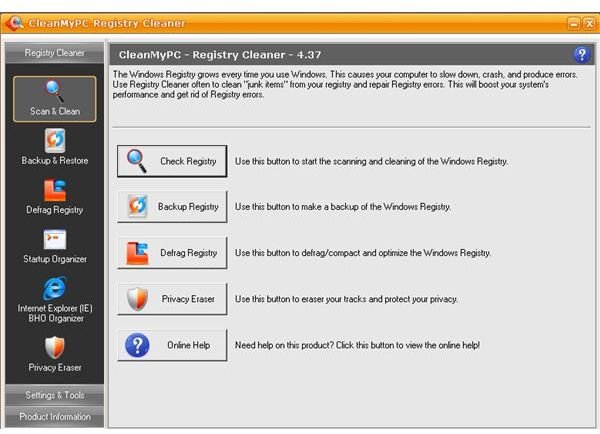 CleanMyPC is a very powerful and quite fast program. It is particularly good for advanced users, as it offers some additional cleaning options, yet it is also suitable for a novice user, as it is very intuitive and simple to use. It is intriguing how when it was run on the same netbook it found 343 errors in only 20 seconds. The CleanMyPC program also provides additional details and explanations on each error while it also shows all possible error categories. The GUI is very well designed and through its simplicity makes the program very user-friendly. Taking everything into account, this is an excellent option.
Max Software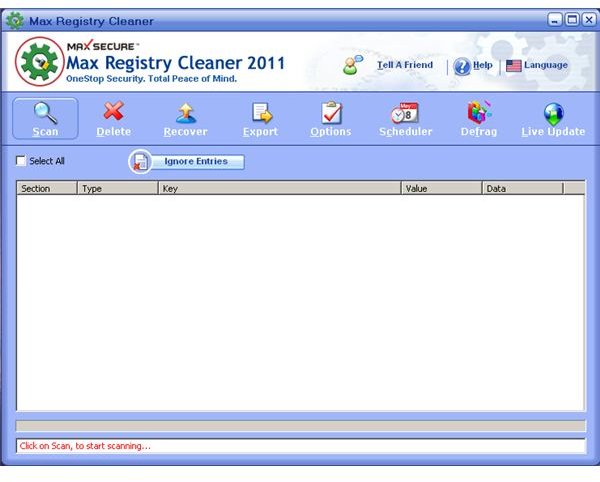 The Max registry cleaning software is a quite thorough registry cleaning program - almost too thorough. It found an overwhelming 1790 errors on my netbook, some of them a bit ridiculous (e.g. the fact that there was something on the clipboard or files in the recycle bin were considered errors). Also it was a bit slow, as it completed the task more than 4 minutes. This program has some interesting features though, such as exporting the errors log, scheduling future registry cleaning sessions, and the option of another language (German). These details along with its good functionality make it easy to use and quite user-friendly, though not so versatile as its options are somewhat limited. Overall, this program is a quite decent option.
Wise Software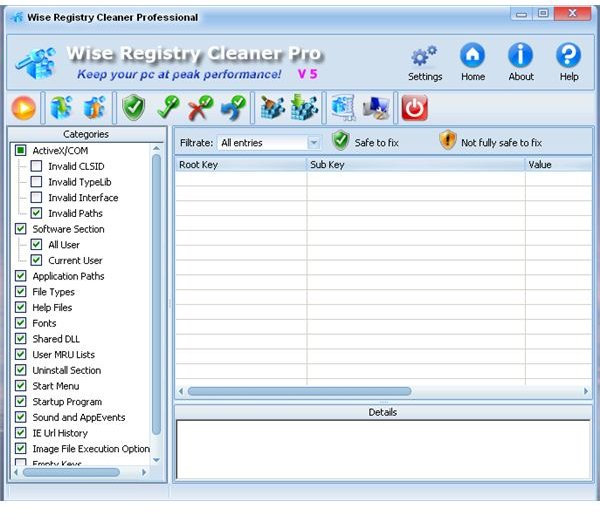 Wise Registry Cleaner Pro is a very robust and straight-forward program. Its distinguishing feature is that it tags the various errors according to whether they are as safe to fix or not, and that is something very useful for the inexperienced user. On my netbook it discovered 839 problems, 54 of which it considered unsafe to remedy. The other advantage it has is that it performed all this analysis in about 90 seconds, which is quite fast considering the number of errors. It also has a number of options, not as many as other programs but enough for registry-related tasks (e.g. defragmenting, backing it up, scheduling future cleaning sessions, etc.). It is very easy to use and the GUI is well designed. Finally, it has a 1-click cleaning shortcut, which can be particularly handy for the busy user. All in all, it is an excellent option.
4EasySoft Software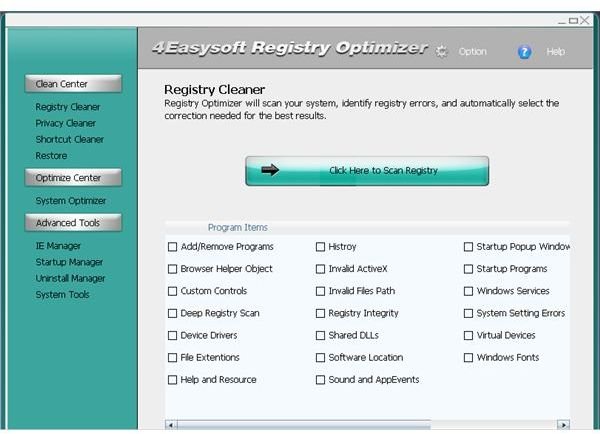 The 4EasySoft program is a quite thorough registry cleaner which is also quite fast. It revealed over 4000 problems (!) on my netbook and managed to do so in about 30 seconds. Yet it provided no explanation or description on the errors apart from a basic classification. It has a large variety of options, including some optimization routines, some system tools and a shortcut cleaner. From all this it is evident that this software is targeted towards more advanced users. The GUI leaves much to be desired yet the program is relatively easy to use. Overall, it is a quite good option.
Ashampoo Software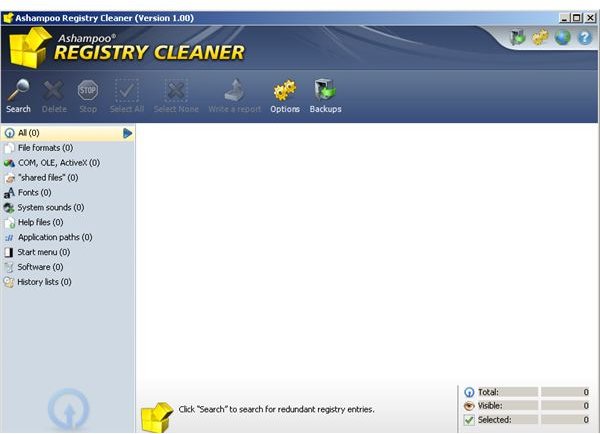 Ashampoo Registry Cleaner is a very efficient program specializing in this task alone. It managed to find 636 errors on my netbook and did so in just around 20 seconds. The software is quite easy to use and provides some brief explanations on the problems it finds. The GUI however is quite minimalistic and finding all the program's functions requires a bit of searching. It offers a few options, mainly on the registry cleaning process, yet it has a good variety of languages to choose from. Generally it is a relatively good option, particularly if you are looking for a specialized piece of software.
Piriform CCleaner Software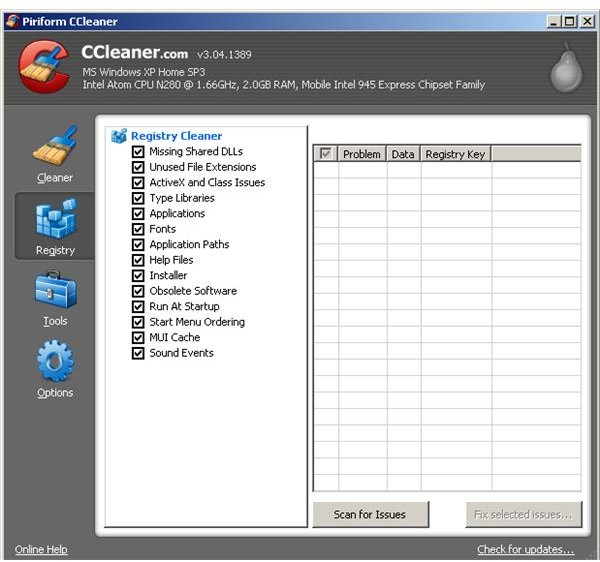 Piriform CCleaner is one of the most popular freewares for computer maintenance (having a descent registry cleaning engine as well) and it's also quite fast. Its thoroughness in registry cleaning is not so impressive though as it found only 123 errors on my netbook, yet it did so very fast (about 10 seconds). Its "list of startup programs" function is a bit more promising though as it revealed a couple of programs that other registry cleaners failed to do so. Considering that it is free, versatile in terms of options, easy to use and has a well designed GUI make it a viable option. Yet, if you are interested in more in-depth cleaning, it is best to consider other alternatives.
Conclusion and Additional Information
Overall, the choice of a registry cleaner is more or less clear, based on this evaluation. If you are looking into a commercial product then it makes more sense to go with either CleanMyPC or Wise, due to an overall good performance. Yet, if you are not so picky about registry cleaning and you want something for free that can do some basic maintenance, the Piriform CCleaner is an interesting alternative too. Whatever you decide though, it is recommended that you test it out yourself first, before you purchase a registration key.
For additional info on registry cleaners you can read the following articles: Choosing the Best Free Registry Cleaner for Windows, Interpreting Wise Registry Cleaner and Scanner, and Choosing a Windows 7 Registry Cleaner)
References
All the images are screenshots of the various programs, taken by the author.
All the information for this article was obtained from the author's own testing of the software described here.