Copy Outlook Email Messages - A 'How To' Guide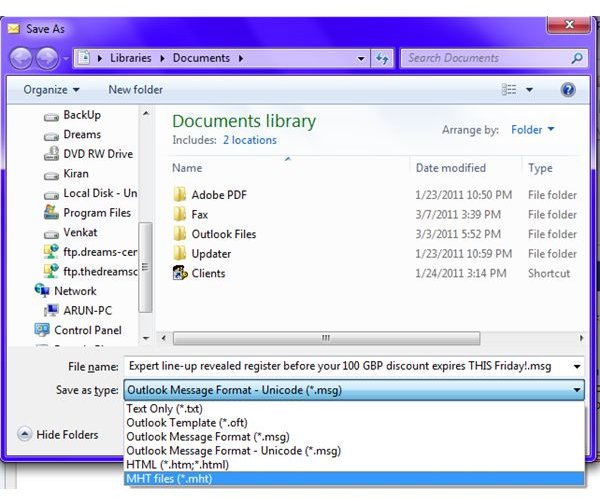 Copy Outlook E-mail Messages - Save and Share
There are many ways to copy Outlook e-mail messages. If you wish to copy the contents of a single e-mail, the easiest method would be to open a Microsoft Word document and copy paste the contents of the e-mail. You then save the Microsoft Word file and use it per your wish.
Another common method where a single e-mail is involved, is to save the e-mail message as MHT format. You can later open this file using Internet Explorer 6 or above versions. You can send the MHT file as attachment to any other e-mail. You can also upload the MHT file to some public cloud, say SkyDrive, to share it with others. To save an Outlook e-mail in MHT format, double click on the message to open it. Press F12 to invoke the Save As dialog. In the Save As dialog box, select MHT format in Save as Type. Type a name for the e-mail and click on Save.
Copy Outlook E-mail Messages - Copy All E-mails Using PST File Copy
The above section talked about how to copy Outlook e-mail messages when a single e-mail message is involved. This section talks about copying all Outlook e-mail messages.
Note that for POP3 accounts, you need to back up e-mails from time to time because most of the e-mail service providers delete e-mails from their servers when Outlook or any other e-mail client fetches the message. You can change this behavior in Gmail and Yahoo by changing the settings to "Archive e-mail messages when they are accessed by Outlook". You need not bother about backups for IMAP folders as Outlook shows only the copy of folders on servers. This means that a copy of your e-mails stay on Server in relevant folders. When you delete an e-mail message from Inbox of IMAP account, it is moved to Trash folder on the Server. However, you need to keep in mind that most e-mail service providers remove items from Trash folder after certain period of time. To override this, you can create another folder on the e-mail server and move the e-mails to that folder instead of deleting it. That is, when you do not want the read e-mail to stay in the inbox but want to preserve the e-mail.
Similarly, in Outlook too, for POP3 accounts, you can create folders and move e-mails to those folders instead of deleting the e-mails.
To copy all Outlook e-mail messages in a POP3 account, simple right click on the account and select Data File Properties.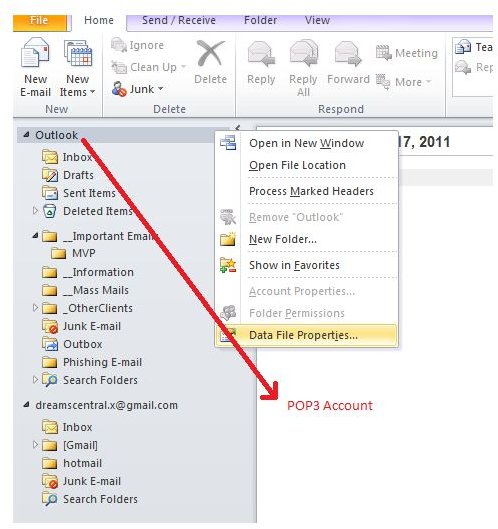 Click on Advanced. A new window opens that shows you the location of the PST file against Filename. The PST file contains all the e-mails in different folders of your POP3 account. Copy the path (excluding the filename) and paste it in Windows Explorer address bar. For example, if it shows G:\2007\Outlook.pst, copy only G:\2007 and leave Outlook.pst.
The folder containing the PST files opens. You can now copy the PST file(s) and paste them to a safe location. You can later add this PST file to Microsoft Outlook to view the e-mails.
To add the PST file to Microsoft Outlook, open Account Settings window. Go to the Data Files tab and click on Add. Browse to the location of the PST file, select it and click Open.
Tip: You can also use the export option to copy Outlook e-mail messages. Just select the data file or folder that you wish to export and make sure you select .PST file type so that you can add it to Outlook later.
References
All references and screenshots from Outlook 2010
This post is part of the series: Outlook Tips and Tricks - Part II
This extension of Outlook - Tips and Tricks, offers you information on some of the easily performed yet useful tasks. Using Outlook, you can also save and send business cards, creating rules from scratch, saving e-mails and more.